Advertisement - Click to support our sponsors.

---

---
Wednesday, January 3, 2001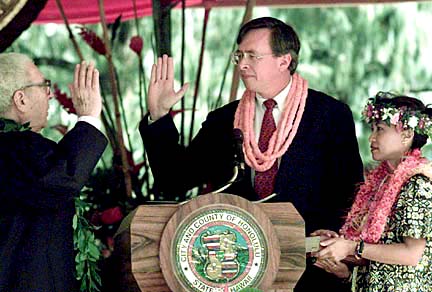 By Ken Sakamoto, Star-Bulletin
Senior Federal District Judge Samuel King swears in Mayor
Harris as Harris' wife, Ramona, stands by.
---
Ask not what your
city can do for you ...

---

Star-Bulletin staff

Mayor Jeremy Harris is asking Oahu residents what they can do for their island. Sounding like a gubernatorial candidate, Harris began his second four-year mayoral term with an inaugural speech yesterday that encouraged citizens to participate and make positive changes in their government.

"We're going to be calling on everyone to exercise not just their opportunity to get involved in city government, but to recognize their obligation to do so," Harris said, making reference to the vision process begun several years ago that allowed the public to determine how money would be earmarked in their communities.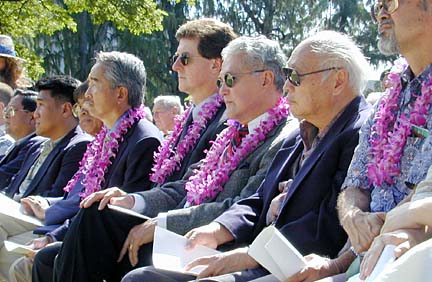 By Ken Sakamoto, Star-Bulletin
Members of the City Council listen to Harris' inauguration speech.
---
"Let this new millennium be characterized by an empowered populace: where people can make a difference, where their contributions and ideas are not only readily accepted by government, but actively solicited."

About 1,000 people attended the swearing-in at the renovated Kapiolani Park bandstand, draped in ribbons of red and yellow, colors traditionally reserved for Hawaiian royalty.
E-mail to City Desk
---
---
© 2001 Honolulu Star-Bulletin
https://archives.starbulletin.com