Advertisement - Click to support our sponsors.

---

---
Island Images



Saturday, December 16, 2000

Earth angels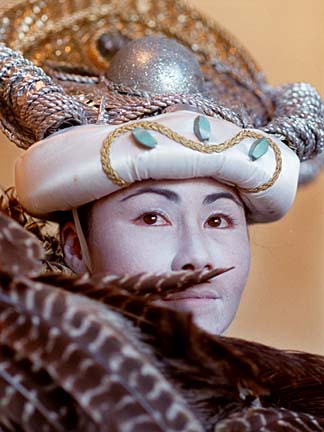 By Dennis Oda, Star-Bulletin
In costume is Malia Oliver, from the Iona Pear Dance
Theatre's "The Mythology of Angels." The dancers
appeared at Ala Moana Center last Saturday to promote
"Angels," concluding with a show at 8 tonight at the
Hawaii Theatre Center. As of this morning, tickets
were available; call 528-0506.
---
In the town
of Bethlehem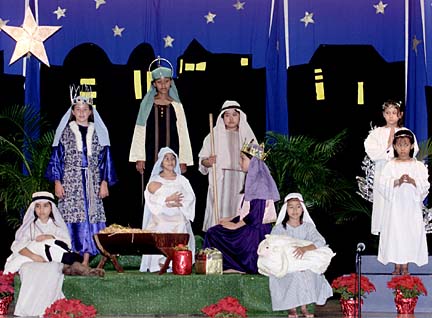 By Ronen Zilberman, Star-Bulletin
Sacred Hearts Academy students celebrate the story
of Christ's birth in a musical pageant. Nicole Nirei
plays Mary and Shantelle Kurihara is Joseph. Dress
rehearsal was yesterday. About 300 students will
be in the show at 6:30 p.m. Monday in the school gym.
---
Balance of nature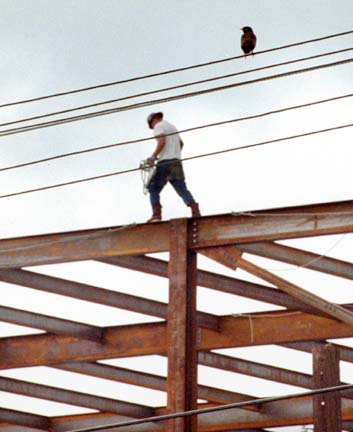 By Ken Sakamoto, Star-Bulletin
In this contrast of balancing styles, it's clear that what
comes naturally to the bird is not as easy for this steelworker,
as he cautiously walks along a narrow girder. The construction
site is the future home of the $40 million Ward Entertainment
Center on the corner of Auahi and Kamakee streets.
---
Mural with
a message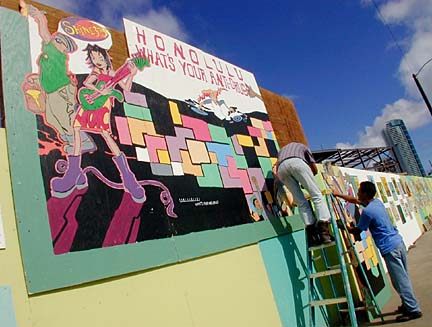 By Craig T. Kojima, Star-Bulletin
At the corner of Auahi and Kamakee streets, Richard
Yonemoto, left, and Eric Pang of Victoria Ward Ltd.
put up a 400-square-foot mural bearing anti-drug
messages by students.
---
E-mail to City Desk
---
---
© 2000 Honolulu Star-Bulletin
https://archives.starbulletin.com