Advertisement - Click to support our sponsors.

---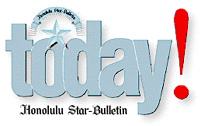 ---
Friday, December 15, 2000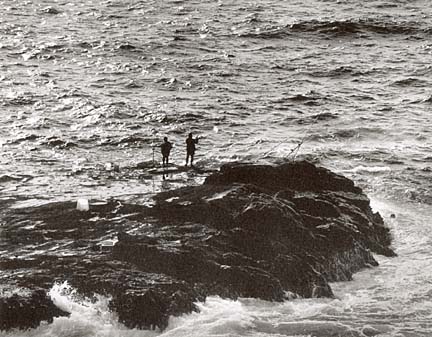 By Albert Benedict
Fishermen make the hike down rugged cliffs
to Bamboo Ridge
---

Ka Iwi's raw beauty is captured
in a new book by photographer
Albert Benedict, a survivor
in his own right

"Ka Iwi -- Survival of a Coast," by Albert Benedict with prose by Jean King, Carol Silva and Sue Cowing (Ox Bow Press), 64 pages, $25

---

By Cynthia Oi
Star-Bulletin

LBERT Benedict wants to be perfectly clear: His book of photographs is not about him or about his art or his vision of his art or anything like that.

"It's about the Ka Iwi coast."

Never mind that he only recently began seriously shooting again, having let his love for photography hibernate for 60 years. Never mind that he has brought to publication a book of exquisite black-and-white photos and thoughtful essays in a market that demands glossy picture books with hyped-up color and banal text. Never mind that he has cancer, has been living with it for about 10 years.

All of that is beside the point.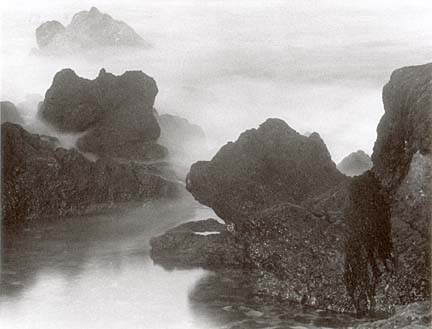 By Albert Benedict
Mist creeps over Kalama lava.
---
Benedict's passion is Ka Iwi, about 4.5 miles of coast running from Koko Head to Makapuu, a shoreline of shifting sands, marshy inlets, volcanic craters, wrinkled lava and lovely beaches that remains largely undeveloped within a few minutes drive from urban Honolulu.

Like many busy islanders intent on getting from here to there, Benedict, as a "workaholic" professor of microbiology at the University of Hawai'i at Manoa, had driven the highway along Ka Iwi a zillion times.

It was only after he retired that he began to take notice of the Hawaii he has lived in since 1963.

"I started looking around and seeing things I didn't see before," said Benedict, his voice gentle in the breezy living area of his Niu Valley home. "I got on the trails, did some hiking and got interested in native plants."

Photography had been a serious hobby when he was teen-ager -- he once sneaked into an all-star college football game pretending to be a newspaper shooter -- but a world war and a career in teaching and research diverted him.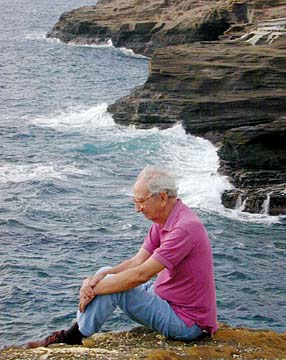 By Craig T. Kojima, Star-Bulletin
"This idea of preservation -- admittedly, at first, I didn't
think of it in those terms. I started with the photography.
Then I realized the beauty of this area. I realized the need
to save this coastline. The coastline became the place for
a photographer, but also a place for all of us to go to,"
said Albert Benedict .
---
The plants brought him back to the camera, but soon he took another path. "The landscape started to appeal to me more."

He would take walks along a short stretch of beach between Sandy Beach and the blow hole.

"I'd go down there once or twice a week and the images were just glorious. Depending on the time of year, I would see boulders, and the next time it would be covered with sand. There was a changing of images on a forever-changing beach."

"Then I started meandering through the whole Ka Iwi coast, Makapuu to Koko Head," taking photos all along the way.

"This idea of preservation --admittedly, at first, I didn't think of it in those terms. I started with the photography. Then I realized the beauty of this area. I realized the need to save this coastline. The coastline became the place for a photographer, but also a place for all of us to go to."

Benedict credits the Save Sandy Beach Coalition of the 1980s with the effort to keep the area out of development. Now the state is considering plans to carve out parking spaces and install comfort stations along Ka Iwi, something Benedict does not want.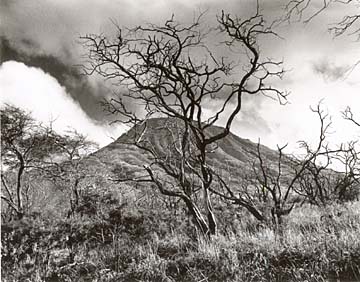 By Albert Benedict
Koko Crater and charred kiawe trees.
---
"Once you put parking stalls in there, the buses start coming in and people start traipsing over whatever native plants still remain."

Oahu has given over enough of its natural beauty to tourism, he says. "There's an economic factor in all of this, but I don't think in those terms. The state doesn't need to develop anymore tourism as far as I'm concerned."

Benedict grew up in a multi-ethnic neighborhood in San Francisco. When the military draft began in 1940, he got his mother's permission and volunteered for the Army. Little did he know that a year later, World War II would begin and his 12-month hitch would last five years.

"I was a med tech for quite a while, but I ended up as a litter bearer in the Philippines when we invaded Leyte. I came out a pacificist."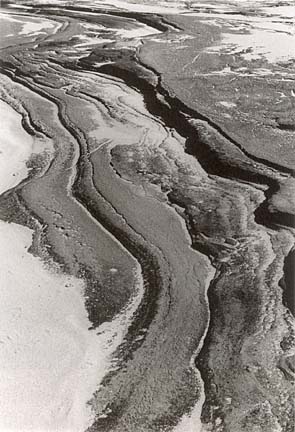 By Albert Benedict
Volcanic tuff peeks through shifting sand.
---
When he's not shooting, Benedict, 79, who has five great-grandchildren, spends his time caring for a "sort of hanai grandchild" and with daily visits with his wife of 52 years, who is in a care home.

He was first diagnosed with cancer in 1991 and has had various treatments that have kept it in abeyance. "I'm really ill, but I'm not." He laughs at his contradiction. "I'm not in pain. I'm not in bed."

"I don't think much about death. The awareness is that you know you're mortal, but it doesn't bother me.

"I don't think much in metaphysical terms. I'm not a religious person. I just think that these things happen."

He remembers a visit to Oahu with his father in 1936 when they toured the island in a Model A "so I have memories going back."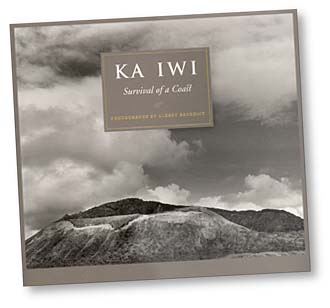 Today, he sees young people surfing and swimming at Sandy Beach and Makapuu.

"They get to build their own memories" of their connections with Ka Iwi. "Let's keep it for them."

He stops talking for a moment, then a look of wonder washes over him.

"Five years ago, never in my wildest dreams would I think that I'd be into photography and that it would culminate in a book.

"The photography has become a passion and a commitment. You can have commitment and discipline, but the source of it has to be love and joy.

"When I get passionate is when I see a lone fisherman out there. Just save Ka Iwi for him, so a guy can go out there and fish. There's a joy in him doing that."





Click for online
calendars and events.
E-mail to Features Editor
---
---
© 2000 Honolulu Star-Bulletin
https://archives.starbulletin.com