Advertisement - Click to support our sponsors.

---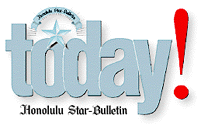 ---
Friday, December 8, 2000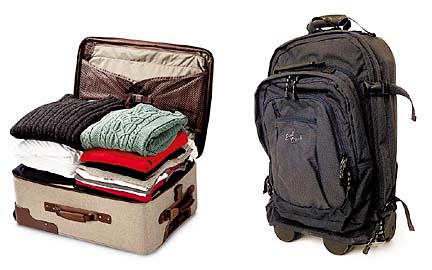 By George F. Lee, Star-Bulletin
Carry-on luggage like Travel pro's carry on, right,
is best for quick trips. Bulky, hard suitcases won't do.
---



Last-minute traveling
during the holidays calls
for smart packing

There are travel bargains out there

---

By Tim Ryan
Star Bulletin

YOU'VE suddenly got a few holiday days off and were able to arrange last minute "bargain" airfare to that special location. Now the dilemma is planning what you need -- and want -- to take.

Carry-on luggage always is the most desirable way to go. It eliminates the possibility of an airline losing your luggage, but also limits what you can pack, particularly because of those pesky airline restrictions regarding the size of carry ons.

Luggage and travel accessories have moved well out of the dark ages. Many roll-aboard bags not only are sturdy and light but come equipped with pockets to fit everything a person could need, unless Antarctica is your destination.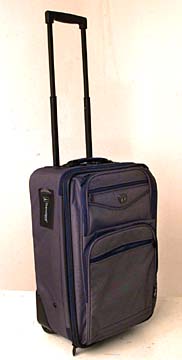 By George F. Lee, Star-Bulletin
Eagle Creek's backpack suitcase is ideal for quick trips.
---
Magellan's, a catalog travel supply company based in Santa Barbara, offers a variety of basic, well-made, low-priced items to simplify travel.

If you're looking for a carry-on bag and have a limited budget, Magellan's is offering a holiday deal on its TravelPro FlightPro Rollaboard Bag line. Prices are discounted as much as 60 percent.

My favorite has been the TravelPro 22-inch Rollaboard, normally $300, now $150, which I was able to use on a weeklong trip to Hong Kong. The roll-on is made of DuPont Teflon-coated nylon and has removable suit folders with foam bars for wrinkle-free packing; industrial grade in-line skate wheels in protected housings; and a ribbed corner guard protection to prevent fraying. The locking zippers are oversized on the main compartment. The fully-lined, padded interior has nylon/mesh pockets. And it's expandable for extra packing room.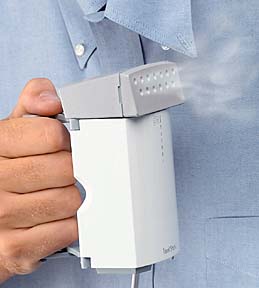 By George F. Lee, Star-Bulletin
Clothes will have that freshly pressed look with the
help of a hand-held steam iron.
---
Another piece of luggage I tested during a weekend trip to Molokai Ranch was the innovative Eagle Creek Latitude Switchback, $240. This soft-side luggage -- really three bags in one -- converts from rolling bag to backpack in seconds, and even includes a full-featured, zip-off daypack.

The Latitude rolls on ball-bearing in-line skate wheels. But if you need to climb stairs or a rocky hill, just pull out the padded shoulder straps to convert the luggage to a comfortable backpack. The zip-off nylon daypack is handy for shorter excursions but also makes a good carry-on bag.

One of my favorite travel items remains Eagle Creek's Pack-It Folder 15, $19.85. This gem keeps clothing organized and wrinkle-free. Just fold and stack your clothing using the special folding board, slip the neat stack inside the mesh Pack-It, close snugly using the Velcro attachments and stash it your suitcase. This model holds up to six shirts; other models are available in various sizes.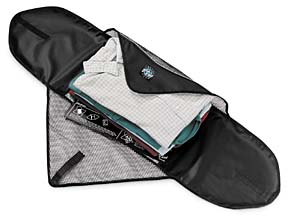 By George F. Lee, Star-Bulletin
Pack-It Folders can pack up to six shirts and
minimize wrinkles.
---
When clothes do get wrinkled, the Micro Pro Fabric Steamer, $34.85, fixes the problem in a jiffy. Its dual voltage gives it all the power of larger steamers though it weighs less than a pound. The steamer folds flat and comes with its own travel pouch.

An inexpensive item that makes spotting checked-in luggage easier is the Quick-Release Luggage Strap, $5.85. The 80-inch long, 1-1/2-inch wide strap comes in bright colors.

For maximum security, there's the 3-Dial Locking Strap, $12.85. Once it's locked, the strap can't be loosened and pulled off by thieves. It's made of 2-inch wide nylon web that adjusts from 40 to 72 inches and has a three-dial combination.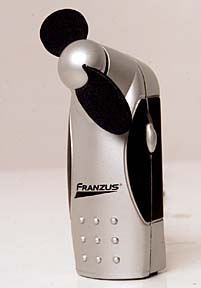 By George F. Lee, Star-Bulletin
Take along a compact fan, for those long rides
on hot, stuffy tour buses.
---
A great travel clock for crossing time zones is the Twin-Time Photo Clock, $39.85. The dual-time alarm clock has a luminescent clock face, and a case that unfolds to reveal two 1-1/2-by-1-1/4 picture frames for photographs of loved ones.

If you've ever been stuck on a hot tour bus, stuffy hotel room, even those unbearable moments just before takeoff, Magellan's Travel Fan, $7.85, is an excellent way to grab some air. The 2-ounce device has soft neoprene blades, a nylon neck cord, and non-skid rubber feet so it can stand on a table top without sliding.

If you're worried about leaving your valuables by the hotel pool, on the beach, or just want to keep some items dry, the Splash Caddy let's you take belongings with you and keep them dry. The nylon pouch includes two leak-proof liners. The waist band adjusts up to 48 inches.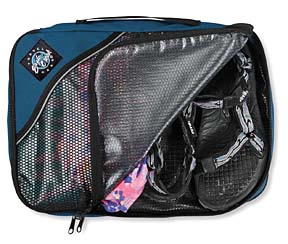 By George F. Lee, Star-Bulletin
Eagle Creek's Pack-It Cubes hold small,
easy-to-lose pieces like socks.
---
When clothes do get damp or you need to hang wet laundry, Flexo-line, $7.85, holds up to 12 pounds thanks to its surgical-quality, natural latex rubber tubing which is woven in three braids instead of the usual two. Just loop the ends around a doorknob, hook, shower head, or rod -- it stretches to 7 feet -- then poke a corner of your wet garment in the tight braid to dry. No clothespins are needed. Store it in a handy 3-by-5-inch pouch.

Web site: www.magellan.com

Phone: 1-(800)-962-4943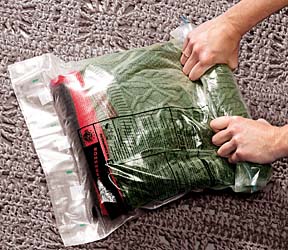 By George F. Lee, Star-Bulletin
Pack-It Compressor by Eagle Creek helps to
remove air between bulky items for more efficient packing.
---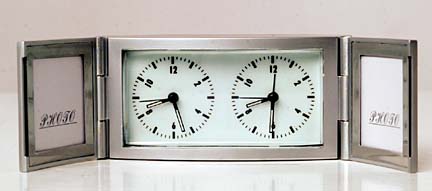 By George F. Lee, Star-Bulletin
Twin Time Photo Clock has a dual alarm clock
and holds two small photos.
---

If you're willing to
do the research,
there are travel
bargains to be had

---

By Tim Ryan
Star Bulletin

A friend of mine decided to miss his cousin's wedding because the round-trip airfare to Paris was nearly $1,500. Then another friend suggested he book a flight to Brussels on CityBird for $249 and take a train for $125 to Paris. Total cost: $374.

Welcome to the world of alternative travel strategies and believe me, it can save you bundles, particularly if you travel with family.

Say you want to fly from Boise, Idaho, to Miami, but the best available airfare is $545 per person. For a family of four, that's nearly $2,200. But if you check some nearby destinations, you might find that you could fly to Fort Lauderdale or Tampa for just $300 a person. You're going to rent a car anyway, right? You've just saved $1,000.

The key to finding low-cost airfares is flexibility and knowledge.

You probably already know you're supposed to buy early, especially for peak travel periods, like now. Late reservations add up to a lot of lost dollars.

Airline tickets typically go up 21 days, 14 days, 7 days and three days before flying, so if you're planning ahead, try to make the call before these deadlines.

But, sometimes you can get lucky if you wait. So here's tip No. 2 if you're the spontaneous type: Buy late. You can often buy tickets at the last minute for a great price if an airline has failed to fill its seats. Last-minute travel deals are usually announced on Web sites. Some sites to look at are:

travelocity.com
cheapseats.org
expedia.com
vacationspot.com
bnw.com (for rental cars)

Web deals are generally announced on Wednesdays, so you can search for flights departing from your city over a weekend. But you have to be able to withstand the suspense and possibility of not getting any flight.

Even if you're not buying online, use the Internet to comparison shop. Armed with this information, you won't be at the mercy of one ticket agent and buying the first rate that sounds good.

Another possibility is to look into air passes. In order to promote tourism in their countries, many national airlines offer air passes at reduced rates for tourists. If you plan extensive travel in a country or region such as Europe, an air pass can be cost effective.

If fares go down after you've purchased your airline ticket, ask for a refund. Policies vary and most airlines don't publicize the fact that they give refunds.

Discount coupon promotions are also money savers. Distributed by airlines, coupons entitle bearers to savings of as much as $100 off or 50 percent off a companion ticket. There also are senior, child and student discounts.

Then there's bumping. To be bumped is to be denied a seat on a plane when you have a confirmed reservation. It results from overbooking, an airline practice to compensate for no-shows.

Those who volunteer to wait for the next plane are typically offered rewards like vouchers and free tickets. Sometimes it's possible to bargain on the spot and raise the ante.

Bumping usually occurs during peak seasons, like now. If you're one of those trying to get home for the holidays and DON'T want to get bumped, get to the gate early. Airline rules typically state that if you don't arrive at least 10 minutes before the scheduled departure, you will forfeit your reservation and have to fend for yourself.

Happy trails!





Click for online
calendars and events.
E-mail to Features Editor
---
---
© 2000 Honolulu Star-Bulletin
https://archives.starbulletin.com