---
Friday, November 10, 2000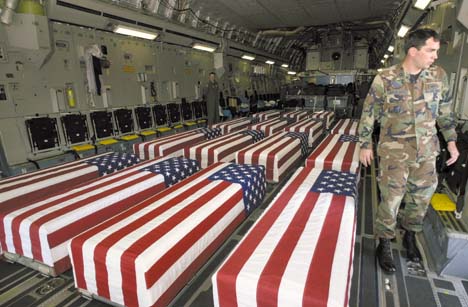 By Ronen Zilberman, Star-Bulletin
The remains of U.S. servicemen from the Korean War are returned
to American soil in October with a ceremony at Hickam Air Force Base.
It then becomes the job of the Army Central Identification Laboratory
to return them to their families. More than 8,000 U.S. servicemen are
still missing in action from that war.
---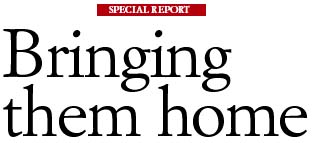 An Army lab at Hickam is on a
mission: Recovering and identifying
the remains of U.S. service members
---
By Gregg K. Kakesako
Star-Bulletin
A single, lower left molar, unblemished, without any cavities.

The memories of a 75-year-old South Pacific islander.

DNA material from a dead World War II B-24 bomber crew member.

A bag of 1,444 dog tags purchased in Hue City, Vietnam, in 1994 by a military nurse.

All parts of a puzzle.

Most turned out to be keys that led the U.S. Army Central Identification Laboratory to identify the long-unidentified remains of service members killed in World War II, the Korean War and the Vietnam War, bringing badly needed closure to their families.

Still, more than 2,100 individuals remain unaccounted for from the Vietnam War; more than 8,000 from the Korean War; and nearly 78,000 from World War II.

Working out of an undistinguished building at Hickam Air Force Base, the Central Identification Lab remains committed to resolving the fate of those nearly 90,000 individuals who never made it back home.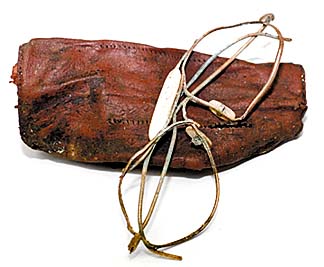 By Ronen Zilberman, Star-Bulletin
Glasses from the wreckage of a B-25H bomber that crashed on
a mountain in Irian Jaya, Indonesia, found in 1996.
---
Since it opened in 1973, the lab and its staff of 177 have been able to identify the remains of 933 service members: 658 from Southeast Asian battles; 20 from the Korean War; 240 from WWII; and 15 from the Cold War. At Hickam, experts are currently trying to resolve more than 400 cases pending from the Korean and Southeast Asian conflicts.

Divided into three sections -- search and recovery, casualty data analysis and laboratory -- the 21st Century sleuths sift through bone fragments, aircraft wreckage, personal clothing and other artifacts, medical and dental records, witness interviews and maps to account for the missing.

Johnie Webb, a Vietnam veteran who has been with the lab from the beginning, said the goal has been "to try and provide a family with answers to let them know what happened and, if possible, to bring them back so they would have a grave to visit."

Thirteen recovery teams -- each staffed with five military members and one civilian scientist -- have toiled through the steamy rain forests of South America, the deserts of the Middle East, the glaciers of Tibet, the tropical jungles of New Guinea, the remote terrains of North Korea and, finally, the battlefields of Vietnam, Laos and Cambodia.

Their job: to recover remains, wreckage and artifacts belonging to missing service members. Each year, teams spend more than 220 days in some of the harshest climates of the world. The Army will add a 14th team this year.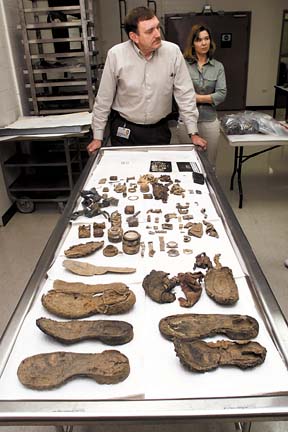 By Ronen Zilberman, Star-Bulletin
Johnie Webb, the deputy director of the Central Identification
Laboratory, looks over some artifacts at the
Hickam Air Force Base center.
---
Helen Dockall, an anthropologist who recently returned from a 35-day expedition into southern Laos excavating the crash site of an A-6 Intruder, found mosquitoes to be especially bothersome.

Once remains are brought to Hickam, 21 forensic anthropologists and odontologists (dentists) begin analyzing the "casualty data." Also involved are mortuary specialists, historians, anthropologists and specialized scientists, who attempt to establish identities using state-of-the-art computers, microscopes and radiological equipment. Although the latest technology employs mitochondria DNA research, comparison of dental records continues to be the mainstay.

Throughout the identification process, assistance may be sought from federal and private agencies, including the U.S. Army's Pacific region medical center, the Armed Forces Institute of Pathology, the Federal Bureau of Investigation, the Armed Forces DNA Identification Laboratory in Rockville, Md., and the Smithsonian Institution.

Simultaneously, but independently, the different forensic anthropologists develop a biological profile of an individual based on the skeletal remains.

Once a biological profile is completed, they compare it with the known, recorded features of a missing individual.

Researchers also pore over records and military historical data to determine whether the remains match information in files from battlefield and crash reports, previous excavations and other available data.

Working like a medical examiner, Thomas Holland, the lab's scientific director, and his staff combine the scientific findings with background information from the casualty data section. Using the results of other investigations, such as wreckage surveys, they sometimes are able to confirm the identity of the remains.

If that happens, their findings are then forwarded to the Casualty and Memorial Operations Center, which then will refer them to the military service to which the deceased was assigned.

If a family disagrees with the findings, final determination will rest with the Armed Forces Identification Review Board, consisting of senior military officers from each of the services.

Not all evidence bears fruit.

In the case of the 1,444 dog tags, Army investigators determined that none belonged to a service member who was reported missing or unaccounted for. This, after the nurse paid "quite a sum of money" for the tags.

---




CILHI policy prevents photographs of remains from being published.
All bones and teeth photographed are replicas.

---




Research and Graphics by David Swann - Design by Donica Croot and Michael Rovner, Star-Bulletin
E-mail to City Desk
---
---
© 2000 Honolulu Star-Bulletin
https://archives.starbulletin.com