Advertisement - Click to support our sponsors.

---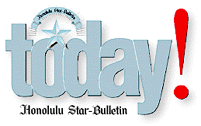 ---
Thursday, November 9, 2000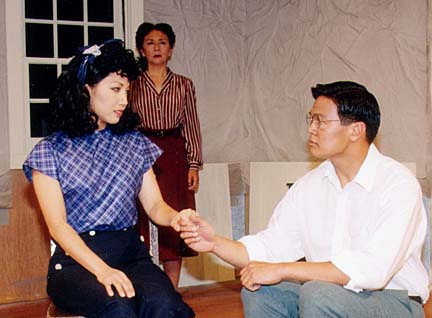 MVT
From left, Wendy Muraoka-Larrow, Dian
Kobayashi and Martin Romualdez star in
"Sisters Matsumoto."
---
Fascinating 'Sisters'
superb drama

Sisters Matsumoto: At Manoa Valley Theatre, 7:30 p.m. Wednesdays and Thursdays, 8 p.m. Fridays and Saturdays and 4 p.m. Sundays through Nov. 26. $22. Discounts available. Call 988-6131.

---

By John Berger
Special to the Star-Bulletin

AMONG the uncounted millions driven from their homes during World War II were the 120,000 Japanese Americans living in the western United States. The American government forced them to make last-minute arrangements for their property, interned them, then left them to rebuild their lives as best they could after the war. Manoa Valley Theatre recalls that chapter in American history with a superb staging of Philip Ken Gotanda's beautifully constructed "Sisters Matsumoto."

When the three sisters return to California in 1945 they find what remains of their once wealthy family's holdings in shambles and that little welcome from the community. Grace (Dian Kobayashi), the eldest, married the upper-class, kibei (Japan-educated Japanese American) her father chose for her. Middle sister Chiz (Sammie Choy) married a bumptious self-styled "buddahead" from Kauai. Rose (Wendy Muraoka-Larrow) lost her fiance when he joined the Army to prove his loyalty and died in Italy.

The sisters become multi-faceted characters and the family relationships are fascinating. Gotanda deftly reveals the details even as he tells a larger story of the conflicts between Japanese Americans who volunteered to fight for America and those who supported Japan, the friction between "buddaheads" from Hawaii and mainland "kotonks," and of families who lost relatives in the American firebombing of Japan.

Keith Kashiwada quickly becomes an audience favorite as the rowdy "buddahead." J. Martin Romualdez gives a strong performance as the stoic kibei Hideo.

Muraoka-Larrow makes Rose a charming character. Choy and Kobayashi distinguish themselves as well. Andrew Ma (Henry) makes a fine debut. Craig Howes (Joe) plays the Matsumotos' conflicted Caucasian neighbor.

Director Phyllis S.K. Look skillfully negotiates each twist and turn in Gotanda's tale. The work of Greg Howell (hair/makeup) and Vicki Woollard (properties/decor) is valuable in defining the era.






Click for online
calendars and events.
E-mail to Features Editor
---
---
© 2000 Honolulu Star-Bulletin
https://archives.starbulletin.com