CLICK TO SUPPORT OUR SPONSORS

---

---
Friday, October 27, 2000

|

|

|

|

|

|

|

|

|

|

|

|

|

|

WINNER, BEST OF THE WEST 2000


Map by Bryant Fukutomi, Star-Bulletin

Drive slowly, roll down the
windows and take it all in --
the journey to East Maui
is a sensory adventure

---

By Gary T. Kubota
Star-Bulletin

HANA, Maui -- Different people travel for different reasons to Maui. Many say they find what they're looking for on the road to Hana.

The 68-mile route from Kahului past Hana town to Kipahulu serves as a major tourist attraction, with thousands of visitors traveling to and from the East Maui coast daily.

The road was recognized in August for its historical and cultural significance and designated by the White House as part of the "Hana Millennium Legacy Trail."

At Kaupakalua, where the millennium trail sign is posted, the route descends through a cut in the mountain, past fern-carpeted slopes, over glistening macadam wet from an early morning rain.

It turns through a cathedral of kukui trees, past the faint scent of white ginger blossoms, then swings up on a hairpin along a cliff overlooking the ocean.

It's lush. It's winding. It can be fascinating. It can be nauseating. But it's definitely unique.

The drive takes about two and a half hours (with no stops) from Kahului to Kipahulu and requires negotiating more than 600 curves on a road where the speed limit ranges from 10 to 35 miles an hour.

"It's the drive that makes Hana Hana," said Leinaala Pua, an official with the Hana Cultural Center.

Of the 59 bridges along the Hana Highway, 46 are one-lane bridges.

The bridges, and the driving rituals associated with them, are part of the experience of traveling on the road to Hana.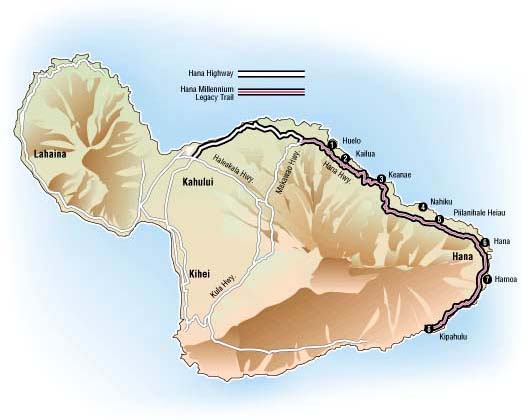 Map by Bryant Fukutomi, Star-Bulletin



Places of interest

Some of the historic points along the Hana Highway, as noted on map above:

1. At Huelo stands Kaulanapueo, a New England Congregational church founded in 1853. Hawaiians built the church from area materials, including large basaltic boulders.

2. Kailua remains the baseyard for East Maui Irrigation Co. Ltd., which maintains 75 miles of ditches and tunnels; the first section was built in 1876.

3. Hawaiians continue to grow taro on the Keanae peninsula and to maintain a Protestant church built in 1860 by their ancestors. The church's beams are made from lehua trees, and coral was used as plaster in the wall construction. Chinese immigrants worked rice fields and a mill here in the early 1900s.

4. Nahiku was a rubber plantation in the late 1800s.

5. Near Nahiku is Piilanihale, one of Hawaii's largest heiau. Stone platforms are reminders of a once-thriving Hawaiian community in the 15th century.

6. Hana was the site of a sugar cane plantation and mill, which closed in 1946. The Hotel Hana-Maui, built after the closure, remains the region's only resort.

7. Beyond Hana, several sites are magnets for visitors: the black sand beach at Hamoa and Waimoku Falls; and in 8. Kipahulu, the pools at Ohe'o at Haleakala National Park and aviator Charles A. Lindbergh's grave.




Keeping the character of the drive is important to residents, who say they oppose plans to replace some one-lane bridges with two-lane bridges.

Speeding to find Hana would be like dashing to a service window to receive communion at a drive-through church.

Leave your pager and cell phone at home. Bring bottled water, motion sickness pills and patience.

The state has paved the road to smooth two-lane perfection in some places, turning what once was a rattling washboard ride into a cruise similar to Round Top and Tantalus drives on Oahu.

Taking in the sights, smells

Still, the hundreds of twists and turns on the road discourage most Hana residents from commuting to outside jobs.

Many of the 2,150 residents spread over 145,000-acre Hana District work as self-employed small farmers, or for Hana Ranch or the 96-room Hotel Hana-Maui.

They travel sparingly, once or twice a week on shopping trips to central Maui, so you're as likely to meet tourists on the road as locals.

As you go deeper into the East Maui forest, lichen and vines grow on tree trunks and branches.

The air is redolent with the smell of rain, guava and ginger blossoms.

Ferns grow on the thick moss of tree branches.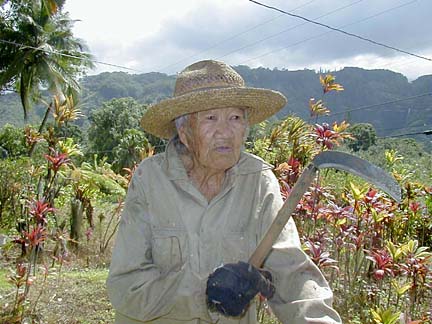 By Blaine Fergerstrom, Star-Bulletin
Helen Nakanelua, 89, of Keanae on the Hana Coast, is a fifth-generation
taro farmer; her family's land ownership dates from the mid-1800s.
She is against widening the bridges on the Hana Highway, saying
that would encourage speeding and too much traffic.
---
But the cruise stops abruptly when approaching one of the 46 one-lane bridges and a sign warning motorists, "Yield to oncoming traffic."

Vehicles slow to a crawl as they wait for a crossing.

People lower their windows.

They hear the smooth thunder of a waterfall, and park on the side and get out.

They forget themselves, walk in the middle of the road, and talk to total strangers.

It's here you find people like Dale Pariseau, a former Maine resident, barefoot and chewing on a guava leaf with a walking stick at his side, hiking on the road to Hana.

Or Ben Benjamin, who once commented to a friend on a rare 75-degree day in Boston: "Wouldn't it be nice if it was like this every day?"

His friend said, "It is, on Maui."

These people have crossed over -- physically, emotionally, spiritually -- to Hana.

360° VIRTUAL REALITY PHOTO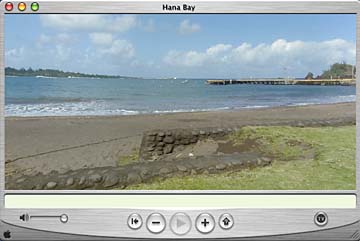 By Blaine Fergerstrom, Star-Bulletin
At Tutu's Snack Shop on Hana Bay, owner Cherie says,
"Leave the bridges alone!" Click the photo to see the panorama.
Quicktime software required.
---
Maui Police Lt. Charles Hirata, a supervisor in the traffic section, said the road may contribute to an occasional "fender bender" but has rarely been the scene of a fatal collision.

Serious vehicle accidents on the road are more likely to involve a single vehicle going over a cliff.

"When you know in the next few hundred feet there's going to be a turn or curve, you're going to be alert," Hirata said.

The bridges provide a break in the foliage, a platform for viewing streams as they meander down ravines or valleys.

Some of the older bridges blend into the foliage.

Ferns grow on a layer of moss on the walls of the Mokulehua Stream Bridge, built in 1908, the oldest on Hana Highway.

Above Nailiilihaele Stream Bridge, water flows over a concrete irrigation dam and into a ditch system flowing west to upland communities.

"This is beautiful," said Andrew Baxter, an Indiana visitor who works as a highways engineer.

"You don't see anything like this anymore. It's pretty primitive, but it works."

Early Hawaiian trail

What also is continuing to work is the practice of Hawaiian culture in East Maui, for a trip on the Hana Highway is travel through time.

Part of the road follows a 500-year-old king's trail, the route of the Makahiki harvest festival and path of those who collected taxes.

The road was finally developed for motor vehicle traffic from Kahului to Hana in 1926.

While the bridges were made of concrete, the roads were dirt and gravel with large potholes that made traveling by car difficult as late as 1958, recalled Keanae resident Awapuhi Carmichael.

"You almost had to have a four-wheel drive," she said.

Travelers know they're in Hana when they see a sign on the left hand side of the road saying, "Hana Airport."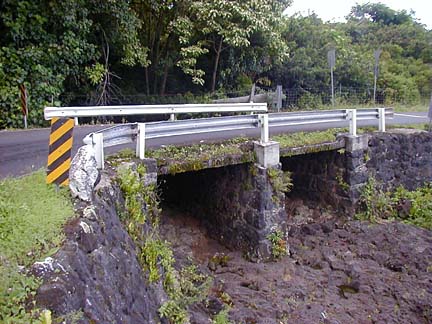 By Blaine Fergerstrom, Star-Bulletin
Make-Man Bridge (Dead-Man Bridge) about two miles from Hana
town on a portion of the Hana Highway. Plans to upgrade the
bridge were scrapped due to opposition.
---
There are no signs that say, "Welcome to Hana," no main street, no fast-food franchises.

For dining, there are two restaurants and Tutu's Snack Shop at Hana Bay.

People here believe less is better -- less noise, fewer cars and fewer city standards.

Some visitors say the scenery in Hana town seems anticlimactic after the wild beauty of the ride.

The mountainsides are tamed, rolling green hills of cattle land and manicured residential lawns.

In their relative isolation, residents along the road have developed a lifestyle that fosters independence.

A number of residents proudly recall voting against statehood in 1959.

Many have opposed the further taking of water from the streams to supply farm and domestic water needs elsewhere.

The current movement to keep one-lane bridges on the road is one more battle.

Residents say they're wary of state highway designs, in light of its recent "interstate-scale bridges" that replaced two-lane wooden bridges at Hoolawa and Uaoa in East Maui.

"I think it's an atrocity. It's not the right scale. By putting a bridge of that scale on that road, it's encouraging a manner of driving inappropriate for that road," said Elizabeth Russell, a spokeswoman for the Alliance for the Heritage of East Maui.

Harry Hasegawa of Hasegawa General Store in Hana said the bridges help to preserve the country pace of Hana and its people.

"If the bridges remain narrow, then maybe I can have a longer life," Hasegawa said.




ABOUT THE HIGHWAY

The total length of the Hana Highway, from Kahului past Hana to Kipahulu, is 68 miles. The highway

recently was designated as part of the Hana Millennium Legacy Trail. That portion of the highway includes:

13 two-lane bridges

46 one-lane bridges (12 of which are between Hana and Kipahulu)

Oldest bridge: at Mokulehua, built in 1908

Newest bridge: Hoolawa, rebuilt and widened in 1994

Speed limit from Kaupakalua to Hana, 10-15 mph

Carrying capacity: 10 tons to Hana (state-maintained road); 3 tons from Hana to Kipahulu (county-maintained)




---

360° VIRTUAL REALITY PHOTO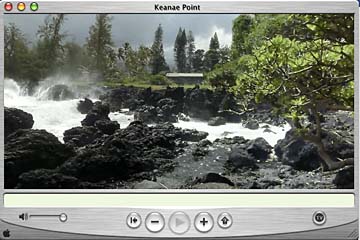 By Blaine Fergerstrom, Star-Bulletin
A panorama of the Keanae Coast. Click the photo to see the panorama.
Quicktime software required.
---
Isolation bred
self-sufficiency among
coastal communities

---

By Gary T. Kubota
Star-Bulletin

WAILUKU -- To leave East Maui for an education beyond the fifth grade, Helen Nakanelua needed to time the motion of the waves and jump onto a sailboat at a wharf on the Keanae peninsula.

She then jumped onto a steamer ship anchored offshore that eventually took her to Honolulu, where she attended Kalihi Waena.

"When the waves came up, you had to be quick," recalled Nakanelua, 89.

Her journey in the early 1920s was the way many people traveled outside of Keanae and nearby Wailua in the Hana District.

The other alternative was to ride a horse northwest over steep terrain for two to three hours to Kailua, where a taxi could take residents to Kahului Harbor.

The relative isolation forced the communities along the Hana coast to be self-sufficient.

Nakanelua, whose family has lived in Keanae for at least five generations, said a warehouse was located on the wharf and Keanae had three stores selling items such as coffee, saloon pilot crackers, cans of corned beef, and salted codfish and salmon.

Residents grew rice commercially for export but not taro, because most Hawaiians grew their own.

After the road to Hana was completed in the mid-1920s, residents had less of a need to rely upon ships for transportation and supplies, and the shipping service halted, she recalled.

Nakanelua said the road has enabled her to get fertilizer more easily from suppliers in Kahului, but she's not happy with the increasing traffic.

She said she's against widening the road and one-lane bridges because it will increase speeding.

"Sometimes the traffic is so much it's pitiful," she said.

---

360° VIRTUAL REALITY PHOTO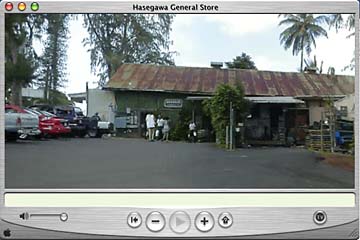 By Blaine Fergerstrom, Star-Bulletin
At Hasegawa General Store in Hana, proprietor Harry Hasegawa
wishes for one-lane bridges and a long life.
Quicktime software required.
---
Most want one-lane
bridges, despite cost

---

By Gary T. Kubota
Star-Bulletin

Along the rugged rural coastline of East Maui in the early 1900s, government officials developed scores of one-lane bridges as a way to reduce construction costs.

As the bridges near their life expectancy, Maui residents are fighting to keep the one-lane design as a means to slow traffic from an increasing flow of vehicles -- now more than 3,000 a day.

"They think this is a city," said taro farmer Helen Nakanelua, 89. "If we had it wider, the cars would be speeding. I prefer leaving the lifestyle the way it is."

Robert Siarot, head of the state Department of Transportation for Maui, said that all the bridges are safe as long as the 10-ton weight limit is obeyed.

The bridges are checked every two years. But they are aging.

But if county and state officials go with public opinion and replace old one-lane bridges with new one-lane bridges, it's going to cost them.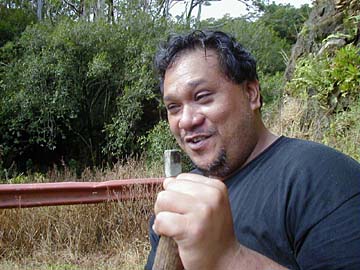 By Blaine Fergerstrom, Star-Bulletin
Leland Hoopii, East Maui Irrigation worker, says upgrading
Hana Highway bridges to two lanes would increase traffic
and vehicle speeds on the winding road.
---
Construction for a 40-foot-long, one-lane bridge would cost $600,000-700,000. A two-lane bridge of the same length will cost about $1 million, estimated Maui Public Works director David Goode.

A one-lane design won't qualify for federal matching highway funds -- normally used to pay for 80 percent of bridge replacement costs.

So, with federal funds, the two-lane bridge costs only $200,000 in local money -- cheaper than the one-lane.

Goode said despite the potential increase in cost, the county has developed a new policy that favors keeping the one-lane bridge design.

Hana Highway one-lane bridges at Kaholopo and Papaahawahawa would be the first bridges up for replacement. A two-lane wooden bridge on the highway at Hoolawa has been rebuilt and widened, and one at Uaoa is under construction. A third two-lane wooden bridge is to be replaced next year.




Rules of the road

Hana Highway driving etiquette requires the last car to reach the yield line on either end of the bridge to wait until the cars already waiting on the other side pass over the bridge.

An equally important courtesy calls for visitors to move off to the side of the road and yield to a vehicle that has been following closely, especially if the vehicle has rust and a few dents (indicating the driver is a Maui resident.)

A two-beep honk from the passing driver means, "Thank you."




Meanwhile, state transportation officials are working with the federal government on new design standards that would preserve the nature of certain bridges on scenic highways.

"We're hoping for approval of that," state transportation spokeswoman Marilyn Kali said. "It is in progress now. I don't know when it will be finished."

Earlier this year, Hana Highway was designated by the White House as one of 52 "Millennium Legacy Trails" nationwide, recognizing its historical importance in linking rural communities.

"People travel it to experience its wild character," said Elizabeth Russell, a spokeswoman for Alliance for the Heritage of East Maui.

Russell said by being inflexible in its funding criteria and requiring bridges to be two lanes, the federal highway officials are causing the loss of historic bridges.

"This is a nationwide problem," she said.

In Vermont, state officials passed a law in 1997 establishing their own bridge standards.

The state standards enable Vermont to receive 80 percent federal funding for replacing one-lane bridges in certain instances, Vermont state engineer James McCarthy said.

"You almost have to treat every site independently and take everything into account," he said.
E-mail to City Desk
---
---
© 2000 Honolulu Star-Bulletin
https://archives.starbulletin.com