Advertisement - Click to support our sponsors.

---

---
Friday, October 27, 2000



His two previous trials
ended in mistrials

---


By Star-Bulletin staff

A Mililani man was convicted today of most sexual assault and kidnapping charges in the notorious "Mililani rapist" case involving attacks on teen-age girls in 1997.

James Allen Thompson, a former prison guard, was convicted of 18 counts of sexual assault and two counts of kidnapping. The jury of eight women and four men was hung on one additional count of kidnapping. They got the case yesterday afternoon.

Prosecutors said they will be seeking multiple consecutive life terms when he is sentenced Jan. 10.

Thompson was on trial for the third time for a series of well-publicized attacks. The previous trials ended in mistrials.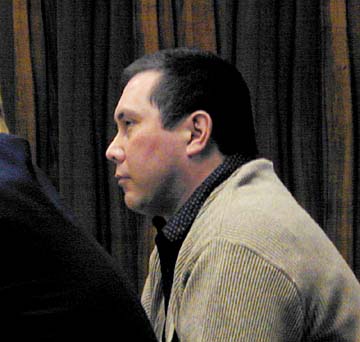 By Craig T. Kojima, Star-Bulletin
James Thompson at trial last year. Thompson was convicted
today in his third trial on the charges.
---
Prosecutor Rom Trader said Thompson approached girls walking alone in Mililani and forced them into his car.

Thompson was accused of abducting four girls and forcing three of them to perform sexual acts.

One girl escaped while she was being forced to walk to a car.

He also was accused of trying to kidnap a fifth girl. She escaped and took down her assailant's license number, which led to Thompson's arrest, Trader said.

Defense attorney Todd Eddins said police arrested the wrong man. His client can prove he was elsewhere during some of the attacks, he said.

Despite the fact that the victims all identified Thompson, their descriptions of the attacker varied and the police lineup was not properly conducted, Eddins said.
E-mail to City Desk
---
---
© 2000 Honolulu Star-Bulletin
https://archives.starbulletin.com