Advertisement - Click to support our sponsors.

---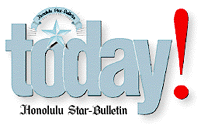 ---
Thursday, October 12, 2000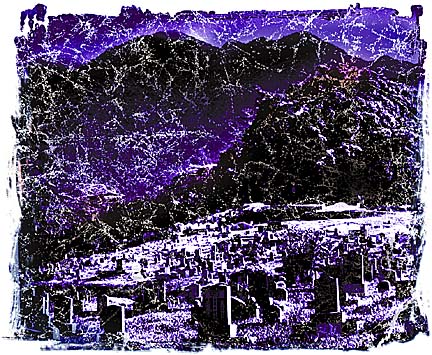 By Ken Sakamoto, Star-Bulletin
The Ghost Tour stops at Manoa Chinese Cemetery.
---



Local haunts are the
main attraction on the
Ghosthunters Bus Tour

Guide treats sites with respect
Halloween Happenings

---

By Rosemarie Bernardo
Star-Bulletin

WE arrived at the Manoa Chinese Cemetery at 9 on a Saturday night, 29 of us, and storyteller Lopaka Kapanui, leader of the Ghosthunters Bus Tour.

Kapanui asked permission of the cemetery's spirits to tell a few stories while the blustery winds caused branches from overhanging trees to sway to and fro.

"Many children are buried at this site," said Kapanui, who asked that those of us who had candy in our purses and pockets to unwrap the pieces and place them at our feet.

Battling a sore throat, I unraveled six pieces of Halls honey-lemon flavored cough drops. As soon as the offerings to the child spirits were in place, the winds suddenly stopped.

Considering myself a strong skeptic of supernatural beliefs, I cringed in fear and amazement. Goosebumps began to creep from my legs to my fingertips.

After 15 seconds, the howling winds began to pick up. Standing next to me was college student Maya Geisler, demanding that I offer more cough drops. But, Kapanui said six was enough.

Fear also filled the tour group upon our arrival at Morgan's Corner, known for its huge tree tied to urban legends of hangings and bloodied hands scraping on roofs of cars whose drivers dared to park at the site. During my teen years, my friends and I made several attempts to locate Morgan's Corner but were unsuccessful in finding the site.

Now, I was curious to finally see the site as the tour group bunched up along a locked chain-link fence on Kionaole Road in Kaneohe. Kapanui stood near a 5-foot hole in the fence that allowed access to the "13 Steps" said to be a stairway to the spiritual world. When he asked if anyone was interested in venturing through the fence, several people and I shook our heads.

I listened to Kapanui while he told the story of a local girl whose spirit haunts Morgan's Corner, later explaining she was murdered at the site. A loud ruckus behind us had me clutching my friend's arms, cutting off his blood circulation for a good three seconds. We soon found out our tour bus, parked in a way that should have prevented its budging, had rolled forward into a fence.

At the stroke of midnight, another sound erupted from behind the tour group. Compact cars with young men blasting hip-hop music from their stereos came down the road. The disruption was welcome, lightening our feelings of suspense.

Between the various sites, Kapanui told local ghost stories of haunted businesses, schools and theaters. Driving along Waialae Avenue, the storyteller told the tale of a faceless woman who haunted the old Waialae Drive-In. In recent years, Kapanui said, the displaced specter has been seen by employees at the nearby Times Supermarket and at the Kahala Consolidated Theatres.

True or not, the local stories lived up to the ghost tour company's name -- "Chicken Skin." I told myself I'll just stick to watching movies at Mililani.

We traveled to Kolowalu Street in Manoa where it is believed that Joseph Kahahawai was murdered. As the driver parked near two houses, Kapanui told the story of the Massie Case. On Sept. 12, 1931, Navy wife Thalia Massie claimed she was raped by seven local men. Kahahawai was one of the men charged with a crime which was later dismissed. On Jan. 8, 1932, Kahahawai was kidnapped and murdered.

Kapanui said it's believed Kahahawai was taken to one of these two Manoa homes and that people have seen Kahahawai's spirit wandering in both yards.

By the time the tour ended at 1 a.m., two hours after it's scheduled time, I was feeling a slight touch of motion sickness. As a person who can barely watch a scary movie without grasping someone's arm or diving into a large pillow, the ghost tour had succeeded in scaring me.

For those planning to take the tour, beware, I had trouble sleeping for the next couple of days, seeing spooks in every shadow and hearing them every time the house creaked in the October winds.




Thrill ride

What: Ghosthunters Bus Tour with storyteller Lopaka Kapanui; a Honolulu TimeWalks Chicken Skin program
Where: Bus tour of Morgan's Corner, Manoa Valley, Windward Oahu and Nuuanu Pali sites. Meet at The Haunt in Puck's Alley, 2634 S. King St
Dates: 7:15 to 11:15 p.m. Saturdays through Oct. 28
Cost: $30
Call: Jill Staas at 943-0371<




P>

---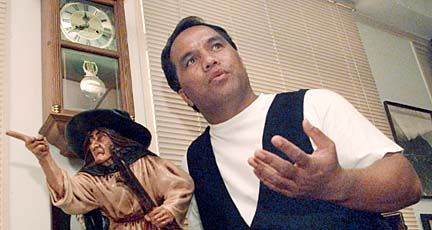 By Ken Sakamoto, Star-Bulletin
Tour guide Lopaka Kapanui
---
Respect is key
on ghost tours

---

By Rosemarie Bernardo
Star-Bulletin

At 6 years old, Lopaka Kapanui was touched by a demon. Asleep in his bedroom, he was awakened by something poking his back through the mattress. He immediately looked underneath the bed and saw nothing. But as he turned toward the glass jalousies of his bedroom, Kapanui saw a shadow of a large clawed hand.

"I was too scared to scream," he said, remembering hiding underneath the sheets.

Too afraid to tell his parents, Kapanui only spoke of the 10-minute encounter years later.

Growing up in Maili, Kapanui said he was surrounded by local ghost stories of giants and menehune told by family members. Through storytelling, he found a new respect, rather than fear, for the spirits that wander the Hawaiian Islands.

Now 34, Kapanui regularly hosts the Ghosthunters Bus Tour. Sponsored by Honolulu TimeWalks Chicken Skin, programs created by Glen Grant and Jill Staas, Kapanui tells local tales derived from Grant's collection of books. He also includes his personal encounters with the supernatural.

Morgan's Corner, Makapuu Lookout and Manoa Chinese Cemetery are some of the sites visited on the tour. Each site is treated with respect. "I make it a point to ask permission first before I tell stories," said Kapanui.

Many who take the tour arrive with ti leaves, Hawaiian salt, crucifixes and holy water to ward off evil spirits, said Kapanui, who believes these forms of "protection" are unnecessary.

The tour is meant to be taken in the spirit of fun, but many people arrive already keyed up, he said. On one tour, the whole group refused to get off the bus when they arrived at Manoa Chinese Cemetery, said Kapanui.

In May, a Secret Service agent from Virginia, whose hobby is ghost hunting, joined the tour. He came equipped with an infrared camera that showed orbs at the cemetery, Kapanui said.

Before attending the tour, Kapanui advises people to keep an open mind and positive attitude.

"The ones who come on the tour wanting to be scared don't get scared," said Kapanui. "The ones who don't expect it are the ones who get totally freaked out."

Frequently, men who are initially cynical end up getting the most scared. The last thing Kapanui wants to do is trivialize their fears. "I don't want anybody going home feeling depressed," he said.

---

HALLOWEEN HAPPENINGS

Haunted Houses

Aloha Tower Marketplace

Pier 10, 737-5544
6-11 p.m. Oct. 20 and 27; 3-11 p.m. Oct. 21 and 28; noon-5 p.m. Oct. 29; and 6-10 p.m. Oct. 31. Fifteen chambers of fear filled with ghosts, goblins, thrills and chills. A pumpkin patch with hands-on activities for ages 1-3. Admission: $7; $3 children under 12. Groups of 11 or more, $5 each.


"Scream Life Park Halloween Spooktacular"

Sea Life Park, 259-7933
6:30-10:30 p.m. Oct. 20-21 and 27-28. Sea Life Park will be transformed into a haunted theme park with three haunted houses, eerie magic shows and train rides, and "The Return of Jack: A Satire from the Movie Titanic." Admission: $24 adults; $12 children 4-12, free for children under 4. Kamaaina rates: $12 adults and $6 children, ages 4-12.


Waianae Mall

696-3862
The Westside Youth festival features a haunted house, 11 a.m.-11 p.m. Oct. 28. Tickets: $1.

---




Costume Contests

Compadres

Ward Centre, 591-8307
9 p.m. Oct. 31. Adults only.


Ala Moana Center

946-2811
6-8 p.m. Oct. 31. Categories for toddlers, children and adults. Top prize: $1,000.


Koko Marina Shopping Center

395-4737
4:30 p.m. at the Bell Tower. Prizes will be awarded for the most original, cutest and most scary costumes. Winners announced at 6:30 p.m.


Market City Shopping Center

734-0282
6:30 p.m. Oct. 28. Guided costume parade with trick-or-treating at participating merchants, ends with a contest for the scariest and most original costumes. Parents are responsible for escorting children.


Chinatown Gateway Park

528-0506
"Excentricus" Keiki Costume Contest following Cirque Eloize's performance at 2 p.m. Oct. 29.


Kahala Mall

733-7371
6 p.m. Oct. 30. Prizes awarded to various age groups (under 2; 3-4 year olds; kindergarten and 1st grade; 2nd and 3rd grade; 4th-6th grades; and family or group portraying a single theme) in the categories of most original, judge's choice and funniest/cutest.


Town Center of Mililani

625-5233
Noon Sept. 28. Muffin will lead the costume parade and the top three winners in each category, scary and cutest will win a $25 Town Center gift certificate.


Dixie Grill

596-8359 or 485-2722
Keiki costume contest for children under 12, Oct. 29. 1 p.m. Ward Ave. location; 3 p.m. Aiea location. Prizes for best costume, most creative and scariest.


Mcdonald's

Windward Mall, 235-1143
10 a.m.-3 p.m. Oct. 28. Children to adult categories.


Salsa and Merengue Dance and Costume Contest

Garden Cafe Courtyard, Academy of Arts; 532-8700
5:30-9:30 p.m. Oct. 20. Prizes will be awarded. Admission: $5.

---




Storytelling

"Spooky Stories"

Mccoy Pavilion, 973-7262
7-9:30 p.m. tomorrow. Part of the Talk Story Festival with Jeff Gere.

---




Special Events

Halloween Cat Show

Amfac Center Exhibition Hall, 700 Bishop St.; 261-7285
9 a.m.-4 p.m. Oct. 28. Prizes awarded for best pedigree; best household cat; and best Halloween cat (household only - black, orange). Tickets: $4; $2 children under 12 and seniors.


The Haunted Ewa Train

681-5461
Listen to ghost stories while riding along the dark, spooky railroad tracks Oct. 27-28. Time slots: 7-7:30 p.m.; 7:45-8:15 p.m.; 8:30-9 p.m. and 9:15-9:45 p.m. Tickets: $4 adults; $3 kids 2-12 and seniors ages 62 and up; children under 2 ride free. Reservations required.


Hawaiian Latin Masquerade

Havana Cabana, 524-2712
7 p.m. Oct. 28. Costume contest and Latin cuisine. Come early for free tango and salsa lessons. An activity for singles sponsored by Kindred Hearts. Tickets: $12.50. Call for reservations.


"Interview with the Vampires"

Prosperity Corner, 732-8870
8:30 p.m.-midnight Oct. 20-21 and 27-28. An evening of interactive theatre based on the legendary characters of Anne Rice. Those brave enough to take part in the "interviews" will receive a souvenir autographed interview book. Free admission.


Keiki Arts and Crafts

Kahala Mall, 732-7736
1-3 p.m. Oct. 22. The first 200 keiki, 12 and under, can create Halloween character puppets. Free.


La-Teen Halloween Costume Dance Party

UPRAH Social Hall, 1249 N. School St.; 847-2751
7-11 p.m. Oct. 28. DJ Margarita, pizza, treats and more. Ages 13-19. $5 in advance; $7 at the door.


The Maize

Kapolei, 677-9412
Corn field maze, 4-10 p.m. Mondays to Thursdays; 4-11 p.m. Fridays; and 10 a.m.-11 p.m. Saturdays; and noon-5 p.m. Sundays, through Nov. 15. Ages 12 and up, $8; ages 6-11, $5; children under 5 are free.





Click for online
calendars and events.
E-mail to Features Editor
---
---
© 2000 Honolulu Star-Bulletin
https://archives.starbulletin.com