Advertisement - Click to support our sponsors.

---

---
Wednesday, October 4, 2000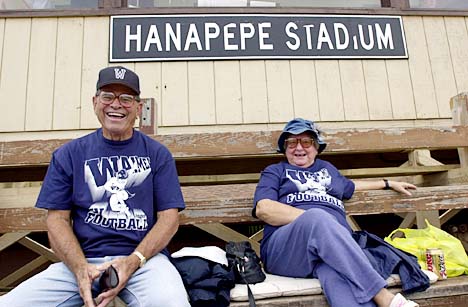 By Ronen Zilberman, Star-Bulletin
At Hanapepe Stadium, fans Ernest and Virginia Moniz
enjoy their 50-yard-line seats on wooden bleachers below
the press box.
---



In Hanapepe, football
is more than a game --
it's a night on the town

---

By Rod Ohira
Star-Bulletin

HANAPEPE, Kauai -- Within the rustic atmosphere of fan-friendly Hanapepe Stadium, Friday night football on the west side becomes more than just a game.

The 35-year-old stadium, which was designed for baseball, is home to the Garden Island's best high-school football team going on nine years.

And the Waimea High Menehune's true-blue supporters make the most of their three or four games a year in this town founded by Chinese rice farmers.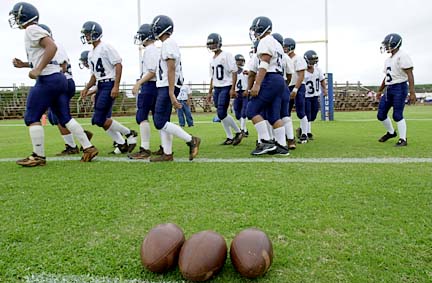 By Ronen Zilberman, Star-Bulletin
Waimea junior varsity players warm up before
playing Kapaa, left.
---
"It's our big Friday night outing -- buy a plate lunch dinner and watch football," said Waimea alumna Tammy Nakayema, who has been attending games for 17 years.

JoAnn "Aunty Jo" Kahawai, a Waianae High grad who moved to Hanapepe eight years ago, likes the family atmosphere.

"It's similar to how it was at Waianae High -- nice view, clean air, friends and relatives, and sitting up close," Kahawai said.

By placing a dozen small aluminum portable bleachers on the right side of the baseball diamond, the stadium is reconfigured for football.

There are 10-row permanent wooden bleachers in what would be right field, where the press box is located, and behind the makai and mauka end zones.

The old-fashioned wooden "H" goal posts are a perfect complement.

Fans here can bring lawn chairs and sit on the field about five yards behind the mauka-side end zone.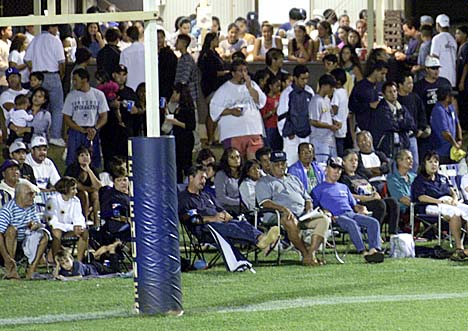 By Ronen Zilberman, Star-Bulletin
Fans in lawn chairs crowd behind
the mauka end zone goal post.
---
At last Friday's game against Kapaa, there were about 75 fans seated on the field, including David Ruiz.

"From here, I can watch all the holes open up and see who's goofing off," said Ruiz, a 72-year-old former player who has been following Waimea football for more than 60 years.

Edward Fernandez and Stanley Agan come early not only to watch the junior varsity game, but to stake out their 50-yard-line seats below the press box, which they claim are the best in the stadium.

"Anywhere from the fifth row up is good," Fernandez said. "Below that, it's hard to see because the players stand up on the sidelines."

Attendance averages about 2,500. There's no parking lot, so fans either park along the side streets or on the grass behind the stadium.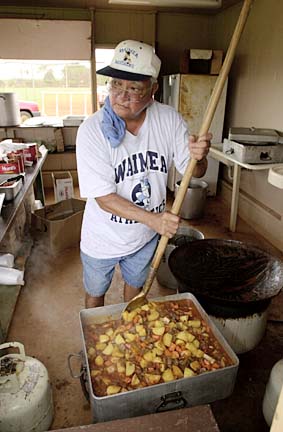 By Ronen Zilberman, Star-Bulletin
Jackson Hamamura stirs the stew before the
football game between Waimea and Kapaa.
---
For the "Friday Night Specials" in Hanapepe, Waimea Athletic Director James Kitamura's game-day preparation begins at 8 a.m.

By midafternoon, the field has been lined for the JV game, which starts at 5 p.m., and the cooking has begun.

There's only one concession stand and everything is prepared there.

For the Kapaa game, the dinner choices were kalua pig and cabbage, teriyaki beef or stew plates for $6. Saimin and hot dogs also were available.

"We bought 80 pounds teriyaki meat, five cases stewing meat, 13 pounds of carrots, 10 pounds of celery and 60 pounds of potato," Kitamura said. "A Waimea grad, Lionel Kaohi of Imu Hut, donates five trays of kalua cabbage to us every game."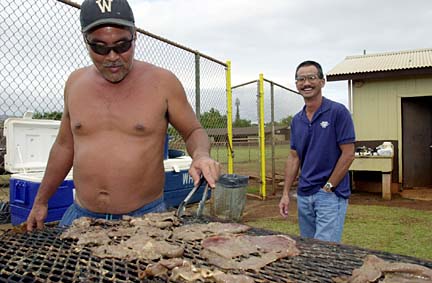 By Ronen Zilberman, Star-Bulletin
Gordan Harada cooks while Ainsley Hori enjoys the moment
before the football game between Waimea and Kapaa,
at Hanapepe, Kauai.
---
"We sell over 500 plate dinners and there's never anything left over," Kitamura said. "It's the only game in town.

"When we added the JV opener about seven years ago, (the doubleheader) became a real breadwinner for us because people come straight from work and buy dinner here."

Fresh, crunchy boiled peanuts also are a notable treat at Hanapepe Stadium.

"You got to cook 'em at 800 degrees for five minutes or 5 degrees for four days," Al Arquette Jr. jokingly said, preferring to keep his "Nuts-O-What" cooking method secret. Arquette sells about 250 bags a game.

When asked about the unusual brand name for his peanuts, Arquette said, "Whenever I wanted to use the car on Friday nights, my father used to say 'eh, you nuts o what.' I thought it was my name."

Money from food and T-shirt sales is used to support the athletic program.

"Without it, we couldn't survive," Kitamura said. "We gross about $20,000 annually from three or four games. The money helps support 31 sports programs."

Waimea also awards $500 scholarships annually to a boy and girl athlete, the money for which comes from concession funds.

Going the distance

Coaches, student athletes and community volunteers provide the manpower for all home games.

Waimea's regular-season schedule consists of three games each against Kauai High and Kapaa, both of which play their homes games at Vidinha Stadium in Lihue.

Games involving Kauai High tend to draw several hundred more visiting fans to Hanapepe because of shorter driving distance from Lihue, said Kitamura.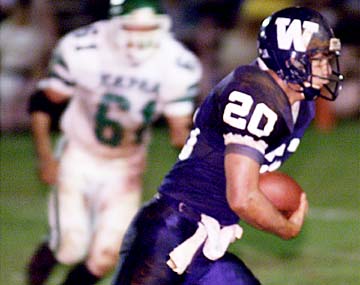 By Ronen Zilberman, Star-Bulletin
Waimea High's Jesse Sablan
runs past his Kapaa opponents.
---
But Dennis Bonilla of Kapaa doesn't mind the drive to Hanapepe once or twice a year for football.

"Depending on the traffic, it takes us 45 minutes to get here," Bonilla said. "I like it better (than Vidinha Stadium) because the stands are closer to the field and you can sit anywhere and bring in lawn chairs.

"It's good for the young kids, too, because they can run around."

At Hanapepe Stadium, former Kauai County Councilman Harold A. Naumu handles the public address announcing.

Like his predecessor, the late Larry Ferreiro, who used to announce games at Hanapepe from the sidelines, Naumu has a special style.

Naumu announces from the press box, and with the help of spotter Dick Ueoka, a member of the 1955 University of Hawaii team that upset Nebraska in Lincoln, and statistician Larry Abreu, there's little fans won't know about the game.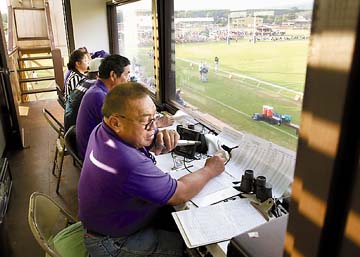 By Ronen Zilberman, Star-Bulletin
Harold Naumu, foreground, announces the
Waimea-Kapaa football game from the press
box at Hanapepe Stadium.
---
Naumu, who announces both the junior varsity and varsity games, is more like a master of ceremonies than a PA announcer.

"I try to let the people know what's going on," said Naumu, who even introduces the color guard by their names.

And he has some memorable lines.

In warning kids to stay off the field at halftime, Naumu regularly announces, "There will be no future's practice at halftime."

This is country football -- pure and simple -- where fans won't leave trash behind when the game's over.

Rooting for the home team

It's all about tradition, loyalty and community pride.

The games offer west siders an opportunity not only to visit with neighbors but also with friends or relatives living in Lihue or Kapaa.

"People are diehard for their team," Arquette said.

"You should see homecoming week, the whole town is lined with blue streamers.

"We really bleed blue here. Whether Waimea is winning or losing, they still going come. But, fortunately, we hardly ever see Waimea lose."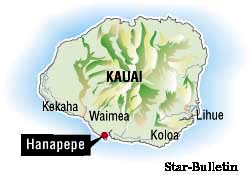 Friday night kept the trend, with a 14-0 rout of Kapaa.

Waimea, whose eight straight league championships is second in the state only to St. Louis' 14 consecutive Interscholastic League of Honolulu titles, draws its students from Kalaheo to the Pacific Missile Range at Barking Sands.

Total enrollment in grades 9-12 at the 64-year-old high school is 877. There are 33 boys on the varsity football team, 26 on the junior varsity team. Most are sons, grandsons or brothers of former Waimea players.

Waimea closes out its home season with homecoming Nov. 3 against Kauai.
E-mail to City Desk
---
---
© 2000 Honolulu Star-Bulletin
https://archives.starbulletin.com