Advertisement - Click to support our sponsors.

---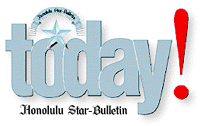 ---
Wednesday, October 4, 2000



Samplings from
menu of Kaka'ako
Kitchen

Recipes prepared by chef Russell Siu of Kaka'ako Kitchen on "Hawaii's Kitchen" this week. The show aired at 5:30 p.m. Sunday on KHON Fox 2.

Chicken Piccata

5 eggs
1/8 cup finely grated parmesan or romano cheese
8 chicken breasts or thighs, boneless & skinless
Salt and pepper
1/2 cup flour
1/2 cup olive oil
3 tablespoons unsalted butter
1 tablespoon chopped garlic
2 pounds linguine (cooked al dente)
Lemon Caper Butter Sauce (recipe follows)
2 tablespoons chopped parsley
4 whole sprigs parsley
Slice of lemon

In a nonreactive bowl, whisk eggs and cheese together.

Season chicken with salt and pepper. Dust with flour and add to egg mixture.

Heat sauté pan and add oil. When oil is hot, place chicken in pan one piece at a time and sauté until done over medium heat.

In another heated sauté pan, put butter and garlic. When butter is melted, add linguine and heat, mixing gently. Season with salt and pepper and place in center of a plate. Top with chicken and Lemon Caper Butter Sauce. Garnish with chopped parsley, parsley sprigs and lemon slice.

Lemon Caper Butter Sauce

1/2 cup white wine
1/4 cup rice wine vinegar
Juice of 1 lemon
1 tablespoon chopped shallots
1 clove garlic, sliced thin
1 cup heavy cream
1/2 cup unsalted butter
Salt and pepper
1/4 cup capers, rinsed

In a nonreactive pot, blend wine, vinegar, lemon juice, shallots and garlic. Reduce mixture by half over medium to low heat. Add cream and reduce by half the volume or until sauce thickens. Whisk in butter slowly. When all the butter is incorporated, season with salt and pepper. Strain and add capers. Keep warm; this sauce cannot be reheated.

Grilled Vegetable Wrap,
Roasted Pepper Mayonnaise

1 cup mayonnaise
1 red bell pepper, roasted, skinned and pureed
1 teaspoon lemon juice
1/2 teaspoon finely chopped garlic
Salt and pepper
1 round eggplant, sliced thin
1 zucchini, sliced thin
1 red onion, sliced thin
1 yellow squash, sliced thin
1/2 cup olive oil
1/2 teaspoon garlic, chopped
2 tablespoons chopped fresh basil
2 tablespoons balsamic vinegar
4 12-inch tomato tortillas
1-1/2 cups shredded lettuce
12 tomatoes, sliced
1 cup alfalfa sprouts
1 cucumber, sliced thin

Combine mayonnaise, red pepper puree, lemon juice and the finely chopped garlic. Mix well and season with salt and pepper.

Marinate the eggplant, zucchini, red onion and yellow squash with olive oil, remaining chopped garlic, basil, balsamic vinegar and salt and pepper. Marinate for about 1/2 hour. Grill.

Spread each tortilla with a thin layer of the mayonnaise. Add grilled vegetables, roll tightly, and slice diagonally into pieces about 2 inches wide.

Ahi Chopped Salad

1 cup tomatoes, in small dice
1/2 cup olives, black or calamata, chopped
8 shiitake mushrooms, sliced
3/4 red onion, sliced thin
5 ounces assorted baby greens
Soy Sesame Dressing (recipe follows)
4 4-ounce pieces ahi, lightly seared and diced medium
8 pieces won ton pi, julienned and fried crisp
1 carrot, cut into strings to garnish

In a stainless steel bowl, combine the tomatoes, olives, shiitake, red onion and baby greens. Add Soy Sesame Dressing and toss lightly. Divide among four bowls. Top salads with ahi, won ton pi and carrot strings.

Soy Sesame Dressing

3/4 cup soy sauce
1 cup salad oil
1 cup rice vinegar
Juice of 4 lemons
3/4 cup sesame seed oil
1 cup sugar
1/4 cup sesame seeds, toasted

Blend all all ingredients in a nonreactive bowl.

Nutritional information unavailable.






Click for online
calendars and events.
E-mail to Features Editor
---
---
© 2000 Honolulu Star-Bulletin
https://archives.starbulletin.com