Advertisement - Click to support our sponsors.

---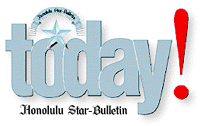 ---
Wednesday, October 4, 2000
Local Spam
champions contend
for top prize

---

Star-Bulletin staff

A salad of Spam tossed with linguine will be Hawaii's entry in the National Best Spam Recipe Competition.

Lorene Rodrigues' creation was first-prize winner last week at the Maui County Fair, which is Hawaii's preliminary for the competition.

She won $150 and now will compete for the $2,500 Mall of America shopping spree that goes to the national champion.

Spamguine Salad

First prize: Lorene Rodrigues

2 packages linguine noodles
1 bottle Tropics or other brand Oriental dressing
2 medium cucumbers, cut in half lengthwise, seeded and sliced thin
2 packages imitation crab, shredded
1 can Spam, regular or low-sodium, sliced thin
3/4 bottle nori furikake

Break noodles in half and boil 7-9 minutes. Rinse, drain and place in large bowl. Add dressing and mix well. Toss in remaining ingredients. Cover and refrigerate 1 hour. Serves 20.

Spam Quiche

Second prize: Annelle Onish

9-inch unbaked pie shell
3 to 4 slices Monterey Jack cheese
1 cup chopped fresh spinach
1 cup sliced fresh mushrooms
4 eggs, beaten
1/2 teaspoon salt
1 cup half-and-half
1 tablespoon flour
1/2 large can Spam, diced fine
1 cup shredded cheddar cheese
4 slices bacon, fried, drained and chopped

Place slices of cheese on the bottom of pie shell. Sprinkle a layer of spinach, then mushrooms over cheese.

Combine eggs, salt, half-and-half and flour. Pour over spinach and mushrooms. Layer Spam, then cheddar on top, then sprinkle bacon over all.

Bake at 350 degrees 30 minutes.

Spam Spuddies

Third prize: Debbie Yap

5 small potatoes, scrubbed
1 can Spam, lite or less-sodium
1 cup sliced mushrooms
3/4 cup grated mozzarella cheese
3/4 cup sour cream
3/4 cup green onions or chives, chopped fine
2 tablespoons buttermilk ranch dressing
1 tablespoon milk
1 clove garlic, minced fine
2 tablespoons dill

Prick potatoes with a fork and microwave on high 12 minutes. Cut in half and scoop out flesh, leaving a thin shell. Mash.

Mash Spam and fry until browned. Drain excess oil and set aside. Sauté mushrooms with garlic. Combine mashed Spam and potatoes with remaining ingredients, except dill. Stir in mushrooms.

Fill potato shells with mixture. Sprinkle with dill and pat down. Bake at 450 degrees about 10 minutes.

Nutritional information unavailable.




Click for online
calendars and events.
E-mail to Features Editor
---
---
© 2000 Honolulu Star-Bulletin
https://archives.starbulletin.com