Advertisement - Click to support our sponsors.

---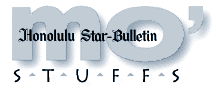 ---
Tuesday, October 3, 2000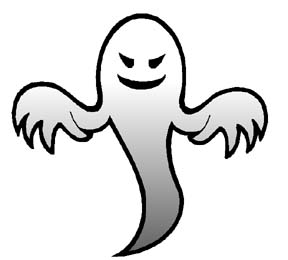 ---
Ghostly tour
ready to roll
Get ready for the Halloween season with a tour that will give you chicken skin from head to toe.

Ghosthunters Bus Tour will explore the islands ghost sites every Saturday from Oct. 7 to Oct. 28 from 7:15 p.m. to 11:15 p.m.

Storyteller Lopaka Kapanui will share local tales of the supernatural with a small group of daring souls. A tour van will visit various places such as Morgan's Corner, sites in Manoa Valley, various Windward sites and the Nuuanu Pali.

Cost for the tour is $30 per person. The tour is sponsored by Honolulu TimeWalks Chicken Skin programs. For more information or reservations, call Jill Staas at 943-0371.
---
Preview
Coming to the big screen
Get Carter
(R)
Sylvester Stallone, Michael Caine. Hit man Jack Carter returns home for his brother's funeral, and is soon investigating the events that led to his death.

Meet the Parents
(PG13)
Robert De Niro, Ben Stiller. Everything that could possibly go wrong for groom-to-be Greg Focker does. The problem begins with Greg's disastrous first meeting with his girlfriend's family most notably intimidating father Jack Byrnes.

Digimon: The Movie
(PG)
Joshua Seth, Mona Marshall. A powerful new Digimon hatches and begins to consume data.

Chuck and Buck
(R)
Mike White, Chris Weitz. Chuck and Buck have been best friends since they were kids. Now Chuck lives in Los Angeles and is about to be married. Buck has made no new friends since Chuck left 15 years earlie and comes to visit..

---

One movie will have sneak showings Saturday:

Pay it Forward
(PG-13)
Kevin Spacey, Helen Hunt. Teacher Eugene Simonet's life is in order. To keep the surface placid means never having to go deeper. Arlene McKinney is a single mother struggling to raise her son, Trevor. Eugene gives Trevor's class an assignment: Look at the world around you and fix what you don't like. But can you fix people?
---
Scoops
Scholarships and more

Art Contest for Honolulu Area Students: Artists and Kids are seeking submissions from students for its annual art competition. To enter, send one original work of art, any style or medium. All entries should include child's name, address and age on the back. Mail to: Arts and Kids, Suite 101-2112, 3600 Crondoll Lane, Owings Mills, Md. 21117 by Dec. 31. Scholarships will be awarded to winners. For more information, visit ArtsandKids.com.

Junior Miss Scholarship Pageant: Applications are being accepted from high school senior girls through Oct. 13. Applications are available from high school counselors or student activities coordinators or may be downloaded at www.PeopleFirstHawaii.com/jrmiss. A strong academic record, confidence, articulation, creativity, awareness of global issues, poise and physical fitness are considered. Call Sami Takai at 371-4543 for more information.
---
Hula meets ballet
Uwehi and plie have little connection except they are dance moves, the first from hula, the second from ballet.

But the Ballet Stars of Moscow and the Hilton Hawaiian Village hula performers will take the stage together at 6:30 p.m. Oct. 12 at the resort's King's Jubilee Show.

The hula dancers will incorporate ballet moves into their routine and the ballet dancers will add hula moves to theirs, said Hilton's Bernie Caalim-Polanzi.

The show is free and will include fireworks displays. Information: 949-4321.
---
Moonlight and sake
Sip sake and dine while gazing at the moon. Tsukimi, a traditional moon-viewing Japanese celebration, will take place from 6 to 9 p.m. Oct. 14 at Kapiolani Community College 'Ohia Building. It is sponsored by the United Japanese Society of Hawaii, Shufunotomo Hawaii Tomonokai, the Japanese Cultural Center of Hawaii and AT&T.

A variety of sake will be served and there will be poetry reading and other entertainment.

Tickets are $25; free for children under 12. The deadline for reservations is Oct. 10. Call 945-7633 or 941-5889.
---
Hawaiian artists sought
About 100 works of Native Hawaiian artists will be chosen for a special exhibit, "Na Maka Hou," the first to be displayed in the Honolulu Academy of Art's new Henry R. Luce Pavilion complex.

Artists may submit slides of their original works for consideration by a jury of Hawaiian and cultural leaders, the academy said.

"Na Maka Hou" will be a companion show to "Hawai'i and Its People," a new permanent installation drawn from the academy's holdings of display historic and contemporary Hawaii-based art.

Deadline for submission is Oct. 31. For a prospectus and entry form, call 532-8714. For information about "Na Maka Hou" or the Luce Pavilion, call 532-8700.
---
Taiko rhythms celebrated
Experience the vibrant sounds of taiko drumming at the "Taiko in the New Millennium" event from Oct. 21 to Oct. 26. The celebration is presented by the Taiko Center of the Pacific, a school of traditional and contemporary Japanese drumming.

All workshops are free and take place at the KCC Chapel. Registration is required. Call 256-1099. Here is the schedule of events.
Oct. 21 -- "Space, Pulse, Image" concert at the Hawaii Theatre will celebrate taiko artist Kenny Endo's 25 years of taiko drumming, 7 p.m. The Kenny Endo Taiko Ensemble, Taiko Center of the Pacific Youth Group and guests from Tokyo and the mainland will be featured at the concert. Tickets are $20, $24.50 and $27.50. Call 528-0506
Oct. 22 -- "Hands-on" taiko workshop for youths ages 6 to 17; noon to 1:20 p.m. Also, class for intermediate adults, 4:40 to 6 p.m.
Oct. 23 -- Lecture on "Utilizing Past Traditions to Create New Music" at Kapiolani Community College, 'Ohia building, room 118. Kenny Endo will be hosting the lecture; 7 to 8:30 p.m.
Oct. 24 -- "Hands-on" taiko workshop for children ages 6 to 12; 5:30 to 6:20 p.m. Also, class for beginning adults 6:30 to 7:20 p.m.
Oct. 26 -- "Hands-on" taiko workshop for advanced adults, 8:30 to 9:50 p.m.


Click for online
calendars and events.
---
Send WatDat? questions, stories
or any other story ideas or comments to:
Features, Honolulu Star-Bulletin, P.O. Box 3080,
Honolulu, HI 96802 or send a fax to 523-8509
or E-mail to features@starbulletin.com.
Please include your phone number.
E-mail to Features Editor
---
---
© 2000 Honolulu Star-Bulletin
https://archives.starbulletin.com