[News] [Business]
[Features][Sports]
[Editorial] [Do It!]
[Info] [Home]
[Nation/World]
OBITUARIES and
WEATHER in the
news section daily.
PALM PILOT PAGE




Calendars & Events







Most recent columns



To March 18, 1996
PAST WEEK:
| M | T | W | T | F | S |






Aloha Worldwide

Join SETI team

1998 Election

Legislature

SAT Scores

Pet Quarantine



Phone numbers, e-mail addresses, subscription info


E-mail notifier



SPECIAL: Your Guide to the Primary Election


Kamehameha settlement; TheBus strike prep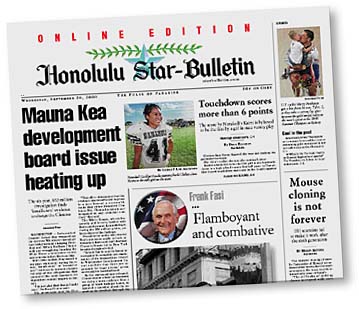 Sign up for our headlines by e-mail list

Advertisement - Click to support Starbulletin.com sponsor
---
Starbulletin.com publishes online editions Monday through Saturday.
New editions normally posted online between 2:00 and 4:00 p.m.
Starbulletin.com publishes articles written by our staff and
selected articles of particular interest to our readers.
Entire contents of this Web site © copyright 2000 by
Honolulu Star-Bulletin. All rights reserved.

---
Featured on:




Mauna Kea development board dispute heats up; Clones hit generation gap; Fasi: Flamboyant, combative; Touchdown scores prep football first; Isle quake damage assessed; Response mixed to OHA ruling; Bias claimed at shipyard; Hasegawa store owner dies; Vet, judge Saruwatari dies; HFD class fired up; Documents hint at plans for artifacts; Kulana Nani evictions protested; Canoe shelter opposed; Carvalho may turn restauranteur; State liable for unsafe intersection; Newswatch; Kokua Line by June Watanabe; Corky's Hawaii; Weather; Island Images; Obituaries; Whatever Happened To...




Late stories available after our print or online deadlines and breaking news items




New World cuisine; Hawaii's Kitchen; Stuffs; Honolulu Lite by Charles Memminger; By Request by Betty Shimabukuro




Miners won't be easy; Isle Olympians; Water polo rivals; Punahou tops St. Francis; Keeping Score by Cindy Luis; Bodytalk by Stephenie Karony; Prep Notebook; Hawaii Beat; Scoreboard; Sports Broadcasts; Bullboard




Aquasearch loss widens; Jobless rate drops; Business Briefs; Mortgage Rates; Hawaii Stocks; Live Stock Quotes; Closing Market Report




UH faculty salaries are falling behind; Japan's sex slaves; Capitol View By Richard Borreca; Letters to the Editor; Corky Editorial Cartoon




National and International News