Advertisement - Click to support our sponsors.

---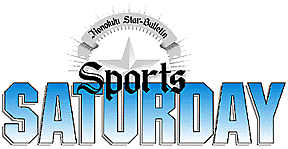 ---
Saturday, September 2, 2000



O L Y M P I C S
---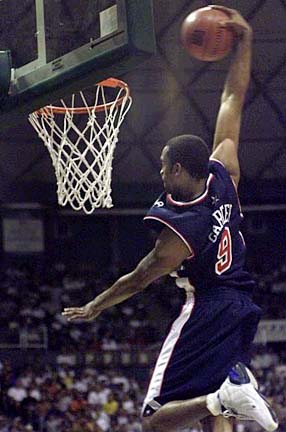 By Ronen Zilberman, Associated Press
Toronto's Vince Carter put on a show at The Stanley today
as Team USA rolled over USA Select Team
in the exhibition game.
---
USA's Carter
electrifies again


Windmill dunks and
string-scoring thrill crowd

---


By Pat Bigold
Star-Bulletin

Vince Carter electrified fans at the Stan Sheriff Center for a second time in three days with a 24-point performance (20 in the second half) to lead the USA men's Olympic team over the USA Select Team, 111-74, before 8,990 fans.

Carter scored 29 points in leading the USA to a 99-70 win over Canada Thursday.

He scored eight of the Olympians' last 11 points, finishing off with two skying windmill dunks that brought roars.

The Toronto Raptors' superstar was perfect from the floor (10-for-10), including two 3-pointers.

In the two exhibition games at the SSC, Carter was 17-for-19 from the floor and 6-for 8 from 3-point range.

USA Olympic head coach Rudy Tomjanovich said his estimation of Carter's ability is "about three feet higher" than what it was before.

"I knew he could jump but that's ridiculous," said Tomjanovich.

Ray Allen scored 17 points for the Olympians while Antonio McDyess and Shareef Abdur-Rahim added 11 piece.

Vin Baker chipped in with 10.

The Select team used its athleticism and played with the Olympians for much of the first half, preventing the NBA stars from taking a double-digit lead until the game was 14 minutes and 11 seconds old (39-28).

"I think they (Select) probably played against what is going to end up being the best team we've ever sent to the Olympics," said Select head coach Mike Jarvis. "Maybe not with the big names we've sent in the past but as far as a team, they're incredible. Everybody on that team runs, everybody passes, almost everybody on that team shoots. They're just a great, great basketball machine and they're going to get better and better."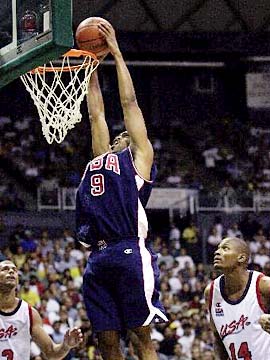 By Ronen Zilberman, Associated Press
Opponents can only watch as Vince Carter racks up the score.
---
The biggest individual problem the Olympians faced in the first half was containing Michigan State's Jason Richardson, who scored 19 points, including 4-for-6 from 3-point land, and grabbed five rebounds.

But that all came to a screeching halt in the second half as Richardson scored only one free throw and had no rebounds.

"We said in the locker room we were not going to let him have another basket," said Allen.

"In the second half they were trailing me, not allowing me to get any open shots, but I was expecting that," said Richardson.

"That's quite a compliment," said Select head coach Mike Jarvis. "To be able to say the best players in the world put a bullseye on his back, that's got to help him."

Duke's Jason Williams scored 15 points for Select and Maryland's Terence Morris added 11.

Tomjanovich praised the collegians' game plan in the first half.

"Their plan to spread the floor out and not make it a physical, inside game was a wise strategy for them," he said. "They tried to bring our big guys out on the floor and bothered us a little bit. But at halftime, our guys focused on keeping Richardson covered on the outside, and everybody went out and picked up the defense."

Tomjanovicvh said he wass particularly pleased with holding Select to 36 percent shooting in the game.

"Our goal is to keep everybody under 40 percent and then shoot well," he said. "Then our defense led to a lot of good offensive opportunities."

The Olympians shot a sizzling 63 percent and out-rebounded Select, 47-30.

But the pros committed 23 turnovers to Select's 22.
E-mail to Sports Editor
---
---
© 2000 Honolulu Star-Bulletin
https://archives.starbulletin.com