Advertisement - Click to support our sponsors.

---

---
Monday, August 21, 2000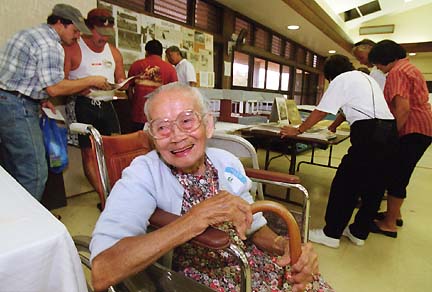 By George F. Lee, Star-Bulletin
Saturnina Epil, 91, recalls stories from the plantation days as other
former residents of Waimanalo Plantation leaf through old photos
and clippings during the fourth plantation reunion yesterday.
---
Waimanalo
Plantation
memories


Old friends, originally
brought together by the
plantation, hold a warm
reunion celebration

---

By Leila Fujimori
Star-Bulletin

Waimanalo Sugar Plantation was where residents lived, worked, went to school, learned to dance, grew up and found romance.

Janet Yamashita Suetsugu, 67, traveled from her Nebraska home to be reunited yesterday with plantation friends she hadn't seen since high school.

When she caught sight of her old boyfriend, Kenneth "Slim" Omizo, 75, she ran over to him and snapped his photo. The two laughed about the days they danced at the plantation gym, the hub of social activity.

Seeing old friends "brought back so many nice memories," Suetsugu said.

About 150 plantation residents and their families were reunited yesterday at Waimanalo District Park, near where the mill and their homes once stood.

Even an assistant plantation manager joined the group.

They swapped stories and shared food at the pot-luck reunion. The event has been held every two years since starting up eight years ago.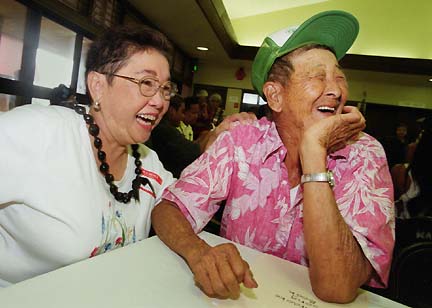 By George F. Lee, Star-Bulletin
Janet Yamashita Suetsugu and Kenneth "Slim" Omizo
remember when they were close in the old days.
---
The Waimanalo Sugar Plantation ran from 1881 to 1947, with 155 houses for its workers. The mill stood near Poalima Street behind present-day Shima's Market on Kalanianaole Highway. Homes were on both sides of the highway.

Francis "Sum Loy" Mauliola, who turns 69 tomorrow, has lived 68 years in Waimanalo.

On a map of the plantation house lots he and another resident drew up, he pointed out where he grew up up with his four siblings and mother, who ran the Waimanalo Tavern on Kalanianaole Highway, near the theater and market.

At 14, he began working for the plantation cutting grass and cane for 50 cents an hour, which he says was good money.

"Everything else was cheap, a loaf of bread was a nickel; 10 cents got you into the theater," he said.

Not everyone appreciated working on the plantation.

Saturnina Epil, 91, moved with her husband from the Philippines to Waimanalo in 1925, where she has lived ever since.

She did "hoe-hana," swinging a hoe in the fields.

"I no like. Only one year, I quit," she said. So she found work at Queen's Hospital doing laundry for 23 years.

Irene Mochizuki Rombaoa, 63, never worked in the fields. She fondly recalls growing up on the plantation.

"We were such a close-knit community -- we're all related or close friends," Rombaoa said. Her grandparents and parents -- who met as teens and married -- worked on the plantation.
E-mail to City Desk
---
---
© 2000 Honolulu Star-Bulletin
https://archives.starbulletin.com