Advertisement - Click to support our sponsors.

---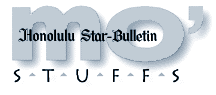 ---
Friday, August 11, 2000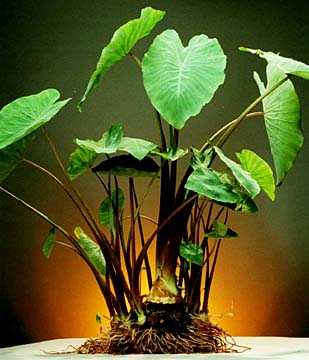 File photo
Some taro varieties are great for home gardens.
---
Raise taro
in your yard
You don't need to flood your backyard to grow taro. This nutritious food plant comes in many varieties and can be grown at home for family consumption.

Early Hawaiians grew about 300 varieties of taro adapted to different microclimates, soil conditions and water availability, according to the Manual of Flowering Plants in Hawaii.

A home gardening panel will address taro cultivation at the Pacific Islands Taro Festival tomorrow at Windward Community College.

Sponsored by WCC and the Taro Resource Center, the festival also will include discussions of genetic engineering in agriculture, Polynesian and native Hawaiian plants, and organic gardening. Other attractions include an arts and crafts sale, food booths, exhibits and cultural demonstrations. Events take place from 9 a.m. to 3 p.m. Admission is free.

Call 235-7380.

Would you like a little
Sisqo with that burger?
Every dot.com company wants a piece of the music biz these days, and so does McDonald's. Through Aug. 24, or until supplies last, the fast-food giant is offering customers three new CDs featuring music by Britney Spears, 'N Sync, Sisqo and other artists.

There is also a video starring Spears and 'N Sync. CDs or video are $4.99 each with the purchase of any regularly priced menu item. The three CDs are:
"Your #1 Requests ... and More," featuring eight Spears and 'N Sync songs, including two new tracks by each artist.
"The Groove," rap, hip hop and R&B songs by 702, DMX, Joe, Mary J. Blige, Mystikal, Q-Tip, R. Kelly, and Sisqo.
"The Rhythm," songs in Spanish and English by a.b. Quintanilla, Carlos Ponce, Carlos Vives, Enrique Iglesias, Millie, Olga Tanon, Selena and Thalia.

Gotta 'em while they're hot, if you know what we mean.
And if you're the type who's always on the go, McDonald's is also offering Tiger HitClip Micro Music Players. These units measure about an inch-and-a-half and play music samples on chips no bigger than a postage stamp. The HitClips, too, are $4.99 with the purchase of any regularly priced menu item. You'll get Britney Spears "Stronger" or 'N Sync's "It's Gonna Be Me" to play on the HitClip.






Click for online
calendars and events.
---
Send WatDat? questions, stories
or any other story ideas or comments to:
Features, Honolulu Star-Bulletin, P.O. Box 3080,
Honolulu, HI 96802 or send a fax to 523-8509
or E-mail to features@starbulletin.com.
Please include your phone number.
E-mail to Features Editor
---
---
© 2000 Honolulu Star-Bulletin
https://archives.starbulletin.com