Advertisement - Click to support our sponsors.

---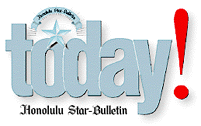 ---
Friday, August 11, 2000
Language barrier
mars an inspiring
'Aloha March 2000'

Aloha March 2000: Beyond the Apology: By various artists (Koi Koi)

Music can be an effective way of inspiring the faithful or educating the masses. The "Aloha March 2000: Beyond the Apology" anthology is the latest local release to address the roots of the sovereignty movement and Native Hawaiian nationalism. It is also a fund-raiser for the Koani Foundation, the Hawaiian nationalist group coordinating the Aloha March 2000 in Washington D.C. this weekend. The event is part of the group's campaign to educate Americans about self-determination for Hawaiians.

Song writers Leo Anderson Akana and Liko Martin were addressing topics such as land use and cultural genocide long before Hawaiian nationalism became fashionable here. They contribute the three most memorable tracks.

Anderson sings "E Ala E." The stirring anthem is one of her many political compositions. Anderson also reprises her stage portrayal of Queen Lili'uokalani with a passage in which the Queen speaks out against cultural genocide waged against Hawaiians.

Martin's "Akua Ke Aloha" sets a century of history of music as he tells of the Hawaiian monarchy's overthrow, the division of Hawaiians into unequal groups based on blood quantum, wartime evictions, and statehood. Hawaiian rappers Sudden Rush contribute two tracks. Anderson explains the objectives of Aloha March 2000 on a third.

More annotation would make this a more effective political and educational tool. Kroon's "Malie Ke Aloha" is a beautiful song, but with no translation of the lyrics it has no immediate link to the theme. The message of Sudden Rush's "Ku Maumau" and the significance of Sam Ahia's English language "Time" likewise go unexplained. The Koani Foundation wants the support of non-Hawaiians, and many Hawaiians are not fluent in their ancestral language, so translations are needed.

---

John Berger, Special to the Star-Bulletin

The Koani Foundation - P.O. Box 510-182
Kealia, HI 96751 - Phone 808-822-7643






Click for online
calendars and events.
E-mail to Features Editor
---
---
© 2000 Honolulu Star-Bulletin
https://archives.starbulletin.com