Please support our very first Starbulletin.com advertiser!
---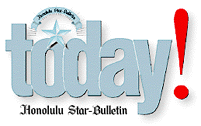 ---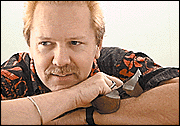 Island Mele



Friday, August 11, 2000
By John Berger
---
Na Leo hits new
high in 'Paradise'

A Pocketful of Paradise: By Na Leo Pilimehana (NLP Music)

NA Leo Pilimehana could easily coast after 17 Hoku Awards but there's no sign of artistic complacency here. Every song is a gem, they all fit smoothly together and there are no obvious clunkers. This is a career-best album for Na Leo in all areas.

All three continue to excel as vocalists. Their harmonies are enchanting throughout. They have never shown more skill in interpreting the mainstream pop and country hits of other artists than here with the Beatles' "With A Little Help From My Friends."

"Saving Forever" is an exquisite love song by Lehua Kalima and Daniel Ho that should become a local hit. "I'll Be There 4U," a rocking testament of Christian faith from Angela Morales and Zanuck Lindsey, is Na Leo's all-time best uptempo number. Jerry Santos will certainly applaud their take on "Seabird," and "Kamalani O Keaukaha" is a beautiful nod to tradition. There are other delights as well.

This is one of the best local albums of the year and should also be the one that gets Na Leo on the major national record charts.

NLP Music - P.O. Box 1013 - Waianae, HI 96792

---

He Leo 'Ohana: By Elodia Kane (Respect)

ELODIA Kane sings with a gentle elegance rarely heard here these days. Her third album for Japan-based Respect Records is a sweet celebration of traditional Hawaiian and hapa-haole music that features a duet with her husband, ki ho'alu master Ray Kane, and guest performances by Bobby Ingano, Led Kaapana, Martin Pahinui and Rene Paulo. With the liner notes booklet, this is a perfect introduction to Kane and her music.

kenichi@respect-record.co.jp

---

Cool Change: By Cool Change (Hi-Risk Productions)

THERE are six original songs but no new ideas as Cool Change debuts with a collection of languid but sincere original ballads, uptempo reggae-beat originals and generic Jawaiian remakes.

Chuck all the remakes and the duo, Brian Canencia and Fabian Verece, shows potential. Guest rappers B.E.T. provide all the heart and soul on "Smile." Verece's "Cruzin'" is bright and catchy, Canencia's "Paradise Obstacles" views rural life with a shrewd eye, and his "Destiny Love" closes the album on a memorable note. These three merit radio play.

94-1156 Haipo Street - Waipahu, HI 96797





---




John Berger, who has covered the local
entertainment scene since 1972, writes reviews of recordings
produced by Hawaii artists. See the Star-Bulletin's Today
section on Fridays for the latest reviews.
E-mail to Features Editor
---
---
© 2000 Honolulu Star-Bulletin
https://archives.starbulletin.com