Advertisement - Click to support our sponsors.

---

---
Tuesday, July 4, 2000
INDEPENDENCE DAY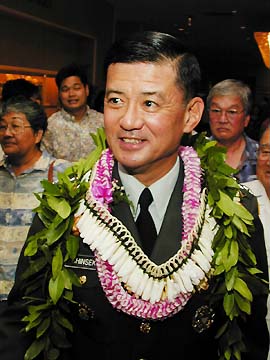 Star-Bulletin file photo
Army Chief of Staff Eric Shinseki back in Hawaii last fall.
---
Kauai's visionary
in the Pentagon


Hawaii native and Army
chief of staff Gen. Eric Shinseki
has a vision of a transformed
American fighting force

By Gregg K. Kakesako
Star-Bulletin

WASHINGTON -- A daily reminder that Army Chief of Staff Gen. Eric "Ric" Shinseki's roots are firmly planted in rural Hawaii is prominently displayed in his two-story Virginia home.

"That's my wife's hometown," Shinseki told the Star-Bulletin recently, pointing to an oil painting of the Hanapepe of many decades ago. Her parents gave Patty Yoshinobu the painting to remind her of Kauai, where she and the general began their journey nearly four decades ago.

Ric and Patty were high school sweethearts -- she was a homecoming queen at Waimea High School on the west end of Kauai and he ran the student government at Kauai High School in the main town of Lihue.

"We miss the island a lot," he said. "Of all the places we've been, it's (Hawaii) still a great place to live, to work and raise children -- maybe some day we'll get back."




PROFILE OF A
HAWAII-BRED GENERAL

A look at Gen. Eric 'Ric' Shinseki, the U.S. Army's chief of staff:
Nov. 28, 1942: Born Lihue, Kauai
June 1960: Graduated from Kauai High School
June 1965: Graduated from West Point
1965-66: Vietnam, 25th Infantry Division
1969-70: Vietnam, 9th Infantry Division
1982-84: Commander, 3rd Squadron, 7th Cavalry, 3rd Infantry Division, Germany
1987-89: Commander, 2nd Brigade, 3rd Infantry, Germany
1994-95: Commanding general, 1st Cavalry Division, Fort Hood
1997-98: Commander-in-chief, U.S. Army Europe
Personal: Married to the former Patty Yoshinobu of Kauai; one son and one daughter




The journey that began on Kauai has taken Shinseki -- an armored cavalry officer -- from the plains of West Point to the rice paddies of Vietnam; from various stateside assignments and commands to the forests of Germany and Bosnia; and finally, to the halls of the Pentagon.

Shinseki, 57, last week completed his first year as the Army's 34th chief of staff and head of its 474,000-member force.

As chief of staff, his duties are to preside over the Army's nine combat commands and serve as a member of the Joint Chiefs of Staff.

Since taking office on June 21, 1999, the Army's top general has traveled to the Army's major commands and visited soldiers and Army leaders throughout the globe, developing his vision of what the Army needs to do by 2010.

"I have been to Kosovo and Bosnia twice," he said. "Italy twice, Greece, Turkey, Egypt, Kuwait, Saudi Arabia, and two or three times to Germany. I got to see as many soldiers as I could in Alaska, Singapore, Hawaii, Korea and back across the states and South America."

Transforming the Army

Shinseki sees his task as laying out a course for the Army, which no longer has just one Cold War enemy to fight but many small skirmishes worldwide. When he first assumed his post, the Army was criticized as being too cumbersome to deploy quickly. Its ranks were thinned through a series of downsizings.

Shinseki seeks to transform the Army by combining elements of its heavy armor units with the deployability of light fighting forces, like his old outfit at Schofield Barracks in Wahiawa.

"It's laying out a vision for that transformation to occur over the next 20 to 25 years," Shinseki said of his task. "Every chief understands you're in tenure for only four years. So if you're going to get this long-term transformation started, you have to develop momentum in that critical first year."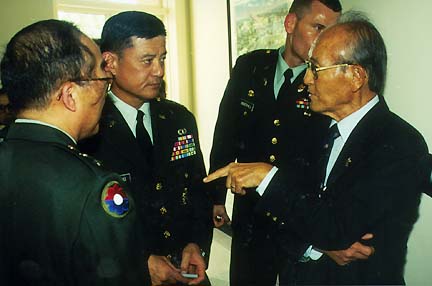 Star-Bulletin file photo
Gen. Eric Shinseki, second from left, attends the June 22
Medal of Honor induction ceremony at the Pentagon, talking
with military colleagues, including Ed Ichiyama, right, a
442nd Regimental Combat Team veteran.
---
Within months of taking command, Shinseki recommended restructuring the Army to include lighter armored vehicles, combat units fully staffed for no-notice emergencies, fewer spare parts and other supplies, and units that can adjust quickly to a wide range of conflicts.

Fort Lewis, Wash., home to one of Hawaii's 25th Infantry's four brigades and Shinseki's Vietnam unit, was selected to test his vision.

Currently, the Army is unmatched with its heavy mechanized forces, but those forces require ports or airfields. The Army's light forces, such as Schofield's 25th Division, can deploy anywhere almost instantly, but lack firepower and on-the-ground mobility.

Both forces require a large supply base because of the range of weapons, communications and other gear.

Shinseki wants the Army to be able to deploy a combat-ready brigade in 96 hours, a division in 120 hours and five divisions in 30 days.

He believes he's got another year to get support for his Army vision and hopes to see the Army operating five of these lighter, more flexible brigades by 2003.

"I am getting good support, especially from Sen. (Daniel) Inouye and where he sits on key committees in the Congress."

Honor, sacrifice and medals

Shinseki was able to return a salute to Hawaii's senior senator June 21 as Inouye and 21 other Asian Americans were inducted into the Pentagon's Hall of Heroes, a day after Inouye received the Medal of Honor from President Clinton.

In recognizing the achievements of the nation's newest heroes, Shinseki said today's military needs men like Inouye and six other surviving Medal of Honor recipients to accept the recognition of their country.

They need to put aside "their near-legendary modesty -- a refusal to talk about themselves and their exploits," he said, noting that was one reason it took more than half a century for them to be recognized.

Shinseki, the first Japanese Americans to achieve a four-star rank, grew up listening to stories of World War II from two uncles, one who fought with the 100th Battalion and the other with the 442nd Regimental Combat Team. Twenty of the 21 Asian Americans who received the Medal of Honor last week were members of the 100th or 442nd.

The Medal of Honor experience has "reminded me just how much all of us -- and I mean all of us -- owe these remarkable Americans," Shinseki said. "In this country, a surprise attack had bred serious mistrust amongst a diverse population, a mistrust that was overturned only by acts of such supreme sacrifice to prove a loyalty that needed no proving.

"But because of those demonstrations of loyalty, you have Americans of Asian-Pacific Islander heritage today serving at the highest levels in the nation. It has indeed been very humbling and gratifying to have these men as our role models. They gave us examples of honor and sacrifice we only can hope to emulate." Shinseki said it is a shame that not many Americans are aware of the exploits of these Japanese American soldiers.

He said the legacy of the 100th and 442nd needs to be introduced to young Americans who may be called to duty on future battlefields.

"We want them to know about these men so they can understand the price of freedom. Youngsters today are searching for something to believe in, something greater than themselves that they can look up to and respect."
E-mail to City Desk
---
---
© 2000 Honolulu Star-Bulletin
https://archives.starbulletin.com