Advertisement - Click to support our sponsors.

---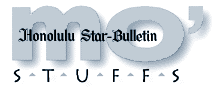 ---
Tuesday, July 4, 2000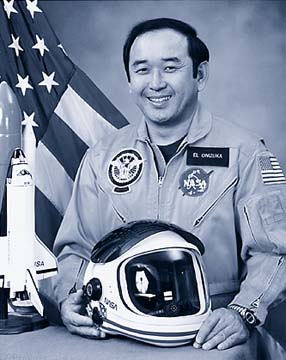 File photo
Past honoree Ellison Onizuka.
---
Foodbank salutes heroes
The Hawaii Foodbank will celebrate the accomplishments of Hawaii's Olympians at its fifth "Patriots Celebration" beginning 6 p.m. tomorrow at the Hilton Hawaiian Village Coral Ballroom.

The annual event honoring Hawaii's heroes also raises funds for the hungry. While this year's dignitaries are all Olympians, past honorees have been Gen. Fred C. Weyand (1999), astronaut Ellison Onizuka (1998), members of the 442nd Regimental Combat Team (1997), and U.S. Sen. Daniel K. Inouye (1996).

Among special guests this year will be keynote speaker Kevin Asano, a silver medalist in judo at the '88 Seoul games; Tommy Kono, who won gold and silver medals in weightlifting in the '52 Helsinki, '56 Melbourne and '60 Rome Olympics; and Aileen Riggin Soule, who won gold, silver and bronze medals in diving and swimming at the '20 Antwerp and '24 Paris games.

A torch-lighting will start the festivities, followed by dinner and program at 7 p.m. There will also be entertainment by Pure Heart and Rocky Brown.

Tickets are $125. For reservations, call 836-3600.
---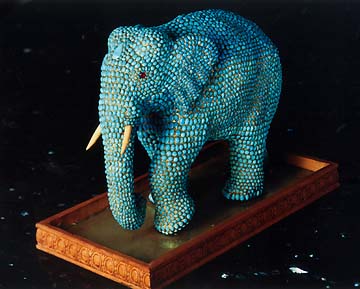 Liberty House
This elephant statue, inlaid with semi-precious
turquoise totalling 12,000 carats, will be on
display at Liberty House Ala Moana.
---
Historic jewelry on display

More than 50 pieces of historic jewelry and jeweled objets d'art will be on view at Liberty House during the first public exhibition of "Le Vian Through the Centuries" this week and next.

Highlights of the exhibition include an 11-by-12-inch, 40-pound elephant inlaid with 6,602 pieces of natural turquoise from Persia's Neishabur mine. The turquoise totals 12,000 carats. Each of the elephant's eyes are represented by a 2-carat ruby.

The elephant was crafted by Le Vian in 1746 in honor of Persian ruler Nadir Shah.

The exhibitions -- from 6 to 9 p.m. Friday at LH-Ala Moana and 6 to 9 p.m. July 14 at LH Jewel Gallery at Ala Moana -- mark the 500th anniversary of Le Vian, fine jewelers.

Also on view will be one of the company's earliest works, a filigreed necklace of silver and turquoise, circa 1500, and "Face of an Angel," an 18th century set of necklace, bracelet and earrings containing nearly 1,000 diamonds and 20 perfectly matched Zambian teardrop emeralds.

For information, call 941-2345.

---

HPU teacher a winner

Honolulu author Yokanaan "John" Kearns has won top honors in Kumu Kahua Theatre's playwriting competition.

Kearns captured the Hawaii Prize, a $500 award, for "Pidg Latin -- A Comedy."

Ji Hyun J. Lee of New York won the $400 Pacific Rim Prize for "The Superfriends of Flushing Queens." And the $200 Resident Prize went to Nancy P. Moss of Honolulu for "Anna."

"Pidg Latin" is Kearns' first play, according to Harry Wong, Kumu Kahua artistic director. Kearns is a teacher at Hawaii Pacific University. His play is about a local college student who cannot graduate because he keeps failing his foreign language classes. Ultimately, he decides to give Latin a try and turns out to have a real flair for the language. The only problem is, he can only translate it into pidgin, so his teacher won't give him a passing grade. "The play obviously shows that you can be very intelligent and not speak standard English," said Wong.

Kumu Kahua will produce "Pidg Latin" next season in partnership with Honolulu Theatre for Youth. "It's very impressive for a first play," said Wong.

All competition winners will be considered by Kumu Kahua for future productions. The playwriting awards are administered in conjunction with the University of Hawaii at Manoa Theatre & Dance Department.

The deadline for next year's competition is Jan. 1., 2001. For more information, call Kumu Kahua at 536-4222.






Click for online
calendars and events.





---





Send WatDat? questions, stories
or any other story ideas or comments to:
Features, Honolulu Star-Bulletin, P.O. Box 3080,
Honolulu, HI 96802 or send a fax to 523-8509
or E-mail to features@starbulletin.com.
Please include your phone number.
E-mail to Features Editor
---
---
© 2000 Honolulu Star-Bulletin
https://archives.starbulletin.com