Advertisement - Click to support our sponsors.

---

---
Tuesday, July 4, 2000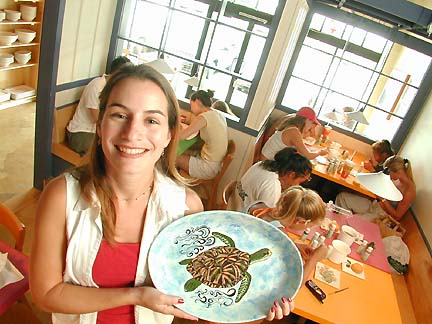 By Craig T. Kojima, Star-Bulletin
Paint It Pottery co-owner Sarah Emerson shows
off a favorite turtle plate last week.
---



Kailua's Paint It Pottery offers
its customers the opportunity
to express their artistic side

By Brett Alexander Estes
Star-Bulletin

PAINT It Pottery, Kailua's do-it-yourself ceramic painting studio, looks like a beach town's trendy lunch spot.

There's lots of sunlight and blond wood, an impressive floor, and chic little tables ready for business. There's the murmur of relaxed conversation as patrons bend over their plates.

Customers are feasting, all right, but not on a meal.

"(Painting is) an opportunity to be creative," says Sarah Emerson, 23, Paint It Pottery co-owner. "They love it. Especially when they get (the finished piece) back. It's so rewarding."

Paint It Pottery at Kailua Village Shops on Kailua Road offers more than 100 unpainted ceramic items. Customers pay for the item and get to paint it in the shop, which then provides glazes and kiln firing for the item and returns the finished product to the customer a week or so later.

The shopping complex, which opened last year and is anchored by Starbuck's Coffee and Teddy's Bigger Burgers, has helped the do-it-yourself shop attract clients.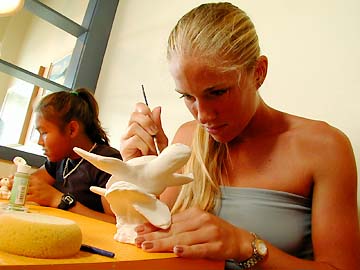 By Craig T. Kojima, Star-Bulletin
Jennifer Mosher paints a ceramic turtle with her Kailua Canoe Club friends.
---
"This is a total social place," says Sarah, who says customers are encouraged to bring an espresso from Starbuck's or snacks from other vendors into the studio with them.

Sarah started the shop, along with her parents Doreen and Chris Emerson, who also own the construction business Renovators. Sarah and Doreen run the shop while Chris is a silent partner.

While Paint It Yourself is not alone in the Hawaii ceramics market, it is carving out a niche for itself in Kailua

"Our base is constantly expanding," says Doreen. "Probably 25 to 30 people come in every week who have never been in our store before."

Carolyn Moss, owner of Fire It Up Inc., a 4-year-old ceramic painting store on Monsarrat Avenue in Honolulu, says the Oahu market can support more studios.

Not so, says Susan Tanaka, owner of Paint It Your Way, a ceramic painting studio that closed last year.

"The mainland is filled with (ceramic painting) companies with about a 3 percent failure rate," Tanaka says. "Honolulu can kill any business," she adds, citing Hawaii's high overhead costs and small population base.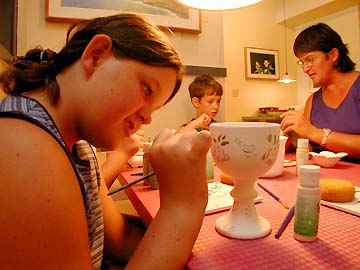 By Craig T. Kojima, Star-Bulletin
Ariel Liliko paints a cup while her mother, Johanna,
in the background, works on her own project.
---
Nevertheless, the Emersons say the small size of the Kailua community is proving to be an asset.

"People who live in Kailua would like to stay in Kailua," says Sarah. "We get to know everybody's name. We get to watch their kids grow. We become part of the family."

When Paint It Pottery opened on Oct. 1, "it took off immediately," she says. "I worked maybe 90 hours a week until after Christmas. It was a blast."

Business volume fell by about one-half after the holiday rush, but has remained steady. Originally staffed by mother and daughter, the store now also employs four part-time workers.

"Our customers stay a minimum of two hours," Sarah says, adding that the studio averages 30 customers a day during the week and 100 a day over the weekend. The average purchase, she says, is around $18, with high repeat business.

The studio's prices may also be an attraction. "All prices on pieces include everything," says Sarah, adding that the shop has no additional charges for studio time, glazes or kiln-firing.

At Paint It Pottery, a large unpainted pasta bowl imported from Italy can be transformed into a centerpiece for $34.

"The cost is about the same as if I bought it at a gift shop," says Rhonda Kromm, a Paint It Pottery regular and mother of three. "I'm paying the same price but I'm adding a personal touch and I get my quiet time."

"It's kind of like therapy for me," says Kromm, who has painted more than 25 pieces. "Nobody's bothering me on the phone. Nobody's calling 'Mommy!' I usually go to Starbuck's and get a large latte and sit down with my painting, and that's my quiet time."

While the Emerson women, both Kailua natives, are happy to remain in their hometown for the time being, the success of their studio points to possible expansion.

"People are courting us from all over the place trying to get us into malls," says Doreen.
E-mail to Business Editor
---
---
© 2000 Honolulu Star-Bulletin
https://archives.starbulletin.com