Advertisement - Click to support our sponsors.

---

---
Thursday, June 29, 2000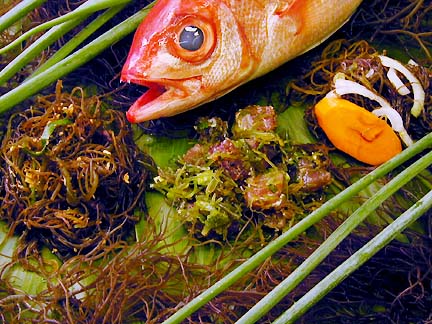 By Craig T. Kojima, Star-Bulletin
Lydia Morales' kim chee ogo, limu poke and ogo namasu.
---



Call it limu or ogo, ono Molokai
seaweed is winning raves among
growers and consumers alike

By Gary T. Kubota
Star-Bulletin

N good days, Molokai resident Kathleen Keala wades into her family's leased fish pond and cuts more than 50 pounds of a brownish-green seaweed used to garnish Hawaiian seafood and Japanese sweet pickled vegetables.

"I have made some money," said Keala. "It has put some food on the table and helped to pay for day care. It beats the office."

Along the south shore of Molokai, some native Hawaiian families are earning money through planting and harvesting edible seaweed, known as "limu loa" in Hawaiian or "ogo" in Japanese.

What began as a research project 10 years ago has turned into a full-scale business operated by the nonprofit group Ke Kua'aina Hanauna Hou.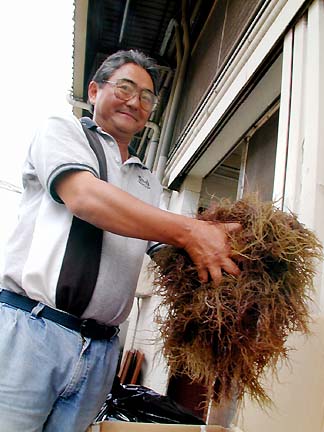 By Craig T. Kojima, Star-Bulletin
Molokai ogo makes its way through the Tropic Fish
and Vegetable Center: Glenn Tanoue shows a handful.
---
The group, based at Pukoo in east Molokai, sells about 800 to 900 pounds of seaweed a week to Oahu and also produces about 150 pounds of bottled Moloka'i Pickled Ogo, Moloka'i Limu Salsa, and Moloka'i Inamona Kukui Nut Relish.

Ke Kua'aina officials provide the start-up support for growers, then later purchase the harvested seaweed.

The seaweed grown by Ke Kua'aina is from the native species Gracilaria parvispora. The seeds for it were obtained from wild seaweed beds on Molokai.

Food distributors say the quality of the seaweed is very high.

"I consider it the best ogo around," said Glenn Tanoue, president of Tropic Fish and Vegetable Center in the Ward Farmer's Market on Oahu.

"It's very versatile. It's the type of ogo I got off Sand Island when I was growing up. We can freeze this ogo and it will come back. It's got body. It's got crunch."

Richard Tam Sing, owner of Upcountry Fishery on Maui, said he's been selling the Molokai seaweed for only a couple of weeks and the response has been good.

"It has a good flavor," he said.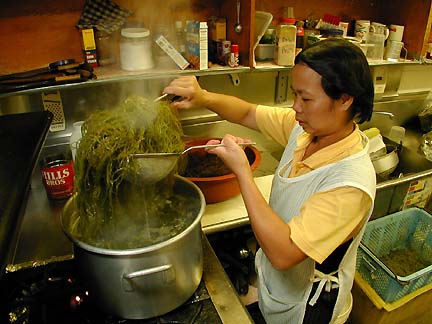 By Craig T. Kojima, Star-Bulletin
Lydia Morales lightly boils the seaweed
in preparation for various dishes.
---
Colette Machado, the group's president and executive director, said demand for the product has been strong, although it's more expensive than some other varieties.

Farmers usually receive $1.75 to $2.75 a pound for the ogo.

State aquaculture marketing specialist Dean Toda said the market for ogo is growing nationally.

Sale of cultivated edible seaweed has grown by 63 percent to $957,000 in Hawaii in the four years ending 1998.

"Now, they're selling limu to the mainland even as far as New York," Toda said.

"It's a unique product, more a gourmet item. They use it in salads. It's low calorie, nutritious."

Machado, who also serves as an Office of Hawaiian Affairs trustee, said she wants to see the return of the dozens of fishponds along Molokai's south shore to productive use.

Molokai residents have had difficulty rebuilding the fish ponds because of the cost of obtaining state and federal permits.

Machado said residents could begin to grow the seaweed, while applying for the permits.

Keala, who is married to a native Hawaiian, said she enjoys the work because it's flexible and enables her to raise her three children and work as a part-time teacher and seamstress.

Her friend, Sharlene Kalima, who shares in the work, sometimes puts her son in a small boat and tows it along as they work cleaning the rocks used to grow the seaweed.

She and Kalima have gathered about 1,000 pounds in a year and a half.

Keala said she's still experimenting, trying to find the best areas to grow the seaweed in the 32-acre fish pond.

When they're not selling it, her family enjoys eating it.

"It's really good," she said. "When I was pregnant, I used to make ogo, tuna fish, kim chee sandwich."
E-mail to City Desk
---
---
© 2000 Honolulu Star-Bulletin
https://archives.starbulletin.com