Advertisement - Click to support our sponsors.

---

---
Wednesday, June 21, 2000
Police wary
of bill aimed at
prostitution


At issue is whether 'street
solicitation' on 'public property'
includes activity in hostess bars
and massage parlors

By Christine Donnelly
Star-Bulletin

Honolulu police have legal questions about City Councilman Andy Mirikitani's plan to bar convicted prostitutes from hostess bars, strip joints and other areas in certain neighborhoods.

Mirikitani has introduced a bill that aims to make Keeaumoku Street, lower Makiki, part of McCully/Moiliili and the Convention Center area, including part of Kapiolani and Ala Moana boulevards, a "prostitution-free zone."

Prostitution is already illegal throughout the state, but law enforcement officials have said generally light penalties do little to deter it. So last year, the state designated Waikiki a "prostitution-free zone" by creating a new crime of "street solicitation."

The effort included stepped-up enforcement and stricter penalties, including barring convicted prostitutes from the area between the hours of 6 p.m. to 6 a.m.

The strategy worked because Waikiki prostitutes are mainly streetwalkers who could not ply their trade without being on public property, said Honolulu police Lt. Michael Johnson of the morals detail.

Buoyed by the success, the Legislature passed a law this year enabling counties to designate other areas as "prostitution-free zones." Street solicitation within the zones could net a maximum penalty of 30 days in jail, but the defendant could avoid jail time by agreeing to stay out of the area from 6 p.m. to 6 a.m. for up to six months.

It is under that law that Mirikitani seeks to create the new zone.

But police are skeptical since the law refers to "street solicitation" and solicitation on "public property," while the sex trade in the area cited by Mirikitani is mainly inside bars and massage parlors.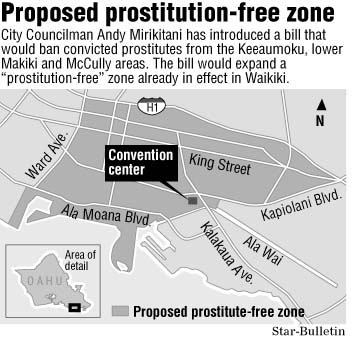 "There just isn't a significant amount of street prostitution in that area, so the big question is whether hostess bars and strip clubs would be considered public property as defined by the state law," Johnson said.

Johnson said the department awaits an opinion from city Corporation Counsel David Arakawa. Arakawa did not return phone calls yesterday. State law defines public property as "any street, highway, road, sidewalk, alley, lane, bridge, parking lot, park or other property owned or under the jurisdiction of any government entity or otherwise open to the public."

Mirikitani's bill says that includes "privately owned real property used for commercial purposes if open to any broad class of the public. Thus ... the term includes a liquor-serving, massage or adult entertainment establishment open to adult members of the public."

But defense lawyers disagreed and predicted quick court challenges if the full City Council endorsed Mirikitani's view. "Public property means property owned by the government," said attorney Earle A. Partington.

Jolene Setterquist, a peer advocate at Sisters Offering Support, a nonprofit agency that helps people escape the sex trade, called the proposal a "Band-Aid solution" that singles out the prostitutes, many of whom are teen-age girls, while ignoring the pimps and johns who are as big a part of the problem.

"Prostitution is already illegal, and it should be enforced equally everywhere on the island," she said.

But Mirikitani said the new zone is crucial because with enforcement stepped up in Waikiki and in the downtown/Chinatown area, prostitutes are moving to the Ala Moana/Kapiolani/Keeaumoku area and bringing along related trouble such as drugs, gambling and organized crime.

Mirikitani -- whose district includes Makiki, Manoa, McCully, Moiliili, Tantalus, Ala Moana and part of Kakaako -- said he would amend his bill to officially designate Chinatown and the adjacent downtown area and part of Wahiawa as separate "prostitution-free zones." Police support that idea, saying public sex solicitation is a problem in those areas.
E-mail to City Desk
---
---
© 2000 Honolulu Star-Bulletin
https://archives.starbulletin.com