[News]
[Business]
[Features]
[Sports]
[Editorial]
[Do It!]
[Info]
[Home]
[Nation/World]
Palm Pilot Page


OBITUARIES and
WEATHER in the
news section daily.




Calendars & Events







Most recent columns



To March 18, 1996
PAST WEEK:
| M | T | W | T | F | S |






Aloha Worldwide

Join SETI team

1998 Election

Legislature

SAT Scores

Pet Quarantine



Phone numbers, e-mail addresses, subscription info


E-mail notifier



SPECIAL: Strength and Honor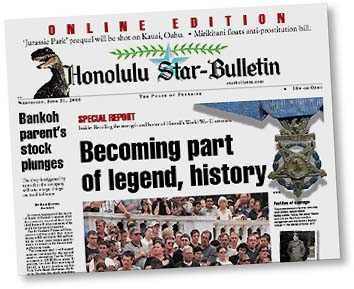 Sign up for our headlines by e-mail list

Advertisement - Click to support Starbulletin.com sponsor
---
Starbulletin.com publishes online editions Monday through Saturday.
New editions normally posted online between 2:00 and 4:00 p.m.
Starbulletin.com publishes articles written by our staff and
selected articles of particular interest to our readers.
Entire contents of this Web site © copyright 2000 by
Honolulu Star-Bulletin. All rights reserved.

---
Featured on:




Becoming legends, part of history; Pacific Century stock dives; Quarantine for Kauai bananas; Co-defendant testimony differs; Marines land at Bellows; Prostitution-free zone; Vacant-lot farmers targeted; Fasi: Use public money for Bulletin; Hawaiian status bills; Hotel workers protest; Kipapa collision kills one; Natatorium pool rules; In The Military; No parole for Foley; Newswatch; Kokua Line by June Watanabe; Weather; Obituaries; Whatever Happened To...




Late stories available after our print or online deadlines and breaking news items




Try the fish...; Jurassic prequel starring Hawaii; A Taste of Honolulu; Hawaii's Kitchen: Easter Seals; Stuffs; Hawaii by Dave Donnelly; Honolulu Lite by Charles Memminger; By Request by Betty Shimabukuro; Health Options by Joannie Dobbs & Alan Titchenal; Community Calendar; Morsels; Health; Scholarships




Expectations high for Jones, 'Bows; Waipio soccer wonderland; Sixteen to NFL camp; Murakami replacement search; Island Movers baseball; Keeping Score by Cindy Luis; Bodytalk by Stephenie Karony; Prep Notebook; Hawaii Beat; Scoreboard; Sports Broadcasts; Bullboard




Chevron loses bid to oust dealer without trial; Isle startups seek venture capital; Airline venture hits snag; Goldman net up; Business Briefs; Mortgage Rates; Hawaii Stocks; Live Stock Quotes; Closing Market Report; Dilbert!; Meetings




Time will tell whether N. Korea has changed; State foreign policies; Capitol View By Richard Borreca; Letters to the Editor




National and International News