Advertisement - Click to support our sponsors.

---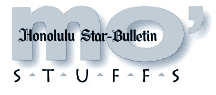 ---
Wednesday, June 21, 2000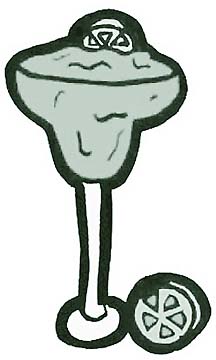 ---
Sip a Senorita
"Blushing Senorita," created by bartender Guy Maynard, won the recent Margaritaville contest at Compadres Bar and Grill. Maynard tends bar at the Chart House in Waikiki and has more than 22 years experience mixing drinks. He won $200 in cash. Maynard's award-winning formula:
BLUSHING SENORITA
1-1/2 ounces Margaritaville tequila
1-1/2 ounces pink grapefruit juice
1/2 ounce orange juice
1/4 ounce Cointreau
1/2 ounce sweet-sour mix
Squeeze of lemon and lime
Shake ingredients together and strain into a martini glass. Garnish rim with alae and kosher salts.
---
Da Kine

Sink or swim at regatta
Sponsors of Ocean Concepts BayFest next month are looking for a few good aquatic souls to take part in Orincon Hawaii's Bathtub Regatta.

Four-person teams are needed to build self-propelled boats that should float during the competition at 2 p.m. July 16. But just in case a few happen to founder, there'll be a prize for "1st to Sink." Other categories are for Best Children's, Best Craft, Funniest, Most Creative, Best Design and Best Military Entry.

Military and civilian teams may enter free. There is a $35 fee for corporate entries.

Entries must be received on or before July 10. Call 254-7593 or visit http://www.bayfesthawaii.com

The annual watersports carnival takes place at the Marine Corps Base Hawaii in Kaneohe. The event will run July 14 to 16.
Celebrate Bastille Day
The Alliance Française of Hawaii will host a Bastille Day celebration 5 to 7 p.m. July 15 at the Honolulu Academy of Arts.

There will be a preview of songs from Hawaii Opera Theatre's upcoming production of Jacques Offenbach's "Tales of Hoffman," French-inspired hors d'oeuvres and wines.

Tickets are $25, and may be reserved by sending a check with attendees' names to the Alliance, P.O. Box 10037, Honolulu, 96816.

The deadline is July 10. For more information, call 944-8272.
Infertility subject of Queen's talk
Queen's Medical Center's next "Speaking of Health" talk will discuss treatment options available to infertile couples.

The talk takes place 6:30 p.m. June 28 on the Queen's campus Kamehameha Auditorium. Dr. Bruce Kessel, a board-certified reproductive endocrinologist and associate professor in obstetrics/gynecology at the University of Hawai'i John A. Burns School of Medicine, will speak about the causes of infertility, how it is diagnosed and what can be done.

Infertility affects 6.1 million people in America, or 10 percent of people of reproductive age. According to Queen's, most cases can be treated.

Seating is limited and reservations are needed for the free presentation. Call 537-7117.
---
Morsels


Hoku's lauded: Food & Wine Magazine's 2000 Restaurant Poll has named Hoku's at the Kahala Mandarin Oriental Honolulu's Best Restaurant.
More than a hundred food and wine experts in 16 North American cities voted on noteworthy restaurants. The results were tallied and published in the July issue of the magazine. Categories included Best Restaurant, Best Reflects the City, Best Service, Best Wine List and others.

Beer Tasting: The Row Bar offers a Samuel Adams beer tasting featuring seven unique beers, 5:30 p.m. June 28. Free admission. Call 528-2345.

Joseph Phelps Winemaker Dinner: Chef Jean Marie Josselin of A Pacific Cafe will serve a winemaker's dinner at 7 p.m. June 30. Josselin will present a five-course prix fixe menu consisting of pig feet terrine with French bean salad served with White Pastiche; Kauai asparagus creamless soup and lobster dim sum and truffle oil with Chardonnay; braised veal cheeks with seared scallops atop sour cream mashed potatoes served with Le Mistral; walnut crusted Maytag souffle and fennel jicama salad with Cabernet Sauvignon; and etude of summer fruits accompanied by Eisrebe. Cost of dinner is $65 per person. Call 593-0035 for reservations.

Tyson's Chicken Burger Recipe Contest: Tyson is seeking unique chicken burger recipes. Each contest entrant must include his or her name, address, phone, recipe name, ingredients and preparation instructions. Mail entries to: Tyson Foods Chicken Burger Recipe Contest, c/o ADWorks, 444 Hobron Lane, 4th Floor, Honolulu, Hawaii 96815. Weekly winners will be announced on KSSK July 5, 12, 19 and 26.
Weekly winners are invited to a taste off at the Hanohano Room to determine the winner of the grand prize, a trip for two to New Orleans. Call 944-4326 for details.


Click for online
calendars and events.
---
Send WatDat? questions, stories
or any other story ideas or comments to:
Features, Honolulu Star-Bulletin, P.O. Box 3080,
Honolulu, HI 96802 or send a fax to 523-8509
or E-mail to features@starbulletin.com.
Please include your phone number.
E-mail to Features Editor
---
---
© 2000 Honolulu Star-Bulletin
https://archives.starbulletin.com