Advertisement - Click to support our sponsors.

---

---
Tuesday, June 20, 2000
Killer with no
conscience gets
2 life terms-plus


A teen-age girl's murderer
says he's innocent, but the judge
says he's more like an animal
than a human

By Rod Thompson
Star-Bulletin

HILO -- Convicted murderer Richard Damian Serrano continued to maintain his innocence at his sentencing this morning for the 1993 kidnapping, rape and murder of 16-year-old Sequoya Vargas.

"I'm innocent of these charges. That's a fact," Serrano, 29, told Judge Riki May Amano.

Amano sentenced him to two consecutive life terms, with possible parole, plus 20 years.

There is very little difference at times between humans and animals, but humans have a conscience, Amano said. "That's what I find lacking."

Vargas was last seen on Aug. 22, 1993. Her body was never found.

Gail Klinker, whose daughter, Jessica Klinker Hennessy, was hitchhiking with Vargas when Serrano picked them up, had forbidden her to go out with Serrano later that night, thus leaving Vargas alone.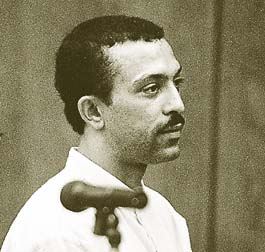 He tells the judge, "I took
no part in the killing. I feel the
people who did it should be
punished, but I'm not
that person."

Richard Damian Serrano
CONVICTED MURDERER
---
"I think every day, is it my fault, is it partly my fault, that this happened?" Klinker told Amano this morning.

Two men who confessed to attacking Vargas with Serrano had testified Serrano brought the girl to the house of one of them. They got her drunk and she passed out.

They said Serrano raped Vargas repeatedly. There was conflicting testimony about whether they raped her. Serrano also beat her.

Trudy Simone, Vargas' aunt, recalled trial testimony that Serrano boasted of previous attacks on young women. "Do you know how many times I've done this?" he allegedly told others.

Deputy prosecutor Jack Matsukawa reminded the court that Vargas was still conscious when the men placed her in the trunk of a car, was still conscious when they threw her off a sea cliff onto rocks below, was still conscious when Serrano attacked her again before dragging her out to sea.

Serrano had testified that he was with Vargas only for an hour or so, then dropped her off several miles away with some friends on a country road. There was no explanation of how or why Vargas would have gone back to the house where physical evidence shows the attack took place.

Matsukawa called Serrano's testimony "incredible."

But Serrano told Amano, "I feel bad about what happened to Sequoya, but I took no part in the killing. I feel the people who did it should be punished, but I'm not that person."

Amano could not, by law, extended Serrano's life sentence for murder. But she extended his 20-year sentence for kidnapping to life, and she extended two 5-year sentences for sexual assault to 10 years, and made all consecutive.
E-mail to City Desk
---
---
© 2000 Honolulu Star-Bulletin
https://archives.starbulletin.com