Advertisement - Click to support our sponsors.

---

---
Friday, June 9, 2000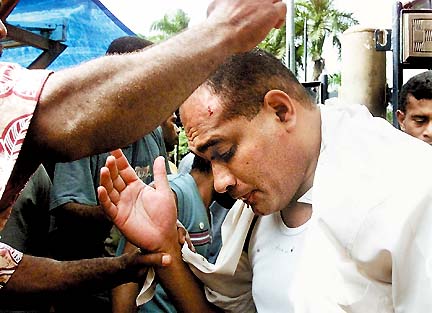 Associated Press
In Suva, Fiji, a Fijian policeman spat blood yesterday as he
was beaten and taken into custody by backers of coup leader
George Speight. The officer was later released.
---



Fijians in Hawaii are
angered and distressed by
the coup and fear for
their homeland's future

One Fijian here calls the coup
leader a 'con man,' another
says he's 'a terrorist'

By Treena Shapiro
and Leila Fujimori
Star-Bulletin

UNIVERSITY of Hawaii-Manoa professor Vilisoni Hereniko reads news of Fiji on the Internet every 15 minutes looking for a ray of hope, like many Hawaii residents with ties to Fiji.

A native of the Fijian island Rotuma and now an associate professor for the Center for Pacific Island Studies, Hereniko said he had hoped Fiji would be a model for multiculturalism.

"We were all very disappointed when this happened," he said, referring to the May 19 coup in which indigenous Fijian George Speight took the first elected ethnic Indian prime minister, Mahendra Chaudry, and 30 Cabinet members hostage.

In retrospect, the coup wasn't completely unexpected, Hereniko said, as there were rumors that the deposed prime minister had alienated government officials and the media and come across as arrogant in his dealings with native Fijian concerns.

"Looking back, what else did he expect? How could he not address the concerns of the Fijians?" asked Hereniko, who describes Rotuma as being a part of the country of Fiji, but culturally distinct.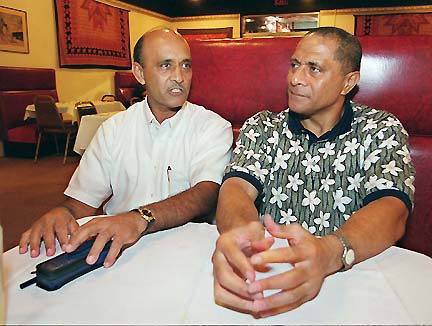 By Dennis Oda, Star-Bulletin
Taiyab Khan, left, who is ethnic Indian and a third-generation
Fijian, and his good friend Jon Yalimaiwai, who is ethnic Fijian,
discuss the troubles in their native land at Khan's Indian
restaurant, Zaffron, in downtown Honolulu.
---
Speight has gained the support of some indigenous Fijians by feeding on the fear that they are losing control of their destiny, Hereniko said. Fijians are having difficulty making the transition from a government ruled by chiefs to a democracy and independence. Their concerns need to be addressed in a new constitution and reformed educational system, he added.

Terence Wesley-Smith, professor of Pacific Island studies at the University of Hawaii-Manoa, said that Speight may have an ulterior motive.

Speight "was unhappy with the government he deposed because his own personal interests were threatened by that government, regardless of the ethnicity of the prime minister," he said. Speight, a failed businessman, was investigated for fraud and fired by the deposed government, Wesley-Smith said.

'Smooth-talking salesman'

Inoke Suguturaga is an indigenous Fijian who comes from Tailevu, the same province as Speight, and knows him personally.

"It was surprising to see him tout himself as a champion of indigenous rights when he doesn't even speak Fijian and uses a European name," said Suguturaga, who serves on the Board of Fellows at the Institute of Polynesian Studies for Brigham Young University-Hawaii and as manager of guest services for the Polynesian Cultural Center in Laie.

"George is well known as a con man," Suguturaga said. "He's very glib, very smooth-talking. I guess I shouldn't have been surprised that he was able to sway a lot of people because he's a good talker, he's a good salesman."

But Suguturaga doesn't believe Speight has "any track record for fighting for indigenous rights -- he came out of the blue."

The coup initially appealed to the masses of indigenous Fijians who felt threatened by ethnic Indians, who make up 44 percent of the population. Indigenous Fijians make up 51 percent of the population.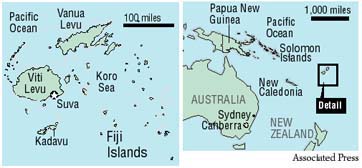 Suguturaga cautions that "it's more complicated than the Western world is making it out to be. The Indian-Fijian race issue was just a catalyst. It's basically boiling down to the traditional Fijian rivalries between the different confederacies and the different areas of Fiji."

Richard Baker, director of studies at the East-West Center, suggests Speight may not have originated the overthrow and was merely selected as spokesman.

"It's an extremely uncertain situation," Baker said.

The president's daughter, an indigenous Fijian and a member of the Cabinet, remains hostage, attesting to the multiethnicity of the deposed government, Baker said.

Wesley-Smith said 11 out of 16 Cabinet ministers were indigenous Fijians, contrary to Speight's contention that Indians controlled the government.

Economic, political damage

Whatever the political dynamics, the overthrow is causing immediate economic damage by halting tourism, the country's No. 1 industry, Baker said.

Melissa McCoy, owner of Aloha Destinations Travel on Maui, said the conflict seems to be centered in Suva, not the resort areas. Nevertheless, some travelers are canceling trips to Fiji.

British Commonwealth finance ministers have suspended Fiji from its decision-making councils, causing "quite a significant setback," Wesley-Smith said.

"After the last coup in 1987, the new leadership worked very hard to get back into the Commonwealth" in 1997, Wesley-Smith said.

Even if the coup fails, "the damage has been done" because most of Speight's demands have been met, Wesley-Smith said: The constitution has been dumped and the president pushed out.

Honolulu resident Taiyab Khan is an ethnic Indian who considers himself Fijian, a native son of the country in which he was raised. He returned from a two-week visit to Fiji last week.

Khan arrived in Fiji the day before the coup to visit with family in Lautoka, on the other side of the island from the Parliament in Suva. Having been in Fiji immediately after the last two coups, this time he felt a sense of deja vu, he said.

While the coup wasn't expected, "it was generally rumored that there would be major disturbances. I think people kind of expected something silly," he said.

On the western side of the island, things continued to be calm and peaceful, Khan said, but underneath the surface, all is not normal.

"There is panic, fear, general uncertainty. Businesses are affected, things were shut down for a number of days immediately following the coup," he said.

Valerie Warren wasn't aware of any great animosity between native Fijians and ethnic Indians when she visited Fiji in March 1999, just before the first ethnic Indian prime minister was elected.

Warren, a Fijian who moved to Hawaii 21 years ago, said she understands the reasons behind the coup but does not support it.

"I'm certainly not for the method that he (Speight) used. I think he should definitely be branded as a terrorist for the methods he's using," Warren said.

"I think it's a very tragic situation right now because the country and the poor people are the ones that are going to suffer the most ... the Fijians in the villages."
E-mail to City Desk
---
---
© 2000 Honolulu Star-Bulletin
https://archives.starbulletin.com