Advertisement - Click to support our sponsors.

---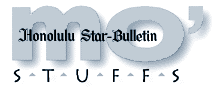 ---
Friday, June 9, 2000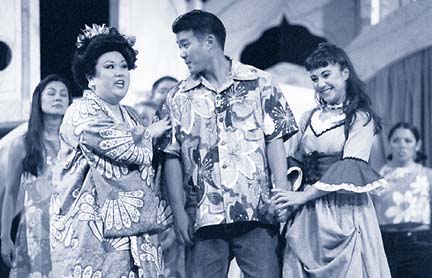 File photo
Lisa Matsumoto, left, as the Queen, brings her musical
"The Princess and the Iso Peanut" back to stage.
---
Another serving
of 'Iso Peanut'
Lisa Matsumoto's "The Princess and the Iso Peanut" will open an encore engagement at Diamond Head Theatre July 7.

Tickets, at $10 to $40, are on sale now at the DHT box office, and you'd better rush down to get them. First presented in 1999, the musical played to sold-out crowds and was extended three times.

The musical tells the story of Princess Alexis, who encounters outrageous characters as she goes on a long journey to find her prince.

Colleen Fujioka will play the princess and Bryan Yamasaki will appear as Prince Yoshi.

Performances will run 8 p.m. Thursdays to Saturdays and 4 p.m. Sundays through July 23.

Call 734-0274.
---
Slater in 'Windtalkers'
Christian Slater joins Nicholas Cage in the John Woo- directed film "Windtalkers," which starts filming in Hawaii in August.

Slater will portray one of the soldiers, who are ordered to kill the men they're assigned to protect if capture seems imminent. The soldiers were to guard the windtalkers, Navajo recruited during World War II to transmit and receive code in their native language. The use of Navajo stymied Japanese codebreakers.
On air this weekend
"Miss Hawaii Scholarship Program," 7 p.m. today, KFVE. Ten contestants for the Miss Hawaii title compete. With performances by Marcel Pacleb's 24-VII DANCEFORCE, Reign, O'Brian Eselu's Ke Kai O Kahiki, Miss Hawaii 9150 Dell-Fin Poaha, Miss Hawaii 1975 Cathy Foy-Mahi and Rolando Sanchez.

"Show Time at the Apollo," 6 p.m. Sunday, KIKU. Features a performance by Hawaii Kai resident Tani Lynn Fujimoto.






Click for online
calendars and events.
---
Send WatDat? questions, stories
or any other story ideas or comments to:
Features, Honolulu Star-Bulletin, P.O. Box 3080,
Honolulu, HI 96802 or send a fax to 523-8509
or E-mail to features@starbulletin.com.
Please include your phone number.
E-mail to Features Editor
---
---
© 2000 Honolulu Star-Bulletin
https://archives.starbulletin.com