Advertisement - Click to support our sponsors.

---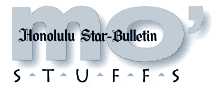 ---
Wednesday, May 24, 2000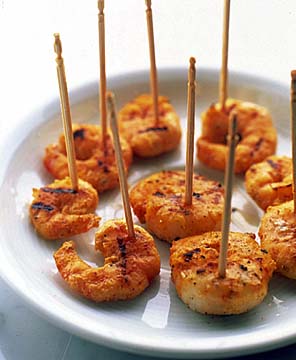 ---
Pupus with Panache
We're on the prowl for some new, unique appetizers. Send us your recipe and you could win free food. Submit this form with your entry.

The rules:

Recipes must be original and typewritten.

Finalists will be selected by the Star-Bulletin Today staff and must be able to deliver their pupus for tasting.

Judges' decisions are final.

Non-winning entries may be published without compensation to the entrant.
Prizes:

First prize, $250 gift certificate to your favorite supermarket; second place, $150 gift certificate; third place, $75 gift certificate.
Deadline:

Entries must be in our hands by 5 p.m. June 7. Winners will be announced in the Star-Bulletin in June.
Include the following information:
Recipe name.
Your name
Address
Telephone (daytime)
Telephone (evening)
Mail entries to Pupus with Panache, Honolulu Star- Bulletin Today section, P.O. Box 3080, Honolulu, HI 96802 or fax 523-8509. No email entries.

Employees of the Honolulu Star-Bulletin and the Hawaii Newspaper Agency are ineligible.
---
Morsels


Choosing a chili champion: Serious chili cooks, especially professionals with restaurants and other food related businesses, are invited to compete in the 2000 Hawaii State International Chili Society Cook-Off Monday. Every Memorial Day, Dr. Jack Scaff, trainer of marathoners, opens his Round Top Drive Home to the competition. The winner of the top prize goes on to the International Chili Society's World Cook Off in Las Vegas, where the top prize is $25,000. Call Scaff at 533-1882.

French tour: Chef George Bouillon of the French Institute of Hawaii is teaching a series of cooking classes featuring the cuisines of many parts of his homeland. The classes are offered through the Outreach College of the University of Hawai'i at Manoa. All classes take place at the French Institute, 1130 N. Nimitz Highway, from 9 a.m. to 1 p.m. Cost is $45 per class. Call 956-5666 to enroll. The schedule: Provence, June 4; Bourgogne, June 11; Alsace Lorraine, June 18; Aquitaine, June 25.

W is for ...: Four chefs from W hotels in Seattle, San Francisco, Los Angeles and Honolulu will prepare a four-course meal tonight at the Diamond Head Grill. Chefs from Earth and Ocean in Seattle, XYZ in San Francisco and Mojo's of Los Angeles will join W Honolulu's David Reardon of Diamond Head Grill. Cost is $65. For reservations call 922-3734.

Aloha Friday luau: The Westin Maui continues a tradition that dates back to the old "Hawaii Calls" radio program, hosting a lunch show of Hawaiian foods and music Friday. Performing will be Dennis Pavao and Blue Makaha, among others. The buffet will include luau standards as well as chicken coconut soup, sushi and sashimi, and grilled and smoked seafoods. Cost is $22. Seating begins at 11 a.m. and ends at 2 p.m. Call (808) 667-2525.

Merlot in May: Tour the world through an international sampling of merlots at a wine-tasting workshop, 6 p.m. tomorrow in Kapiolani Community College's Ohia Room 118. Cost is $23. Call 734-9441.

"Oceanfest Celebration": The Hilton Hawaiian Village serves up seafood for the Oceanfest Celebration at the Village Steak & Seafood Restaurant, Friday through Monday and June 2-4. A seafood appetizer bar, shrimp cocktails, oysters on the half shell, saffron steamed clams and mussels, island mahimahi, frutti di mare and Alaskan crab legs will be served. Call for reservations, 949-4321. Tickets: $33.50.

Shrimp Delight: Shrimp lovers can enjoy new dishes from the Panda Express Festival of Shrimp through July 8 at Windward Mall during mall hours.

"Dinner on the Diner": Discover world cuisine on Hawaii Public Television during four one-hour programs. Each hour explores a region's food, culture and people by train.
"Dorinda Hafner in South Africa" on June 1 showcases favorite African spoonbread recipes.
"Graham Kerr in Scotland" on June 8 demonstrates the preparation of Angus beef with horseradish sauce accompanied by a Yorkshire pudding crepe. Kerr also discusses the making of a perfect cup of tea.
"Mary Ann Esposito in Spain" on June 15 follows Esposito through Spain aboard the restored vintage train, the "Al-Andalus Expreso."
"Martin Yan in Southeast Asia" on June 22 travels from Singapore to Bangkok exploring the region's exotic culture and cuisine.
All four segments of the series air at 9 p.m. on KHET.

"Savor the Summer" Tasty Tips Web site Contest: Lawry's seeks submissions of favorite recipes or tips using Lawry seasoning marinades with fruit juice. Entries will be judged on creativity, ease of preparation and appearance. Visit http://www.lawrys.com for official rules and entry forms. Deadline for submissions is Aug. 31.
---
Nurse training available
Space is still available for the American Red Cross' Nurse Assistant Training Course beginning June 19.

The three-week course runs 8 a.m. to 2:30 p.m. Mondays to Fridays at 4155 Diamond Head Road. The program features two weeks of classroom training, followed by a week of clinical training at one of Oahu's longterm care facilities to fulfill a practicum requirement.

Graduates of the Red Cross program are prepared to take the state examination to become certified nurse assistants. For information, call 734-2101.
Attack disease first
Learn more about heart disease and stroke Saturday, when Straub Foundation hosts a free meeting, "Heart Attack and Brain Attack in the New Millennium."

The informational event takes place from 8 a.m. to 1 p.m. at the Hilton Hawaiian Village Tapa Ballroom. Seating is limited, so call 524-6755 to register.

Heart disease and stroke are leading causes of death and disability in Hawaii, accounting for 38 percent of all deaths. According to Straub, a resident dies of cardiovascular disease about every three hours. Screening for risk factors, early detection, appropriate treatment and lifestyle changes can improve quality of life.






Click for online
calendars and events.
---
Send WatDat? questions, stories
or any other story ideas or comments to:
Features, Honolulu Star-Bulletin, P.O. Box 3080,
Honolulu, HI 96802 or send a fax to 523-8509
or E-mail to features@starbulletin.com.
Please include your phone number.
E-mail to Features Editor
---
---
© 2000 Honolulu Star-Bulletin
https://archives.starbulletin.com