[News]
[Business]
[Features]
[Sports]
[Editorial]
[Do It!]
[Info]
[Home]
[Nation/World]
Palm Pilot Page


OBITUARIES and
WEATHER in the
news section daily.




Calendars & Events







Most recent columns



To March 18, 1996
PAST WEEK:
| M | T | W | T | F | S |






Aloha Worldwide

Join SETI team

1998 Election

Legislature

SAT Scores

Pet Quarantine



Phone numbers, e-mail addresses, subscription info


E-mail notifier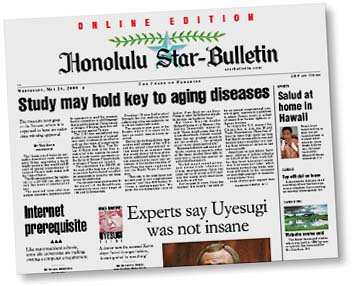 Sign up for our headlines by e-mail list

Advertisement - Click to support Starbulletin.com sponsor
---
Starbulletin.com publishes online editions Monday through Saturday.
New editions normally posted online between 2:00 and 4:00 p.m.
Starbulletin.com publishes articles written by our staff and
selected articles of particular interest to our readers.
Entire contents of this Web site © copyright 2000 by
Honolulu Star-Bulletin. All rights reserved.

---
Featured on:




Study key to aging diseases; Hepatitis C cases doubled; Experts: Uyesugi not insane; Kamehameha COO on leave; Body possibly missing woman; Internet prerequisite; Bulletin termination agreement; Sovereignty cyber-debate; Hate-crime victim's mom; Chief to contest ticket; Special-ed aid distribution; No contest in child assault; Memorial Day; Newswatch; Kokua Line by June Watanabe; Corky's Hawaii; Weather; Island Images; Obituaries; Whatever Happened To...




Late stories available after our print or online deadlines and breaking news items




Okazuya - 'cause you hungry!; Hawaii's Kitchen - Hula's; Stuffs; Honolulu Lite by Charles Memminger; By Request by Betty Shimabukuro; Health Options by Joannie Dobbs & Alan Titchenal; Community Calendar; Morsels; Health




Salud happily at home; Loud out on track job; State titles: Everybody won; Neighbor isle not back-seat; Post player not Wahine recruit; Sports Notebook; Prep Notebook; Hawaii Beat; Scoreboard; Sports Broadcasts; Bullboard




Y.Hata lands $67.5 million military contract; Royal Kunia course sold; Hawaiian adding SFO flight; Unemployment drops; Costco shares plummet; Business Briefs; Mortgage Rates; Hawaii Stocks; Live Stock Quotes; Closing Market Report; Dilbert!; Meetings




Stronger enforcement of alcohol, gun laws; Computers in school; Capitol View By Richard Borrec; Letters to the Editor; Corky Editorial Cartoon




National and International News