Advertisement - Click to support our sponsors.

---

---
Tuesday, May 23, 2000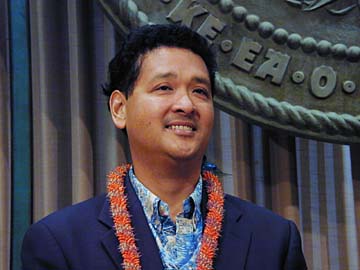 By Ken Ige, Star-Bulletin
Representative Ron Menor is leaving the House to replace
Senator Randy Iwase, who has been appointed to the Labor
and Industrial Relations Appeals Board.
---
Menor takes Senate
seat, Iwase's aide
goes to the House

By Richard Borreca
Star-Bulletin

Gov. Ben Cayetano has named Rep. Ron Menor to the state Senate seat vacated by former Sen. Randy Iwase, appointed to the Labor and Industrial Relations Appeals Board.

Cayetano also named Iwase's aide, Charlotte Nekota, to fill Menor's House seat.

Both terms are to expire on the day of the 2000 general election, Nov. 7.

Menor, 44, is a legislative veteran who has previously served in the Senate and House.

Nekota, 51, has been Iwase's office manager and senior aide for the past 10 years. She is a former real estate agent, soccer coach, president of the Central Oahu Baseball League and educational assistant at Wheeler Elementary School.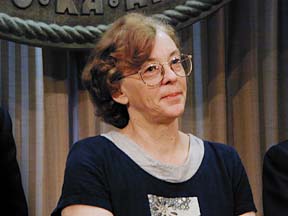 By Ken Ige, Star-Bulletin
Menor's House seat will be taken by Charlotte Nekota.
---
Nekota was born in Marshall, Minn., and is married to Wendell Nekota, vice president of Pacific Transfer. She has four children.

"Education and transportation are going to be my priorities," she said.

Nekota, also a member of the state Democratic Central Committee, said she will run for election to the seat this fall.

Iwase's seat was vacated after Cayetano named him to the labor appeals board.

Menor, an attorney, served as chairman of the House Consumer Protection Committee this year. He also said he would run for the Senate seat.

He served in the state House from 1982-1985 and from 1992 until his appointment to the Senate.

He previously served in the Senate from 1986 to 1990, when he unsuccessfully ran for the U.S. House.

Menor will represent the 18th Senate District, from Waipio Gentry to Wahiawa. Nekota will represent the 39th District of Wheeler to Mililani.
E-mail to City Desk
---
---
© 2000 Honolulu Star-Bulletin
https://archives.starbulletin.com