Advertisement - Click to support our sponsors.

---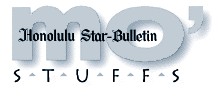 ---
Wednesday, May 3, 2000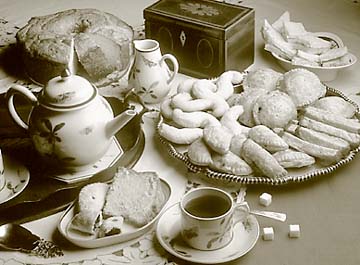 File photo
A large array of sweets is essential to afternoon tea.
---
Treat mom to a
lavish afternoon tea
Mother's Day approaches in a week and a half. Celebrate a day early by taking Mom to tea at the Hawaii Conference United Church of Christ.

The Women's Board of Missions for the Pacific Islands is holding "A Spring Tea and Other Finer Things" at 2:30 p.m. May 13 to raise funds for its mission projects.

Along with tea and "savory delights," the event includes a silent auction, boutique and entertainment by harpist Pumehana Davis, the New Testament Church Samoan Choir and the Jonathan Osorio Hawaiian Band.

Tickets are $10. Call 791-5647. The church is located at 15 Craigside Place in Honolulu.

Another idea for tea: The Pineapple Room at Liberty House Ala Moana is serving tea from 3 to 5 p.m. daily. The "Tea in the Afternoon" includes a sampler of loose-leaf teas, foods and desserts. Price is $15. Call 945-8881.
---
Lei winners named
Leonore Sato won the Mayor's Grand Prize in the May Day "Na Lei O Ke Kui (The Lei of the Stringing Method)" contest sponsored by the Department of Parks and Recreation.

Happy Tamanaha took home first and second place awards in the theme lei category, with Robert K. Smith taking third place. Other winners:
Masters, blue: Bill Char (1st), Brian Choy (2nd), Randy Akau (3rd)
Masters, orange: Charlene Choy, Char, Akau
Masters, red: Char, Norberto Cabugon, Velma Omura
Masters, white: Muriel Kaya, Cabugon, Brian Choy
Masters, mixed: Renee Koyama, Tamanaha, Cabugon
Masters, hat: Honey Justman, Char, Justman
Novice, mixed: Helen Kaanana, Kaanana, Rosie Marciel Jr.
Novice, hat: Myrle Rebuld- ela, Kurt Brunner, Sharla Au
---
Hasselhoff show off
Former "Baywatch" star David Hasselhoff's new TV show has been beached. "Doublecross," the action series set to launch this fall, apparently fell victim to money problems.

"Free Scoop Night"
Baskin-Robbins will kick off summer with its "free scoop night" from 5-10 p.m. today. Everyone who visits a participating Baskin-Robbins store will receive a free scoop of their favorite ice cream in a cup or on a cone. For every scoop served, Baskin-Robbins will donate money to First Book, a national nonprofit organization that promotes children's literacy.

Swiss dinner fund-raiser
The Swiss Society is sponsoring an authentic Swiss Dinner Buffet as a fund-raiser for the Third Annual Hawaii International Choral Festival and the Oahu Choral Society. The event will be held from 6 p.m. May 19 in the Hilton Hawaiian Village Rainbow Suite. Dr. Niklaus Schweizer will discuss "The Swiss in Hawaii" and music director Dr. Timothy Carney will provide insight on "Le Laudi" and the Festival. Reservations must be made by May 12 by calling 595-0327 or by email oahuchoral @aol.com. Tickets: $50.

"Stamp Out Hunger!"
America's letter carriers team up with Campbell Soup Company for the world's largest single day food drive on May 13. Participants can leave a grocery bag containing nonperishable items next to their mailbox prior to the time of regular mail delivery. Call your local post office of visit www.nalc.org for more information.

Tabasco Community Cookbooks
Entries are now being accepted for cookbooks that are published for fund-raising purposes. The makers of "Tabasco" will award a total of $10,000 to 14 non-profit organizations nationwide.

To obtain an entry form , send a self-addressed, stamped envelope to: Tabasco Community Cookbook Awards, c/o McIlhenny Company, Attn: Sheryl Dartez, General Delivery, Avery Island, LA 70513.

Winning entries will receive contributions to their charities in the following amounts: first place, $3,500; second place, $1,000; third place, $500 for each of the six regional winners. Visit http://www.tabasco.com for more information. Deadline for submissions is Oct. 1.

Walk for arthritis
Walkers of all ages and fitness levels are invited to help raise funds for research and self-help programs when the Arthritis Foundation's Hawaii branch hosts its second annual "A Joint Walk" May 7.

The indoor walk at Windward Mall has no distance requirements. (Three times around the mall's lower level equals a mile.)

All participants receive "A Joint Walk" T-shirt. Continental breakfast is included. There is $10 registration donation.

Windward Mall gift certificates will go to those who raise the most money, those with the most creatively costumed team, and those who walk the longest distance. Registration begins 8 a.m. at Center Stage. The walk begins 8:30 a.m.

Call 942-3636 for information.






Click for online
calendars and events.
---
Send WatDat? questions, stories
or any other story ideas or comments to:
Features, Honolulu Star-Bulletin, P.O. Box 3080,
Honolulu, HI 96802 or send a fax to 523-8509
or E-mail to features@starbulletin.com.
Please include your phone number.
E-mail to Features Editor
---
---
© 2000 Honolulu Star-Bulletin
https://archives.starbulletin.com