Advertisement - Click to support our sponsors.

---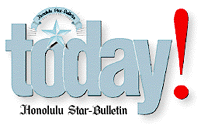 ---
Wednesday, May 3, 2000



Sweet treats
from LCC students

Recipes prepared by Leeward Community College students Melvin Avecilla and Alex Caday on "Hawaii's Kitchen" this week. The show aired at 5:30 p.m. Sunday and will be rebroadcast at the same time Saturday on KHON Fox 2.

Cheese Cake Mousse

1/2 pound cream cheese
2 whole eggs
3/4 cup water
1/2 cup sugar
1/4 oz. powdered gelatin
2 tablespoons orange liqueur or rum
1/2 cup whipping cream
1 egg white

Leave cream cheese out until it reaches room temperature. Place in mixing bowl. With paddle, mix until fluffy. Scrape down. Add eggs and continue creaming. Scrape down to prevent lumps.

Boil water in a small pot. Combine sugar and gelatin. Add to boiling water, stirring well. Boil until clear. Do not over cook.

With electric mixer running on low speed, pour boiling mixture in slowly. Mix until blended. Mixture should look very soft and liquid like. Cool mixture thoroughly to room temperature. This is very important. If not, it will curdle the whipped cream which is to be folded in later. This holds true with any other mousse that has whipped cream folded in.

Add liqueur to cooled mixture. Beat whipping cream until soft peaks form. Fold into cream cheese mixture. Mixture can be placed into molds, chilled and later unmolded.

If it will not be unmolded and a softer mousse is desired, beat egg white until soft peaks form and fold in after the whipped cream. Makes 8 servings.

Pecan Belgium Chocolate Torte

1/2 pound butter
1-1/2 cup sugar
1 cup all-purpose flour
4 whole eggs
1 pound chopped pecans, cut in large dice
12 ounces bitter-sweet chocolate, chopped into desired size
2 tablespoons vanilla
2 tablespoons rum
Unbaked 8-inch pie shell

Mix butter, sugar and flour together until fluffy. Add eggs, scrape down and continue mixing. Fold nuts and chocolate into batter with rubber spatula. Add vanilla and rum. Pour into unbaked tart or pie shell. Bake at 375 degrees until done. Cool pie and cut upside down to prevent cracking.

Nutritional information unavailable.






Click for online
calendars and events.
E-mail to Features Editor
---
---
© 2000 Honolulu Star-Bulletin
https://archives.starbulletin.com