Advertisement - Click to support our sponsors.

---

---
Tuesday, April 11, 2000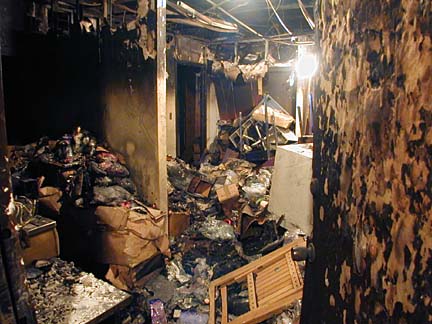 By Kathryn Bender, Star-Bulletin
Damage to offices on the 16th floor of the Interstate Building,
above, was extensive. Fire chief Attillio Leonardi took members
of the City Council and the media through the building yesterday.
---
City bill offers
tax credit for
installing sprinklers


But owners say they can't afford
sprinklers in older high-rises; the
cost could be up to $6 a square foot

By Gordon Y.K. Pang
Star-Bulletin

A third bill requiring sprinkler systems in commercial high-rise buildings -- one that would allow owners to receive tax breaks -- has been introduced at the City Council.

The bills are in response to the April 1 Interstate Building fire that resulted in 11 firefighters being treated, destroyed the top floor of the structure and caused an untold amount of damage.

The latest measure, introduced by Councilman Andy Mirikitani, would force commercial buildings 75 feet or higher to install sprinkler systems within five years.

High-rises built before 1975, such as the 26-year-old Interstate Building, were not required to have sprinklers and a 1983 retrofit bill applied only to high-rise hotels.

Mirikitani said his bill would help ease the burden of commercial building owners who need to install sprinklers. The amount of the tax credit is to be determined later, Mirikitani said.

While city officials are trying to get a better fix on retrofitting costs, initial estimates have ranged from $1.65 to $6 a square foot.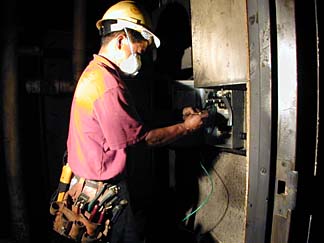 By Kathryn Bender, Star-Bulletin
Leonard Egdamin of AA Electric works on restoring
power to the 16th floor.
---
"I think they're looking at $3 a square foot for the actual installation," Fire Battalion Chief Kenneth Silva said, with additional costs for "boxing it up and adding other things into it."

Following a smaller fire at the Interstate Building in 1997, owners of the building declined to retrofit with sprinklers after learning it would cost at least $1 million.

Miles Kamimura, president of the Building Owners and Managers Association, said that calculating the $1 million by the 185,000 square feet of rentable area in the Interstate Building comes out to $5.41 a square foot. That would not include retrofitting of lobbies or other common areas, he said.

Kamimura said he can't argue against the need to retrofit but believes many building owners would have a hard time complying. "Our market is so bad now some of these guys would just give the keys back to the bank (if forced to retrofit)," Kamimura said. "It's happening already."

Dean Masuno, Yoshimura's chief aide, said yesterday that the Council will likely approve one of the measures but that portions of each of the three may be incorporated.




Proposed laws allow at least 5 years

Here are the three bills that apply only to commercial buildings 75 feet or higher, although a separate measure dealing with residential high-rises may still be in the offing:

Bill 38, introduced by Council Chairman Jon Yoshimura and Councilman Andy Mirikitani, would change the fire code and only require exit corridors, stairwells, elevator lobbies, commercial kitchens and "public assembly areas occupied by 100 or more persons" of an older commercial high-rise to have sprinklers. The owners would have to complete the retrofitting within five years with unlimited extensions approved by the fire chief.

Bill 39, also introduced jointly by Yoshimura and Mirikitani, would change the building code and require sprinklers "throughout" older commercial high-rises. The requirement already applies to all high-rise hotels and all new high-rises. The owners would have to complete the retrofitting within five years with extensions of up two years allowed with permission of the fire chief.

Bill 40, introduced by Mirikitani, incorporates tax credits in Bill 38.

---

Star-Bulletin staff



E-mail to City Desk
---
---
© 2000 Honolulu Star-Bulletin
https://archives.starbulletin.com