Advertisement - Click to support our sponsors.

---

---




Newswatch
Police, Fire, Courts
By Star-Bulletin Staff
Tuesday, April 11, 2000
---
Missing man found in Aiea Heights

A missing man walked out of Keaiwa Heiau State Park in Aiea Heights last night, police said.

The man, believed to be despondent, had been missing since April 4.

Glenn Infante, 37, was taken to Queen's Hospital where he was listed in guarded condition.

Police and the fire department searched for the man in the park for three days after his car was found in the parking lot.

City says Kalihi pool to be ready for summer

Renovation work at the Kalihi Valley District Park swimming pool has been stalled for more than two weeks, but city officials insist that the project will be done in time for summer programs.

Carol Costa, city spokeswoman, said contractor All Pool and Spa had asked for a $60,000 change order to increase the depth of the pool's plaster bed to 1 inch.

Work was halted to allow for a review by pool experts, who recommended that the contractor's request be rejected, Costa said, and the work is expected to pick up again soon.

Kalihi Councilwoman Donna Mercado, who has been critical of the city's handling of the pool, said the dispute over the tiling should have been resolved before work began to avoid delays.

The Health Department closed the facility in mid-February because of cloudy water. Health officials believed the condition was caused by dissolving paint.

The paint was part of a temporary fix to the pool's vinyl lining, which had caused several problems and led to closings in the past.

The project began Feb. 28, and the initial contract was for the work to be done for $279,274 and be completed in 50 working days, ending in May.

Bills request $3 million for dental-care needs

The Hawaii State Primary Care Association is urging the Legislature to pass bills appropriating $3 million to provide dental care for low-income and disabled Hawaii families.

About 90,000 adults in the Medicaid and QUEST programs, including 30,000 aged, blind and disabled beneficiaries, have had no access to dental services since 1996, the association said.

The state Department of Human Services cut off dental benefits that year except for emergency services.

"Even children with QUEST benefits are not being adequately served in some geographic areas, notably Maui and the Big Island," said Beth Giesting, Primary Care Association executive director.

She said a statewide dental task force convened by the association has been meeting since September to discuss actions to improve the state's dental health.

"We come from different backgrounds and agencies but we all agree our dental needs are great. An appropriation of $3 million is a modest request in the face of Hawaii's substantial unmet dental needs."

YWCA to fete leaders at May 5 luncheon

The YWCA of Oahu, in celebration of 100 years of helping women, named a hospice pioneer, a blood bank executive, a human services advocate and an international design firm headquartered in Hawaii as this year's honorees for its 2000 Leader Luncheon.

The leaders include Dr. Julia Frohlich, chief executive of Blood Bank of Hawaii; Sister Francine Gries, executive director of St. Francis Hospice; Patti J. Lyons, chief executive officer of Consuelo Zobel Alger Foundation; and Belt Collins.

They will be recognized at the Leader Luncheon on May 5 at the Hilton Hawaiian Village. Individual tickets are $60. Tables of 10 are $600.

For more information, call 538-7061, ext. 234.

Foundation urges arthritis sufferers to write Congress

The Arthritis Foundation, Hawaii Branch, is urging all people affected by arthritis to write to congressional representatives about problems getting medications they need.

No one should be denied treatment for financial reasons, the foundation said, but since Medicare doesn't include a prescription drug benefit, millions of people with arthritis can't afford needed medications.

Those affected by arthritis, family members, friends and care givers are asked to send empty prescription bottles to Capitol Hill on May 18 or call the Arthritis Foundation, 800-283-7800, to send a bottle in their name.

Letters and bottles may be sent by April 30 to the Arthritis Foundation, Message in a Bottle Campaign, 4455 Connecticut Ave., NW, Suite 305, Washington, D.C., 20008, and they will be delivered to Congress May 18.

With arthritis costing the national economy $65 billion annually, the foundation said, "Now is the time for Congress and the health care system to address access to medications."

For more information, see the Web site at http://www.arthritis.org, or call the foundation.

Groundbreaking interrupted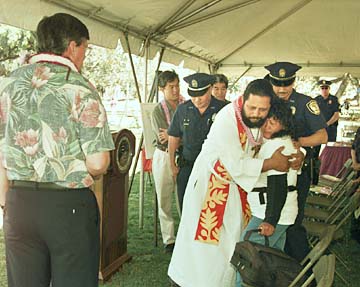 By Craig T. Kojima, Star-Bulletin
During this morning's groundbreaking for an improvement
project at A'ala Park, a woman interrupted the ceremony to say
she had been evicted unfairly from her Kalihi living quarters.
She was comforted by Rev. Kaleo Patterson as Mayor Jeremy
Harris, left, looked on. The five-month project will include a new
softball field, two basketball courts, playground equipment,
a parking lot and more lighting.
---
---

In the courts

Man gets 48-month term for illegal cable business

A federal judge has sentenced a man to 48 months in prison in what the U.S. attorney calls one of the largest illegal cable-box sale prosecutions in the country.

Michael Van Hohenstein, 45, last week forfeited more than $1 million, equipment for his illegal cable box business and a 1995 auto.

Judge Susan Oki Mollway yesterday sentenced Van Hohenstein, who operated his business in Honolulu from February 1995 through July 1997, for selling pirate cable television boxes and income tax and money-laundering charges.

U.S. Attorney Steven Alm said Van Hohenstein advertised his illegal devices in various local and national publications, indicating he had cable boxes and interception devices for sale.

Those ads appeared in Popular Mechanics and other national magazines.

He said the cable boxes provided free access to restricted and premium television programs.

Mirikitani says witnesses support him in crash suit

City Councilman Andy Mirikitani maintains he was not at fault in an accident, the subject of a lawsuit filed last Tuesday by two women against Mirikitani and the city.

Kikue Takeda and her daughter Lucia are suing Mirikitani and the city saying they were injured when their car was rear-ended by a car driven by Mirikitani in 1998. Their car was making a left-hand turn into the Straub Clinic & Hospital on Aug. 10, 1998.

Mirikitani said two witnesses have issued statements that the accident was the other driver's fault.

The women's attorney, Norman Lau, said his clients suffered major back injuries and are still undergoing treatment. They will each seek more than $50,000, he said.

City investigating BYU student housing charges

The city is investigating numerous complaints of too many Brigham Young University students living at private Laie homes.

The Department of Land Utilization yesterday sought a Circuit Court order to obtain a list of students who live at four Naupaka Street homes from James Smith, stake president of Brigham Young University -- Hawaii Stake, to determine whether land use violations exist.

Smith maintains a complete list of all students who live at Laie Point, specifically at Naupaka Street, according to a motion filed by the city in Circuit Court.

The Department of Planning and Permitting in the past has tried to conduct inspections at these four homes but the owners have refused.

The District Court won't grant the city inspection warrants without the names and numbers of residents living at each of the properties.

Smith will not release the names without a court order. He and the four property owners could not be reached for comment.





---




Police, Fire, Courts



By Star-Bulletin staff



Child fights off abductor outside Kaneohe market

Police are investigating an attempted abduction of a 9-year-old girl from the Aikahi Safeway last night.

While shopping inside the Safeway at 25 Kaneohe Bay Drive, the mother sent her daughter to their car to retrieve some items at 7:12 p.m., police said. While near the car, an unknown man pushed the girl inside and took the car keys from her.

He attempted to drive away, but the girl fought him off by kicking and screaming, police said. The man then ran away.

A witness who heard the girl's cries took her back into the store.

Police discovered the keys jammed in the ignition of the car.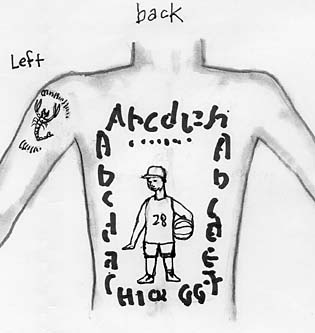 One suspect has letters and a basketball player with
the number '28' tattooed on his back. He also has a
scorpion tattoo on his left shoulder, police say.
---
Two hunted in robbery, assaults at Waikiki hotel

Police are looking for two men with distinctive tattoos who allegedly robbed and sexually assaulted two female tourists in their Waikiki hotel room Friday afternoon.

The women reported the men followed them into their hotel room at 4 p.m., demanded money and sexually assaulted them before fleeing on foot with about $300.

One suspect, described as in his 20s, with a thin build and between 5 foot 6 inches and 6 feet tall, blond hair and a pale complexion., had multiple tattoos with letters and a basketball player with the number "28" on his back. He also had a scorpion tattoo on his left shoulder and a pierced tongue. The other suspect also had a pierced tongue, a tattoo on his left shoulder with the letters "USR" and another tattoo on his leg. He was described as about 6 feet 1 inch to 6 feet 2 inches tall with a large build, blond straight hair and a pale complexion.

Man accused of trying to kill relatives in fire

A 40-year-old man was in police custody today, accused of trying to kill four of his relatives by setting his house on fire last month.

The man was arrested yesterday after being released from mental examinations at Castle Hospital, police said. He allegedly set fire to a Hausten Street home in McCully on March 31, which caused $240,000 in damages.

No one was injured in the blaze.

He was booked for first-degree criminal property damage and four counts of attempted murder.







E-mail to City Desk
---
---
© 2000 Honolulu Star-Bulletin
https://archives.starbulletin.com