Advertisement - Click to support our sponsors.

---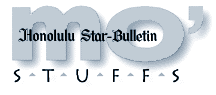 ---
Tuesday, April 11, 2000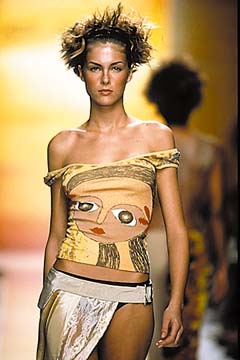 Custo
---
Make a statement
It'll be a fashionable week at Neiman Marcus as the store welcomes Custo Dalmau of Custo Barcelona and jewelry designer Julie Wong.

Custo and his brother David Dalmau are known here for their vibrant, multi-graphic, screen-printed T-shirts influenced by the surf culture. By combining colors and graphics from different periods and places around the world with screen-printing techniques that had not yet been introduced in Spain in the early '80s, the brothers revolutionized knitwear in that country, before storming Europe and America.

Custo Barcelona's bold graphics translate well on TV, where garments have been worn by the young and trendy, such as Jenna Elfman on "Dharma and Greg," the cast of "Friends" and hosts of E! and MTV.

Custo Barcelona has expanded into quality knitwear featuring a collage-style mix of luxury fabrics in tunics, pants, skirts and dresses.

Custo Dalmau will be in the first floor Leisure Apparel department from 3 to 7 p.m. tomorrow.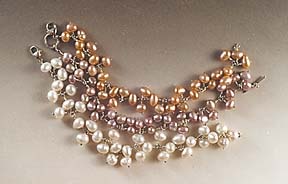 Julie Wong
A little closer to home, Julie Wong will be showing her handmade gems fashioned from precious and semi-precious stones and freshwater pearls.

Wong's organic aesthetic was shaped by the forests of the Pacific Northwest. Although she has family in Hawaii, Wong was born and raised in Portland, Ore., where the simplicity and harmony of her surroundings gave her a respect for older traditions that valued and celebrated the hand-crafted object.

She works with a palette of aquamarines and peridot reflecting the outdoors, as well as lustrous cream, apricot and lavender-pink, suggesting the color of sand or soft, billowing clouds.

Wong will be in the store's Designer Jewelry department from 10 a.m. to 6 p.m. tomorrow and 10 a.m. to 8 p.m. Thursday.

---

Preview

Coming to the big screen

Four movies are scheduled to open on Oahu on Friday:

AMERICAN PSYCHO
Rated R
An investment banker is secretly a serial killer. Adapted from Brett Ellis' controversial novel. Stars Christian Bale, William Dafoe.

KEEPING THE FAITH
Rated PG-13
A rabbi (Ben Stiller) and a priest (Ed Norton) both fall in love with with a beautiful yuppie gentile (Jenna Elfman).

28 DAYS
Rated PG-13
A writer's alcohol abuse lands her in a rehab facility with some wacky characters. Sandra Bullock, Elizabeth Perkins, Diane Ladd.

WHERE THE MONEY IS
Rated PG-13
Paul Newman, Linda Fiorentino; Henry Manning has come up with a way to break out of prison; fake a stroke and get transferred to a nursing home. But the woman assigned to take care of him has a plan of her own.

One movie is scheduled for Saturday sneak showings:

FREQUENCY
Rated PG-13
Jim Caviezel and Dennis Quid. What if you had the chance to travel back in time and change just one event in your life? John Sullivan (Caviezel) would undo the events of Oct. 12, 1969, when an out of control Bruxton fire took the life of his firefighter father.

---

Scoops

Scholarships and more

"All-Star Cheerleading Program": Aloha Gymnastics is forming an All-Star cheerleading program taught by University of Hawaii cheerleaders at Aloha Gymnastic World. Tryouts will be 2 p.m. Sunday for a 7th-12th grade team and a 6th grade and under team.

Tryouts for the UH cheerleaders will be April 22 with a mandatory tryout practice session at 4 p.m. Monday.

Call 842-5642 or 956-4503 for more information.

"National Teen Pageant Seeks Hawaii Representatives": The Miss Teen All American Pageant is accepting applications for participation in its annual pageant at the Miami Airport Hilton & Marina Aug. 3-6. Applicants must send a recent photo along with name, address, telephone number, date of birth and a short bio. to: Dept. C, Miss Teen All American, 603 Schrader Ave., Wheeling, W. Va. 26003-9619 or fax 304-242-8341. Deadline to apply is April 28.

---

Scoops, which runs Tuesday in Today, provides information on scholarships and opportunities for students and young adults. Send listings to: The Scoops, P.O. Box 3080, Honolulu 96802






Click for online
calendars and events.





---





Send WatDat? questions, stories
or any other story ideas or comments to:
Features, Honolulu Star-Bulletin, P.O. Box 3080,
Honolulu, HI 96802 or send a fax to 523-8509
or E-mail to features@starbulletin.com.
Please include your phone number.
E-mail to Features Editor
---
---
© 2000 Honolulu Star-Bulletin
https://archives.starbulletin.com