Advertisement - Click to support our sponsors.

---

---
Tuesday, April 11, 2000
Satellite tracker
to be installed
on Big Isle


The space company's dish
will help monitor global
ecological changes

By Rod Thompson
Star-Bulletin

NAALEHU, Hawaii -- A company founded by the late astronaut Charles "Pete" Conrad Jr. was to dedicate a 43-foot-wide, satellite-tracking dish antenna near South Point on the Big Island today.

Universal Space Network will track and receive data from satellites such NASA's Triana, scheduled to be launched in 2001 to watch global ecological changes, said company marketing coordinator Joanne Swank.

Although the facility is on South Point Road a few miles from where astronaut Donald "Deke" Slayton proposed a controversial satellite launch facility in 1982, USN does not do launches, Swank said. Instead, the company was founded in response to federal privatization of ground tracking activities previously limited to NASA, she said.

The facility will be named in honor of Conrad, the third astronaut to walk on the moon, who died in a motorcycle accident last year at age 69. His wife Nancy was to cut the ribbon at the facility's opening today.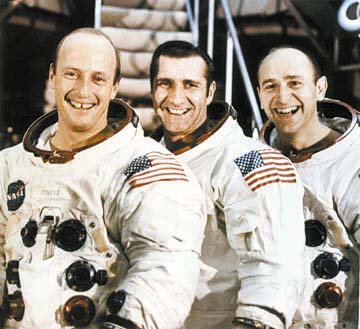 Associated Press
Apollo 12 astronauts, left to right, Charles P. "Pete" Conrad,
commander, Richard F. Gordon, command module pilot, and
Alan L. Bean, lunar module pilot, pause in front of the stairway
leading to their mission simulator at the Kennedy Space Center
in this Oct. 1969 file photo. Conrad founded
Universal Space Network.
---
Mayor Stephen Yamashiro, among the officials who planned to attend today's ceremony, said, "It's a wonderful step in the space industry coming to our island." There is only an "outside chance" that a space launch facility could follow, he said. "The window is getting smaller and smaller."

USN bought about 14 acres three miles south of Hawaii Belt Road and has operated a 3.5-meter (12-foot) tracking antenna at the site for 1 years, Swank said.

Some surrounding landowners questioned the new 13-meter (43-foot) antenna because it stands up to 65 feet tall and was originally a bright white, Swank said. USN has since painted it light green to blend with surrounding pastures.

Cattle still graze on company property, she said.

The company spent between $750,000 and $1 million on the project, including cost-sharing in a high-speed data telephone line available to other GTE Hawaii Tel customers in the area, she said.

The facility can be operated by remote control from company offices in Newport Beach, Calif. and Horsham, Pa., or by two contract technicians living on the Big Island. Two more 13-meter dishes are planned for the site later.

USN is completing another 13-meter tracking dish at North Pole, Alaska, and will have a third finished at Dongara, Australia, about 200 miles north of Perth, this summer, Swank said. Besides its own facilities, USN sells services to agencies in Chile and South Africa, and is in an alliance with the Swedish Space Corp.
E-mail to Business Editor
---
---
© 2000 Honolulu Star-Bulletin
https://archives.starbulletin.com