Advertisement - Click to support our sponsors.

---

---
Monday, April 10, 2000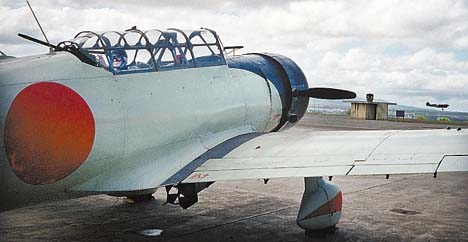 Star-Bulletin photo
A mannequin sits in the rear of a replica D3A "Val" dive bomber
as a P-40 lands in the background.
---



The movie 'Pearl Harbor'
blasts its way into a
'Week of Infamy'

By Tim Ryan
Star-Bulletin

CALL it the "Week of Infamy" starting today through Sunday at the "Pearl Harbor" movie set.

Filming on the Hollywood epic is set to begin with one of the biggest special effects scenes -- described as the "6-boat explosion" -- recreating the Dec. 7, 1941 Japanese attack on Pearl Harbor.

The week will end with shots of a high-altitude bomber sighting what's supposed to be the USS Arizona, followed by an aerial shot of the "swirling bomb" falling toward Battleship Row.

Security to get on Ford Island has been tightened, primarily to prevent news organizations from getting a look at or photographing props and scenes for the $135-million Jerry Bruckheimer-Michael Bay film. Contracts for crew members included a confidentiality clause, and security hired by the production company scrutinize anyone attempting to take photographs.




MORE COVERAGE

FEATURES: "Pearl Harbor" aims for authenticity but is a little off the mark. C-1
LAST FRIDAY: Starbulletin.com video report on the filming
1944 PANORAMA: from Starbulletin.com May 1999.
USS MISSOURI: Grand opening from Starbulletin.com Jan. 1999.




We plotted some maneuvers of our own and this is what we were able to find out about the script, set and shooting schedule:

More than 20 World War II vintage aircraft -- U.S. and Japanese -- collected from museums and private collectors sit just outside Hangar 54 near the Ford Island runway. At least 12 of the U.S. P-40s are fake, constructed of wood, foam and PVC. They're held together in spots with duct tape. Some of the Japanese attack planes have mannequins sitting inside as rear gunners.

A couple of tent cities have been set up in parking lots on each side of the Ford Island gymnasium along with vintage military vehicles, including jeeps, ambulances, trucks and sandbagged machine gun bunkers. Vintage movie posters are up at the Ford Island theater.

Randall Wallace's "Pearl Harbor" tells the story of two Navy pilots and best friends (Ben Affleck and Josh Hartnett) who fall in love with the same Army nurse (Kate Beckinsale).

Cuba Gooding Jr. plays a 3rd Class mess attendant who served on the USS West Virginia at the time of the attack.


Star-Bulletin photo
A replica B5N "Kate" torpedo bomber. The torpedo is fitted
with breakaway wooden fins like the real Pearl
Harbor attackers used.
---
Tomorrow's action takes place in the inactive fleet area of the naval base off Waipio Peninsula. First and second unit camera crews will film scenes from "Photo Fanny," a converted B-25 J bomber with a fixed camera mount used to capture aerial shots while flying alongside other aircraft.

The first shot tomorrow has the camera mounted on the tail of a Japanese Zero in the midst of an attack as it flies through thick smoke.

The six-ship blast -- Big Shot #2 in the script -- includes filming of several extras running on what's supposed to be the overturned USS Oklahoma, shot from a 20-foot camera platform.

Today's scenes will show Japanese attack planes dropping torpedoes. Then, shown from the back of the USS Ingersol will be "guys on fire jumping in the water," "men hanging from floating debris," and rescue teams moving in while being strafed by Japanese aircraft. An underwater camera crew also will be involved.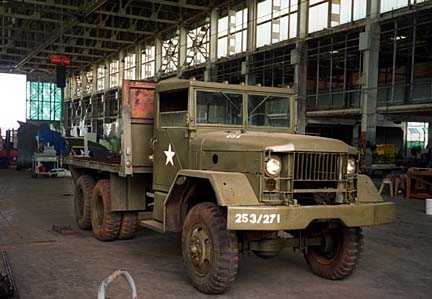 Star-Bulletin photo
A postwar "Reo" M35 got a World War II paint job for "Pearl Harbor."
---
A four-boat explosion and lots of stunts highlight Wednesday's filming -- also from the back of the Ingersol -- with a fireboat retrieving men on fire.

Over at the Ford Island "Tower," sailors will be shown "consumed" by a fireball with the day's final shot near the Arizona Memorial with sailors in the water.

The second unit camera crew, which films scenes with no major stars on Saturday, heads to Wheeler Air Force Base, filming along Wright Road as low flying U.S. P-40s and Zeros are "strobing" through palm trees with air-to-ground shots of main character Danny's (Hartnett) car being pursued by the attack planes.

Battleship Row is the last location this week with Danny's car still being chased by Zeros past anchored ships, the three planes "zigzagging" through the seaplane ramp as a bomb falls toward the USS Arizona.

Touchstone's World War II epic also stars Guy Torry, James King, British actor Ewan Bremner, William Lee Scott and Matt Davis. Bay and Bruckheimer are known for blockbusters such as "Armageddon" and "The Rock."

"Pearl Harbor" will be released in the summer of 2001.
E-mail to City Desk
---
---
© 2000 Honolulu Star-Bulletin
https://archives.starbulletin.com