Advertisement - Click to support our sponsors.

---

---


Hawaii Beat
By Star-Bulletin Staff
Monday, March 20, 2000

Wenneberg wins marathon

Greg Wenneberg of Tucson, Ariz., won yesterday's 30th Maui Marathon, besting the largest field in the race's history on a course from Kahalui to Kaanapali.

Wenneberg crossed the finish line with a time of 2 hours, 26 minutes and 38 seconds. Second place went to Scott Lowe of Canton, Ga., who finished in 2:36.

The first female finisher was Erika Csomor, the Hungarian national marathon champion from Budapest (2:53:36). She was followed by 1995 Maui Marathon female winner Cheryl Brady of California (3:02:06).

Kelly Smith of Vancouver, Canada, won the wheelchair event in 1:43:27. He was followed by Randy Caddell of Kailua-Kona in 2:00:34 and Wailuku's Neal Snarr (2:27:25).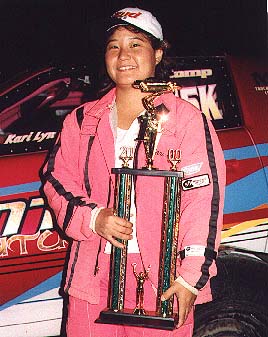 Special to the Star-Bulletin
Kari Lynn Hamada shows off her trophy after winning the
Budweiser Gold Cup season opener at Hawaii Raceway Park.
Hamada best on wheels

Waianae's Kari Lynn Hamada won Saturday night's Budweiser Gold Cup season opener at Hawaii Raceway Park.

Hamada defeated Kaneohe's Scott Kaichi in the Super Comp final, needing 8.91 seconds to complete the quarter-mile race. She averaged 153.97 mph.

Army track & field meet

The Army Hawaii Track and Field Championships will be held on Schofield Barracks April 28.

Active duty Army, Army Reserve, retirees, DOD civilian and AAFES personnel are eligible to compete in the running, relay, hurdle and field events.

The meet starts at noon at Stoneman Stadium.

The entry deadline by mail is April 17, the walk-in deadline April 19.
---
See line scores and results in
the [Scoreboard] section.
E-mail to Sports Editor
---
---
© 2000 Honolulu Star-Bulletin
https://archives.starbulletin.com