Advertisement - Click to support our sponsors.

---

---
Monday, March 20, 2000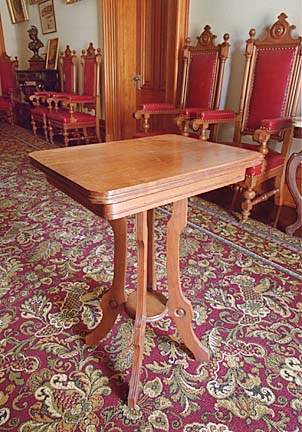 By Dennis Oda, Star-Bulletin
A table belonging to King Kalakaua has been returned to Iolani
Palace thanks to an eighth-grade class in Marion, Iowa. They took
on a letter-writing campaign to their legislators and the administrator
of their governor's mansion. Last week, the table was legally
conveyed to the palace.
---
Kalakaua relic
home to stay


Iowa 8th-graders wage a
lobbying campaign by email to
have ownership of a palace
table transferred

By Mary Adamski
Star-Bulletin

THE little mahogany table in King Kalakaua's library at Iolani Palace is an antique but not exactly an eye-catcher, overshadowed by the room's centerpiece, the king's massive, ornate desk.

But to a class of Iowa eighth-graders, the table is a monument to success in their first foray into public activism. Thanks to an electronic lobbying campaign by the 30 students at Linn-Mar Middle School in Marion, Iowa, ownership of the table was officially conveyed to the Friends of Iolani Palace earlier this month.

The students, who called themselves "The Give 'Em Back Their Table Committee," undertook the campaign last fall as the service project required in their Connections class, said teacher Kristen Crabtree-Jones. "It all started when my parents toured the palace last summer and the guide told them a story about the table."

The table, in the palace in the 1880s during Kalakaua's reign, was inherited by Prince Kuhio Kalanianaole, according to palace records. In the 1930s, Kuhio's widow, Elizabeth Kahanu Woods, gave the table to Marian E. Gibson of Fort Dodge, Iowa, during her lengthy visit here.

It was among antique furniture that Gibson donated in 1969 to her state's historic governor's mansion called Terrace Hill in Des Moines.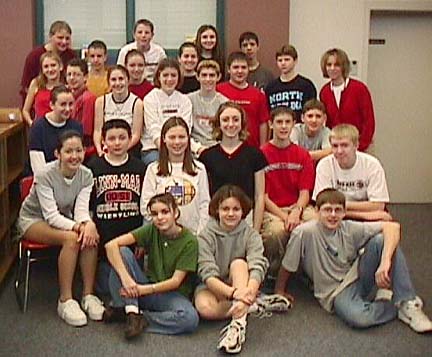 Special to the Star-Bulletin
Students in the Give 'Em Back Their Table Committee (shown
here minus a couple of members) are "ecstatic that they
accomplished what a bunch of adults didn't in 22 years,"
says their teacher, Kristen Crabtree-Jones.
---
Researchers working on the restoration of Iolani Palace traced the piece and, in 1978, succeeded in getting Iowa state officials to ship it here on loan. There was no answer when palace officials tried years later to get Iowa to donate the table.

The little twist of history sparked the interest of the Iowa youngsters and was fanned into activism when they tapped into the Friends of Iolani Palace Web site with its continuing plea "Do you have our furniture?"

"It's an age when they're caught up in the injustice of the world," said Crabtree-Jones.

A key part of their project was using computers and the Internet, she said.

They did their research and began sending email letters, with background and photos of the palace and the table. They wrote to the Iowa governor and legislators, to the Iowa Historical Society and to the Terrace Hill Authority, the agency that operates the historical mansion and was legal owner of the table.

In electronic exchanges with Iolani Palace, they learned that a renewed effort to communicate with Terrace Hill management was made last summer by the palace's new collections manager, Janet Ness, to no avail.

"It was a coincidence. I was trying to clear up paperwork. It's no small thing for a state to transfer ownership legally," Ness said.

"As citizens we are humiliated that this has gone on so long," said Crabtree-Jones. "This is a perfect example of bureaucracy." She was proud that the students, instead of the first inclination to stage a demonstration like they have seen on television, plugged away at their information campaign.

"We heard back," she said. Legislators told them they supported the return of the table. David Courdes, the new Terrace Hill Authority coordinator, told them "he put us at the top of the priority list."

In the final official chapter earlier this month, Courdes wrote to Friends of Iolani Palace that "this letter will serve as documentation that Friends of Iolani Palace is the legal owner of the small table which was loaned to them by Terrace Hill Authority in 1978."

"The eighth-graders are ecstatic that they accomplished what a bunch of adults didn't in 22 years." said Crabtree-Jones. "It gives them a really empowering feeling. It's important for them to see they have a voice.

"And to see the power of the electronic pen is really cool."

She said the class is wrapping up its project with press releases and photos being sent this week to Iowa newspapers -- how else but by email.
E-mail to City Desk
---
---
© 2000 Honolulu Star-Bulletin
https://archives.starbulletin.com