Advertisement - Click to support our sponsors.

---

---
Monday, March 20, 2000
Local leaders
promote Hawaii at
economic conference


Delegates representing more than
20 nations are meeting at the
Hawaii Convention Center

By Susan Kreifels
Star-Bulletin

In aloha shirts rather than their usual suits and ties, local and international officials today told 1,400 people representing some of the most powerful corporations in the world that Hawaii was a serious place to do business.

And in the shadow of failed World Trade Organization talks in Seattle, they told delegates representing more than 20 nations that it was up to business to prove to poor countries that globalization and free trade would help rather than hurt them.

The Pacific Basin Economic Council opened its 33rd annual membership meeting today at the Hawaii Convention Center. Local officials say the conference is the largest, most diverse and most influential gathering of corporate leaders in Hawaii's history. Hawaii government and businesses are using the opportunity to promote Hawaii's business image.

Helmut Sohmen, international chairman of PBEC, said he was a "great believer in Hawaii."

Sohmen said it was the first time he had addressed 1,400 people "without a tie, but it feels all right."

"There were some reservations about holding the meeting here. Seeing and feeling the enthusiasm that has surrounded us, I'm sure this will go down in PBEC as one of the greatest (meetings) ever."

Robert Lees, PBEC secretary general based in Hawaii, Lawrence Johnson, conference chairman and chief executive officer of Bancorp Hawaii, and Gov. Ben Cayetano all praised the state as a good place to do business. They mentioned the advantages of time zones, excellent telecommunications, biotechnology, health care and quality of life.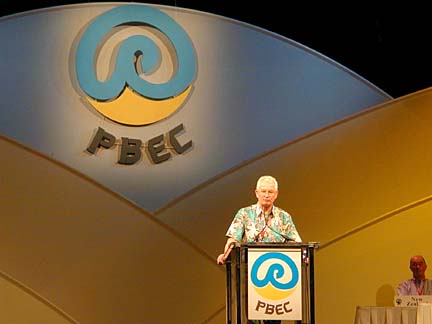 By Kathryn Bender, Star-Bulletin
Helmut Sohmen speaks to the 1,400 participants of the 33rd
annual membership meeting of the Pacific Basin Economic
Council at the Hawaii Convention Center today.
---
Cayetano, who encouraged delegates to wear aloha shirts, said he would be inundating delegates with information about business opportunities in Hawaii.

The meeting included 600-700 people traveling here as well as close to 500 local delegates.

PBEC represents 1,100 corporations that account for more than $4 trillion in sales and 10 million employees. The theme of the conference is "New Horizons: Economic and Political Implications of the Changing Global Landscape."

Speakers emphasized the importance of including poor and developing countries in dialogue about international trade as well as focusing on corporate responsibility and the environment, controversial issues that broke down the Seattle WTO talks last year.

"We cannot afford to get it wrong for any length of time," Sohmen said.

Michael Moore, director general of WTO based in Geneva, spoke to delegates in a video.

Moore, from Australia, said the recommendations of the PBEC delegates would be important to the world.

"We need to rebuild confidence about the fundamental values and valuable contributions markets can play."

---



E-mail to City Desk
---
---
© 2000 Honolulu Star-Bulletin
https://archives.starbulletin.com