Advertisement - Click to support our sponsors.

---

---
Monday, March 20, 2000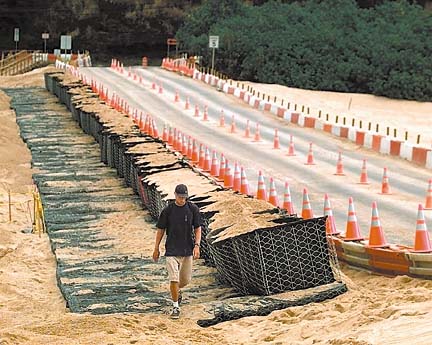 By George F. Lee, Star-Bulletin
University of Hawaii student Ryan Williams, of Sunset Beach, begins
the nearly two-hour journey to the Manoa Campus this morning as he
walks alongside the newly reinforced bypass road at Waimea Bay
Beach Park. High surf is expected along the coastline later today.
---
High surf poses
road threat


Residents fear huge waves
expected at Waimea Bay may
wash out the new road,
nicknamed 'H20'

By Suzanne Tswei
Star-Bulletin

Barry Kanaiaupuni doesn't know whether to love or hate the 15-foot-high surf expected to roar up to Waimea Bay today.

As a surfboard maker and retired surfer, he is a fan of monster waves. But as the owner of two retail stores in Haleiwa and a Pupukea resident who must rely on the newly opened temporary bypass road at Waimea Beach, he would rather that the late winter swells stay far, far away.

"If the waves come like they said, then they might have to close the road.

"We'll be back to where we were -- no business and driving all the way around the island," said Kanaiaupuni, who owns Boardriders Club and BK Ocean Sports with his wife, Leslee.

Or worse, the 2-day-old temporary road may end up living up to its nickname, "The H2O." The surging water may loosen the foundation or smash the road to bits, destroying the artery linking the two sides of Waimea Bay. The road, which the state calls the Menehune Connector Road, was built last week after a rock slide above Waimea Bay closed Kamehameha Highway two weeks ago today.

Bob Farrell, lead weather forecaster, said this morning that a late winter swell generated by a storm off the Aleutian Islands are due to arrive this afternoon. Waves were expected to be in the 12- to 18-foot range beginning about noon. Higher sets were expected at high tide about 4 p.m.

"I hope they won't have to start all over again. I think they've done a good job with the road and everything. I hope the waves won't wash everything out," Kanaiaupuni said.

If the road is closed or destroyed, area residents again will be stranded. "It will be back to my grubbies, rolling up my pants and walking across the sand again," said Keith Martin, an art consultant at the Haleiwa Art Gallery. "But I will know I am doing. I've done it for almost two weeks. I have plenty experience."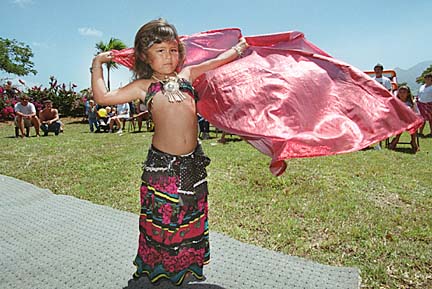 By George F. Lee, Star-Bulletin
Peggy Buntin, 4, of the dance group El Nina, belly dances for the
crowd at Haleiwa Shopping Center yesterday.
---
Martin, a Sunset Beach resident, had to use the beach walkway to get to the gallery every day before the temporary road opened. "I've learned not to wear my flip-flops. They are no good in the sand. Old shoes work much better."

Just for good measure, Martin is keeping a backpack full of extra shoes and socks at work. The footwear collection is necessary to complete his professional aloha-wear look.

"I've got different color socks, different color shoes for me to change into once I get to work. This is an art gallery. It's all about aesthetics. It's not about my vanity," he said.

Haleiwa merchants have seen a drop between 50 percent to 90 percent in sales since the rock slide, said gallery owner George Atkins. But the opening of the road Saturday morning brought more visitors immediately.

"It's made a big difference. Business picked up right away," Atkins said, noting that visitors were reluctant to drive to Haleiwa, thinking the town was closed to traffic.

Business was better than usual yesterday when the city and Haleiwa businesses sponsored a free festival with music, games and other attractions to bring more visitors. "Ho'olaule'a Kokua Haleiwa" brought a steady of stream of cars throughout the day, grounding traffic to a crawl through the quaint North Shore town.

"Business has definitely picked up once the road opened. Some of my regular customers from the Pupukea side who couldn't come here because of the rock slide already showed up in the morning for their favorite ice cream," said Cassie Yamaguchi of Dave's Ice Cream in the North Shore Marketplace.

As a special treat for yesterday's festival-goers, Yamaguchi concocted a rock slide sundae of vanilla ice cream topped with caramel syrup, espresso chips, coffee crunch and whipped cream. "I don't know if it's the rock slide or the ice cream, but the special sundae has been pretty popular. It's not every day that we get a reason for a special ice cream treat," she said.

---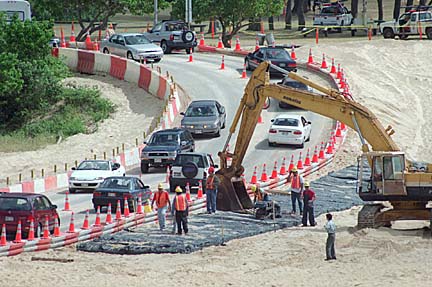 By George F. Lee, Star-Bulletin
Kewitt Pacific employees work on shoring up the walkway as
well as uncovering old sections of the previous walkway this
morning at Waimea Bay. High surf is expected today
by Civil Defense officials.
---
State looking at
slide solutions

One plan is to put a roof over
the road to keep drivers
out of harm's way

By Suzanne Tswei
Star-Bulletin

State transportation officials are looking at three possible solutions to the solving rock slide problem at Waimea Bay, spokeswoman Marilyn Kali said yesterday.

One solution is to cut back the rock face by 20 feet to create a rock-free zone next to the highway, she said. Officials have not decided on the method to remove the rock face, but chipping by hand or small explosives are options.

The second solution calls for building an avalanche shed, which would serve as a roof over the highway to protect motorists from falling rocks.

Boulders would fall on the roof, bounce off and roll to the side of the highway.

"The roof would have to be strong enough to withstand the boulders falling down. We are looking at this one because we've received a lot of suggestions from the residents about doing it this way," Kali said.

The last possibility involves building a new stretch of highway closer to the ocean and using the old highway as a rock catchment area, she said.

While transportation officials consider the solutions, rock experts will continue to explore the cliffs above the highway this week. Kali said no rocks will be removed until the exploration is completed.

Construction crew yesterday shored up the temporary bypass road, which the state calls the Menehune Connector Road, in anticipation of winter surf reaching up to 15 feet. The workers shored up the makai side of the road with a stretch of wire basket strengthened with "geo textile fabric" and sand, Kali said.

The temporary road was built in five days and opened Saturday morning.

During the first 24 hours, 11,790 vehicles traveled the road, Kali said.

The average daily traffic on Kamehameha Highway before the rock slide was almost 20,000 vehicles a day, she said.

Big waves last week destroyed portions of the beach walkway at Waimea, and transportation officials will decide today whether to rebuild it. Kali said. Officials held off rebuilding the walkway in anticipation of the high surf.

Also because of possible high surf, the Department of Education has canceled its shuttle bus service.

TheBus will continue to provide free shuttle service every 20 minutes between Weed Junction in Haleiwa and the Turtle Bay Hilton.
E-mail to City Desk
---
---
© 2000 Honolulu Star-Bulletin
https://archives.starbulletin.com