Advertisement - Click to support our sponsors.

---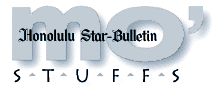 ---
Monday, March 20, 2000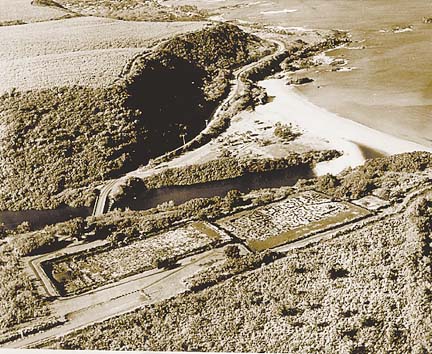 Star-Bulletin file photo
View from Puu O Mahuka overlooking Waimea Bay.
---
State on edge over heiau
Despite the tall tales told around the campfire at Pupukea Boy Scout Camp -- tales that this reporter, age 11, believed absolutely -- the gigantic heiau called Puu O Mahuka was NOT accidentally discovered by Army troops on Dec. 7, 1941, as they pursued sword-waving Japanese pilots who had crashed on the beach.

Nope, not at all. The site was known to many, particularly curious archaeologists. You just couldn't get to it easily until the state built a long and winding road to it in the early '60s. Boy Scouts helped keep the road clear.
The heiau is 575 feet long and 150 feet wide, and commands a splendid view over the cliffsides of Waimea Bay. Some folks are worried, however, that work on the crumbling hillside below, which has closed the highway, might damage the heiau.
Although Puu O Mahuka had a fearsome reputation (the name reportedly means "The Hill to Flee From in Fear of Punishment!") it was Hawaiians who destroyed the temple in 1819, by order of King Kamehameha II, in their eagerness to embrace western ways. The heiau has since been cleared by the state, declared a national historic landmark in 1969 and is maintained by North Shore residents such as Butch Helemano.
State Parks officials have measured the distance from the crumbling cliffside to the edge of the heiau, and it's a a couple of hundred feet. More worrisome, though, is a "fish watching stone" further down the slope. "It's not a built structure; it's a loose boulder turned into a platform, and it could conceivably be moved by ground vibrations," said Martha Yent of State Parks Division. "It needs to be studied carefully."
---
By Burl Burlingame, Star-Bulletin
Curious or puzzled about something you've seen, heard, felt or smelled? Drop us a line: WatDat?, Honolulu Star-Bulletin, P.O. Box 3080, Honolulu, HI 96802, fax at 523-7863 or e-mail at features@ starbulletin.com and we'll find out.
---
Radio Log


KONG 570-AM / 93.5 FM: Adult contemporary rock with some Hawaiian music
KSSK 590-AM / 92.3-FM: Adult contemporary music
KHNR 650-AM: All news
KQMQ 93.1-FM: Contemporary hit radio
KQMQ 690-AM: Radio Disney
KGU 760-AM: Sports radio
KHVH 830-AM: News, talk, traffic, weather
KAIM 870-AM / 95.5-FM: Christian music and teaching AM; contemporary Christian music FM
KJPN 940-AM: Japanese-language news, adult contemporary music and talk shows
KIKI 990-AM / 93.9-FM: Contemporary country AM; contemporary hits FM
KLHT 1040-AM: Christian radio
KWAI 1080-AM: Talk radio
KZOO 1210-AM: Japanese-language, broadcasts from Japan
KNDI 1270-AM: Live news from the Philippines; programs in 10 languages
KIFO 1380-AM: News, public affairs
KCCN 1420-AM / 100.3-FM: All talk / UH sports AM; contemporary island hits, FM
KUMU 1500-AM / 94.7-FM: Adult standards, AM; light rock, FM
KHPR 88.1-FM: Classical, news, public affairs
KIPO 89.3-FM: Jazz, classical, news
KTUH 90.3-FM: Jazz, blues, Hawaiian, rock, country and alternative
KKUA 90.7-FM: Classical, news and public affairs
KKCR 90.9 / 91.9-FM: Hawaiian music, midnight-3 p.m.; and rock, reggae, classical and new age
KRTR 96.3-FM: Adult contemporary music and news
KPOI 97.5-FM: Modern rock
KDNN 98.5-FM: Contemporary Hawaiian
KORL 99.5-FM: Adult contemporary
STAR 101.9-FM: Modern hits
KKHN 102.7-FM: Country
KXME 104.3-FM: Top 40
KINE 105.1-FM: Hawaiian
KGMZ 107.9-FM: Oldies





Click for online
calendars and events.
---
Send WatDat? questions, stories
or any other story ideas or comments to:
Features, Honolulu Star-Bulletin, P.O. Box 3080,
Honolulu, HI 96802 or send a fax to 523-8509
or E-mail to features@starbulletin.com.
Please include your phone number.
E-mail to Features Editor
---
---
© 2000 Honolulu Star-Bulletin
https://archives.starbulletin.com