Advertisement - Click to support our sponsors.

---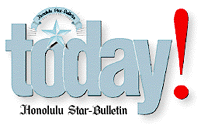 ---
Wednesday, March 8, 2000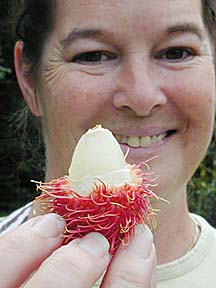 By Craig T. Kojima, Star-Bulletin
Jaime Runnels holds the fuzzy-skinned
rambutan grown in Kurtistown.
---



Big Island farmers are harvesting
success with specialized products
such as hearts of palm
and starfruit

By Cynthia Oi
Star-Bulletin

AS her pickup trundled down the slope of her farm, Lesley Hill leaned out the window and yelled at the lychee trees.

"Hurry up, fruit!" she pleaded.

The bushy trees she planted four years ago replied only with the rustle of a lazy breeze through their dark-green leaves, withholding for now their promise.

It's a good thing the peach palm trees are cooperating. Seedlings 2-1/2 years ago, they now stretch toward the sky across eight acres on the Big Island farm. Hill works with her partner, Michael Crowell.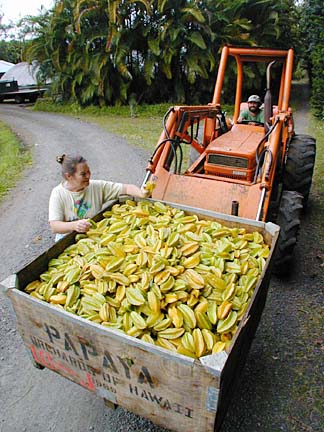 By Craig T. Kojima, Star-Bulletin
The box may say papaya, but that's starfruit loading by the
forklift driven by John Parker. Jaime Runnels, sales manager
of Plant It Hawaii/Hula Bros., looks over the harvest.
---
From the core of the tree comes hearts of palm, a delicacy sought by gourmet chefs from Chicago to the Kona coast.

Crowell and Hill are specialty farmers. As such, they don't put all their 85 acres in one plant.

Their Wailea Agricultural Group, about 11 miles north of Hilo, grows red ginger and heliconia flowers, avocado, Meyer lemons and other citrus, jack fruit, rambutan, breadfruit, the recalcitrant lychee and other produce.

"We're really diversified agriculture," Crowell said.

They also constantly juggle plantings so they will always have something to sell.

While hearts of palm are their current focus, Hill and Crowell, separately and together in the 11 years of their partnership, have experimented with dozens of crops.

"We're always trying something different," Crowell said. "You never know what you're going to find."

A 20-acre experiment

In Kurtistown, about 30 miles south of Wailea, Hill's friend and fellow farmer Susan Hamilton does the same things -- experiment, harvest and juggle.

The first thing she did when she moved her operation to Kurtistown from Hawaiian Acres 10 years ago was put in a 20-acre experimental orchard to see what kind of crops would do best in that area.

Hamilton, husband Bob, brother Eric Weinert and sister-in-law Jennifer all work various segments of Plant It Hawaii and Hula Bros.

Plant It Hawaii, the nursery operation, is the largest in the Pacific, Hamilton said, with breadfruit, lychee, cashew, wampi, avocado, mango, guava, macadamia nut, durian and banana trees available. There are clove and vanilla plants, nutmeg and pepper, pineapple and all kind of citrus in the nursery.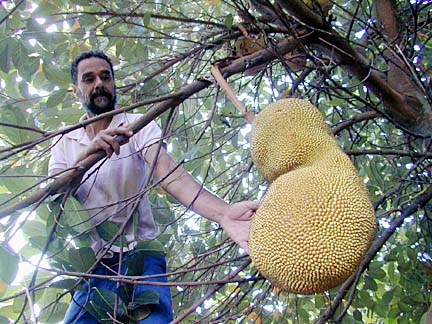 By Craig T. Kojima, Star-Bulletin
Michael Crowell, a partner in Wailea Agricultural
Group, shows off a huge jack fruit.
---
Hula Bros. is the commercial fruit producer and right now, starfruit is the principal crop. But the farmers have been slowly replanting their land in rambutan as the specialty food market evolves.

"Ten years ago, citrus and avocado were what everyone wanted," Hamilton said. "Now, things have changed and we have to change, too. We're always recycling here."

The plan was to start with starfruit trees because they begin producing in about a year. Rambutan -- a fruit similar in taste to lychee, and in appearance to pincushion protea blossoms -- takes about five years to begin fruiting and as long as 10 to come into good production.

At first, the starfruit was sold in the gourmet market, said sales manager Jaime Runnels. The golden-fleshed fruit with its five ribs lent an exotic flair to plates at fine-dining restaurants.

But its thin skin and shape blemished easily. "You have a No. 1-graded fruit, then all it takes is one fingernail, and, oops, it goes into the seconds bin," she said.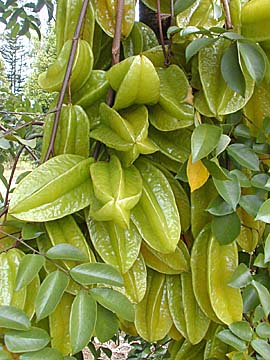 By Craig T. Kojima, Star-Bulletin
Starfruit on the tree looks ready for harvest.
---
Starfruit also is labor intensive. Gloved workers push between branches to find the fruit clusters, harvesting only the ripe ones and gently lowering them into a bag slung across their bodies.

Then there is the fruit fly problem, Runnels said.

To export starfruit to the mainland, it must be chill-treated for three weeks to kill any flies.

"The fruit really took a beating," Runnels said. "It spent two weeks in the cold in Hilo and a week on the barge to the West Coast, completing the treatment en route."

So they turned to juice production.

"You don't have to worry about appearance, and the juice, because of its mild flavor, blends well with other juices," Runnels said. It also can be frozen so the fly problem doesn't come into play.

Likewise, with hearts of palm.

Although agriculture inspectors check out the hearts, fruit flies have never been found in Wailea's product, Hill said happily.

"They don't bother this crop at all. We can ship it to the mainland with no treatment, no hot water dip, no nothing. That's why we're growing it."

The heart of the matter

The Wailea farm looks more like a tropical garden with a view of snow-dusted Mauna Kea on one side and the ocean on the other. Grassy lanes hem well-tended rows of crops in the fields Hill calls "his, mine and ours."

The "his" are mainly Crowell's florals, the "mine" are Hill's fruits and "ours," the palm trees.

The palms are what they call a "sustainable" crop. Each planted tree sends up three or more "suckers" that grow into trees that produce more suckers in turn.

"And we can harvest it when we need it," Hill said. "If we don't harvest these, they just get bigger, so we can bank them. The same edible portion is there. It's not like a tomato that has to be picked when it's ready."

"That's why an industry could be developed here," Crowell said, "because farmers can plant it while growing another product that takes more time. When you have a down time, you can harvest the palm."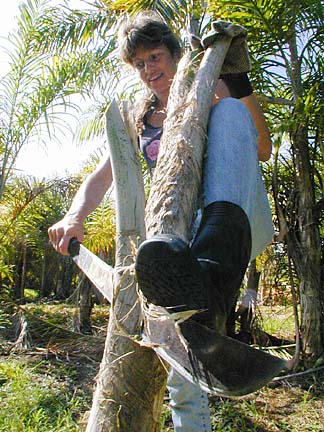 By Craig T. Kojima, Star-Bulletin
Marina Riveira slices the outer bark of the tree
to obtain the exotic heart of palm.
---
Harvesting involves felling the tree, then stripping off leaves and the outer bark, which are shredded and tilled back into the soil.

At the farm's pristine packing shed, more of the outer layers are removed and the base and sheath separated. Each piece is carefully wrapped and packed for shipment.

"We can get product to the West Coast overnight," Hill said. "We can cut it in the morning and get it to Honolulu in the afternoon."

Wailea is harvesting 6,000 to 8,000 pounds a year and Hill is angling for a lease of more land to increase production.

She does not want demand for the hearts to exceed their ability to produce.

"You saw what happened with passion fruit," she said. The product was well-marketed, but "the production wasn't there."

"People were disappointed. When they couldn't get it, they said, 'Forget it.' It ruined the whole industry," she said.

"So we're just trying to keep an even pace. There's nothing worse than having marketing get ahead of the production," she said, then added with a laugh, "except no rain or too much wind."

Or maybe wild pigs.

The dry weather in the hills above the farm forced "the herd," as Hill calls them, to invade the farm. The dozen or so animals had been rooting up a few palms here and there, but recently became more aggressive, she said.

"It's always something when you're farming, always something," she said.

On the other hand, she reported, "The lychee is flowering big time!"

---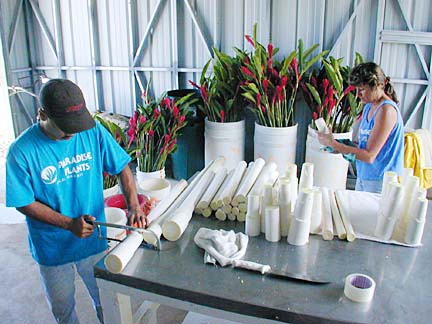 By Craig T. Kojima, Star-Bulletin
Jimmy Kaneshiro and Marina Riveira pack hearts of palm for shipping.
Buckets of red ginger, another product of their Wailea
Agricultural Group, are in the background.
---
Hearty fare

What they are: Hearts of palm are the delicate, creamy white centers of the peach palm tree. They taste mildly like a cross of artichokes, mushrooms and asparagus. The hearts can be sliced, dressed and eaten raw or cooked.

Where to find them: Hawaiian hearts of palm are available through Armstrong Produce Ltd. 538-7051 or call Paradise Plants, (808)-935-4043. Retail price is $11 to $12 a pound.

How to serve them: Farmers Lesley Hill and Michael Crowell like hearts of palm grilled while still in the sheath, then drizzled with garlic butter. They also recommend steaming the heart and dressing with any sauce, from black bean to bearnaise. The hearts can be stir-fried; add near the end of cooking.

CRAB CEVICHE WITH HEARTS OF PALM

Adapted from Tyler Florence

1 pound lump crab meat
2 tablespoons minced red bell pepper
2 tablespoons minced yellow bell pepper
2 medium jalapenos, thinly sliced in circles
1 small red onion, thinly sliced in circles
4 cups fresh hearts of palm, sliced in circles
1/2 bunch chives, minced
2 limes, juiced
Salt to taste
Cracked black pepper to taste

Combine all ingredients and refrigerate for 2 hours. Serve. Makes 4 servings.

Starring fruit

Just juice: Hula Bros./Plant It Hawaii's starfruit juice is mixed with pineapple and sold under the Hawaii's Own frozen juice label.

War on flies: Company partner Eric Weinert has broken ground in Hilo for an X-ray machine that will kill fruit flies on produce.

STARFRUIT AND SHRIMP SALAD

Adapted from Island Fresh

1 teaspoon dry mustard
1/3 cup mayonnaise
1 tablespoon chopped parsley
1 tablespoon capers, drained
Salt to taste
Cayenne pepper to taste
1 pound shrimp, peeled, deveined and poached
1 starfruit, sliced crosswise in star-shape
1 cucumber, peeled and sliced
8 thin strips yellow or red pepper

In a large bowl, mix mustard, mayonnaise, parsley, capers, salt and cayenne pepper until blended. Fold in shrimp.

On the edge of a serving plate, alternate slices of starfruit and cucumber. Place shrimp mixture in the center and garnish with pepper strips. Makes 4 servings.

Nutritional information unavailable.




Click for online
calendars and events.
E-mail to Features Editor
---
---
© 2000 Honolulu Star-Bulletin
https://archives.starbulletin.com