Advertisement - Click to support our sponsors.

---

---
Wednesday, February 9, 2000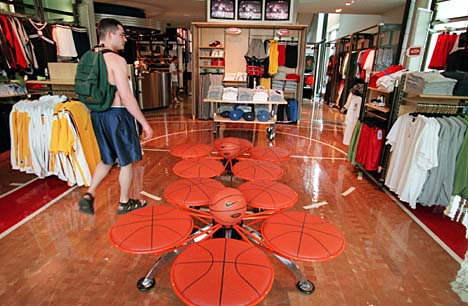 By Kathryn Bender, Star-Bulletin
Waikiki's Niketown allows shoppers to immerse themselves
into basketball merchandise or other popular sports.
---
Retailers going
to extremes to
lure customers


A skate ramp, video monitors
and in-store computers are some
of the attractions that merchants
are offering to get business

By Peter Wagner
Star-Bulletin

SELLING is a slam-bang affair at Vans Triple Crown, a California-based retailer at Ala Moana Center where customers can browse for a pair of sneakers or work up a sweat on a skate ramp at the back of the store.

"If you want to be a retailer these days and survive more than a couple of years, you'd better do more than just offer your stuff," said Neal Lyons, president of the retail division at Vans Inc. "You have to be different."

Faced with increasing competition, fickle consumers and the threat of electronic commerce, retailers nationwide are finding it's not enough to just open your doors.

Vans in November opened a $4 million skate park -- the world's largest -- at Ontario Mills Mall near Los Angeles with an entry through its store. At Ala Moana, kids pay $5 an hour to climb onto the vertical wooden ramp, a scarce commodity for skateboard enthusiasts.

"Actually, it's like a baby-sitting service," said George Murphy, a Kailua dad who recently delivered his 11-year-old, Patrick, for a few hours of fun. "You drop 'em off and shop."

That's the idea.

At Footlocker, not far from Vans at Ala Moana, employees sport jerseys and wear wireless headphones to communicate across the 15,000 square-foot store as video monitors and lively music keep shoppers pumping down the aisles.

Niketown in Waikiki offers a "decompression chamber" at its entry where shoppers walk off the street into a world of sports memorabilia, Plexiglas floors and the sounds of tennis balls, golf and basketball.

Even venerable Sears, Roebuck & Co. is getting into the act with tool demonstrations at some of its stores.

"There has been discussion about making Sears a fun place to shop," said Tom Nicholson, director of public relations at Sears. "I think it's consistent with this idea of getting customers more involved with the products they are thinking of purchasing."

Sears is experimenting with "Tool Territory" demonstrations at some of its smaller stores, where customers can try out tools or work on projects. If it works, the program will expand to other store departments and eventually to larger stores, Nicholson said.

Town & Country Surf Shop at Ala Moana is installing computers in its Ala Moana store to let customers "surf" the Internet for fun. The store also features "sound domes" where shoppers can pause to watch surf or skating videos undistracted by background music in the store.

But locally owned Town & Country mostly relies on surf contests and store promotions to draw customers. The company recently gave away bodyboards and other prizes in a two-hour drawing Ala Moana's Center Stage.

"It seems to work for us," said Lani Isherwood, senior marketing director at Town & Country. "It gets people who are our target to the center and up to the store and shop."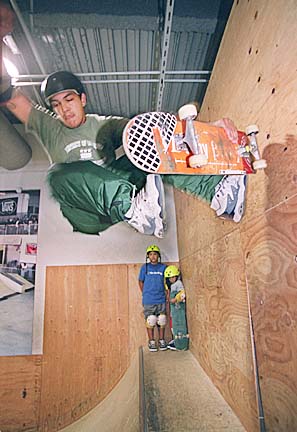 By Dennis Oda, Star-Bulletin
Alika Freitas tries out the skateboard ramp at Vans Triple
Crown at Ala Moana Center. Watching are Micah
Moniz, left, and his brother Isaiah.
---
Like many Hawaii retailers, the surf shop has yet to get on the e-commerce bandwagon.

Established brick-and-mortar retailers acknowledge the rising interest in e-commerce. But many say the push to reach out and grab customers is driven by growing competition on the street, not the Internet.

"This has been an ongoing process," said Nicholson of Sears' plans. "I'm not sure it's fair to say the Internet has driven this."

What e-commerce has done, Nicholson said, is give Sears an avenue to reach customers unable or uninclined to walk into one of the company's stores. The company's 2-year-old Web site, www.sears.com, saw a "significant" increase in business last year, he said.

The 114-year-old company is toying with the idea of resurrecting its Big Book catalog -- discontinued in 1993 because of heavy costs -- with an online version. Meanwhile, Sears is moving cautiously to offer its online inventory department by department.

"We're being very careful with it," said Nicholson. "Not everything in the stores is available on the Web site. We're rolling out different areas of merchandise to make sure we don't disappoint customers."

At Vans, Lyons sees e-commerce as a friend, not a foe.

"We have a Web site for the consumer who's really dedicated to Internet shopping, but the majority of people do not shop on the Internet," he said. "They want interactive shopping. They want to get out and touch it."

Still, Vans is among a growing number of retailers offering online shopping "kiosks" in their stores. Customers have the option of browsing the store's shelves or checking the company's entire inventory on its Web site. While prices are no lower on the Internet, shoppers might find something online that is out of stock or not on display in the store.

Keeping customers happy and entertained isn't cheap.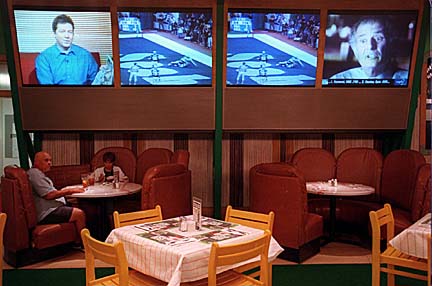 By Kathryn Bender, Star-Bulletin
Large-screen TVs enhance the dining and drinking experience
for customers at the All Star Cafe in Waikiki.
---
According to Lyons, even a small skate ramp takes up valuable space, doubles the cost of building a store and adds 30 percent to operating costs. Zoning variances are difficult, insurance expensive and additional employees, trained in first aid, must be hired.

But the results can pay off.

The 34-year-old company, which survived a Chapter 11 bankruptcy in 1986, has nearly doubled sales in the past three years. Santa Fe Springs, Calif.-based Vans reported $205 million in net sales last year with 1,000 employees and 126 stores worldwide.

Still, the razzle-dazzle approach to retail is not for everybody.

Haleiwa-based Xcel Wetsuits of Hawaii has two retail outlets on Oahu and numerous mainland distributors but no room for a diving tank. "It'd be great but it would be too expensive and there would be liability, too," said Karen D'Ascoli, who runs the business with her husband Ed.

Instead, the company relies on the quality of its products in a niche market and spreads the word with contest sponsorships.

A big problem for smaller retailers in Hawaii is the high cost of rent, putting a dear price on every square foot of space.

Retail analyst Stephany Sofos said it puts retailers wanting to keep pace with consumers in a quandary. "The problem is, how do they become innovative without losing that precious floor space?" she said.

The only answer, Sofos said, is to offer superior service and make the most of what you have with regularly changing floor displays.
E-mail to Business Editor
---
---
© 2000 Honolulu Star-Bulletin
https://archives.starbulletin.com