Advertisement - Click to support our sponsors.

---

---
Wednesday, January 19, 2000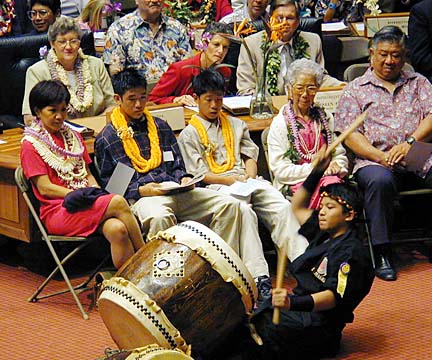 By Craig T. Kojima, Star-Bulletin

Travis Eguchi, taiko drummer for the Ryukyu Kobudo
Taiko group, performs for the House's opening today.
---
Legislative goal:
'Elusive' reform
of isle education


State lawmakers have a common
goal, but no clear plan to reach it

What to watch, key dates
Leaders' speech texts
Citizens: Shape up, lawmakers By Richard Borreca
Star-Bulletin

The 76 men and women in the state House and Senate opened the Legislature today with calls for a serious effort to improve education, but with little consensus as to how to rapidly achieve it.

Senate President Norman Mizuguchi, in remarks at the state Capitol opening day ceremonies, called the quest "our most enduring but elusive goal."

"Over the years, programs in the name of educational reform have come, and most have gone. Few reforms have shown results," said Mizuguchi, who has served in the Legislature for more than a quarter-century.

House Republican leader Barbara Marumoto tied education to the economy.

"To compete in the new economy, Hawaii must produce public school graduates who can read, write, handle math, speak English, speak one other language and know how to take chances," she said.

In the House, Calvin Say looked at the University of Hawaii and was encouraged with the progress UH has made.

"When faced with unprecedented budget cuts, the university went through a painful process of deciding which programs were core to the university's mission and cutting those that weren't," Say said.

"They did what was required to balance their budget and developed innovative ways to enhance their own sources of revenue."

The one point of agreement for Say and Mizuguchi was that June Jones, the University of Hawaii football coach, was a top role model.

"Jones instilled faith in his players and encouraged them to believe in themselves," Mizuguchi said.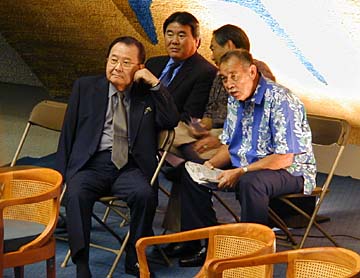 By Ken Ige, Star-Bulletin
U.S. Sen. Dan Inouye, left, sat in the state Senate today
before the start of the opening day program.
---
"He is the kind of leader that former Notre Dame coach Ara Parseghian said will make his players see what they can be rather than what they are," Say said.

Mizuguchi suggested a series of studies and plans to improve Hawaii's educational system, which in a recent national survey on educational standards ranked Hawaii 44 out of 50 states.

Last year, he unsuccessfully proposed that the state's elected school board be given the ability to raise taxes for education; this year Mizuguchi's call was more modest.

He asked for the state auditor to "review and assess the Department of Education's development of educational standards" and called for the Legislative Reference Bureau to design a school choice system that "encourages and enables competition to occur among schools for both resources and students."

Marumoto, meanwhile, called for "a business-friendly climate, a simplified tax-filing system, lower taxes and increased opportunities for privatization, and strong legislation to promote clean government and clean elections."

On a political note, Mizuguchi, who presides over the Senate that last year rejected two of Gov. Ben Cayetano's Cabinet nominees -- Attorney General Margery Bronster and Budget Director Earl Anzai -- recommends that the Senate quickly handle Cayetano's appointment of Anzai to the attorney general post.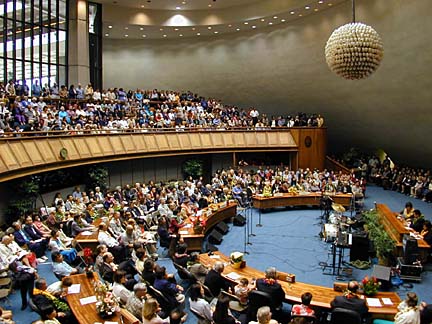 By Ken Ige, Star-Bulletin
The scene in the Senate this morning.
---
Mizuguchi did not mention how he would vote on the new confirmation, nor did he urge colleagues to support or reject Anzai, a longtime ally of Cayetano's.

Cayetano's plan to revamp the state government by changing how civil service workers are paid and what is expected of them drew notice from the legislative leaders, but there were no promises of swift or positive action.

In fact, Mizuguchi said he was firmly against one part of Cayetano's plan. The governor wants to allow public workers to strike. Now, when management and the union can't agree on a contract, the matter is referred to a neutral arbitrator, who in the past has awarded the workers some pay increase.

Mizuguchi says that is fair. Cayetano insists it costs too much and doesn't allow for government to plan.

House Speaker Say wants to keep the discussion in broad terms.

"We need a new style of government that will provide the tools for us to solve our own problems. That means a government that is smaller, lives within its means and provides public services efficiently," he said.

Whitney Anderson, Senate Republican leader, kept his speech focused on the traditional GOP subject of economic reform, calling for dropping state taxes on food and over-the-counter drugs.

Anderson however, renewed a push for a unicameral, or single-body Legislature and also a nonbinding referendum on legalized gambling.

"If we open our minds to the possibility of gaming in Hawaii, we will have a viable solution to this never-ending need for general funds," he said in remarks prepared for delivery today.

---




---

Citizens: Legislators
'have got to shape up'

By Gordon Y.K. Pang
Star-Bulletin

Those who braved the blustery weather to attend opening day ceremonies at the 2000 state Legislature had a clear message to their elected representatives: Stop the bickering and dump the "do-nothing" label it got from Gov. Ben Cayetano last year.

"They need to do something, which they haven't done in a long time," said Charles Duncan, 57, of Mililani. "They need to take stronger stances on the issues and quit bickering and fighting among themselves."

"They've got to shape up. There's a lot of stuff they never do," said Eddie Chang, 86, of Kaimuki. "The people are too busy fighting among themselves."

If legislators don't get cracking, said Chang, an International Longshore and Warehousemen's Union pensioner, "they'll know what it's like come election time."

Both men said they want to see a total ban on fireworks, certain to be one of the most hotly debated topics this session.

Edith Ing, 89, of Nuuanu also wants a total ban. "It's causing a lot of trouble for everybody, and we don't need it," she said.

Chris Olivo, 33, of Pearl City, disagreed. "I like to see fireworks. As long as they do it for religious purposes, I think it will be OK."

Olivo also thinks legislators should consider reducing, rather than increasing, the transient accommodations tax imposed on Hawaii visitors.

"I feel it would be a big help to the economy," he said.

Iris Souza, 52, of Palolo considers education as important an issue as the economy this session.

"They seem to keep taking money out of education -- sooner or later, they need to get serious about it," Souza said.

Gregory Aki, 79, of Kalihi wants to see the Legislature approve some kind of legalized gambling.

"Why let the money move out of here when we could be creating jobs?"

---



E-mail to City Desk
---
---
© 2000 Honolulu Star-Bulletin
https://archives.starbulletin.com