---
Wednesday, December 29, 1999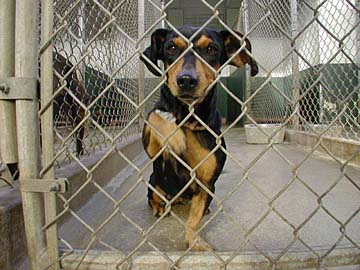 By Craig T. Kojima, Star-Bulletin
These dogs, above and below, at the Hawaiian Humane Society
possibly ran away from illegally-exploded fireworks.
---
Fireworks causing
pets to flee


The humane society
stresses keeping identification
on all pets

By Treena Shapiro
Star-Bulletin

On Christmas Eve -- the first day of legal fireworks sales -- Carol Yaletchko and her family returned to their Kapolei home to find their 10-year-old dog, Lucky, missing.

The poi dog had apparently been scared off by fireworks set off illegally before New Year's Eve. "It sounds like bombs, and it seems like they've been doing it every night since the beginning of December," Yaletchko complained.

Yaletchko was among the many owners retrieving lost pets at the Hawaiian Humane Society where officials say they are seeing an unusual increase in the number of missing pets -- 115 in the three days following Christmas.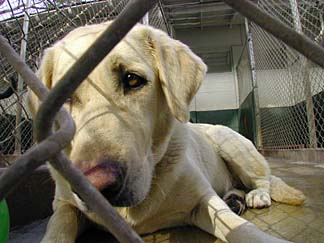 By Craig T. Kojima, Star-Bulletin
---
"We think this is happening this year because fireworks have gone off weeks in advance," said Eve Holt, spokeswoman for the Hawaiian Humane Society.

So far, the humane society has returned 48 of the 115 missing pets to their owners.

"I have to think that it's because they had ID and the owners went out looking for them immediately," Holt said.

Yaletchko said Lucky is usually playful and happy, but since the fireworks started he has clawed through two screens.

Yaletchko added that Lucky was so scared by the noise of the fireworks, he chewed through the wood of his backyard kennel, climbed up some bricks and fell over the gate, Yaletchko said.

Bite marks in the gate and unplugged Christmas decorations indicate that he tried to get back into the house, she said, but by the time her family arrived home, the dog had already run off.

"We spent our whole Christmas day looking for him," Yaletchko said. "When I went looking for him, I ran into another lady who was also looking for her dog."

"When we were leaving (yesterday), I think I saw a German shepherd running through the bushes," she added.

The humane society recommends sedating pets and bringing them into the house on New Year's Eve, but that's meant for a few hours of fireworks, not weeks and weeks', Holt said.

Now the humane society is stressing the importance of keeping identification on all pets: either a collar and tag, or a microchip available from a veterinarian.

"Having them on a lead tied in the yard or even in a fenced yard is not enough to keep them from getting lost," she said.

Holt also recommends that people drive carefully to avoid hitting runaway animals.

Most pets with identification are returned, however, "we don't get to hear about the ones that don't survive," Holt said.

Anyone finding an animal should contact the Hawaiian Humane Society at 946-2187 and, if possible, bring it inside, Holt said.

---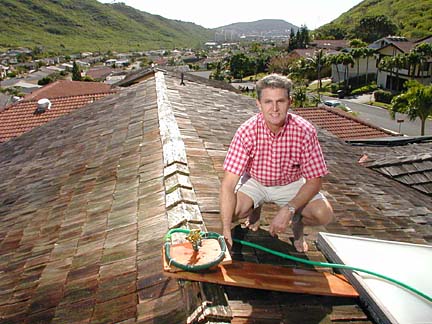 Craig T. Kojima, Star-Bulletin
This lone sentry, a sprinkler mounted on a homemade base,
is Dirk von Guenthner's first line of defense against aerial
fireworks that might burn his shake roof in Hawaii Kai.
---
Hawaii Kai man finds
way to keep roof
over his head

A sprinkler protects his
home from fireworks

By Eloise Aguiar
Star-Bulletin'

DIRK von Guenthner figures an average of 10 illegal aerial fireworks land on the roof of his $500,000 Hawaii Kai home each New Year's Eve. But this year he will be ready.

Von Guenthner, a litigation consultant, has created an inexpensive gadget that he believes will keep his shake roof wet and fireproof during the celebration. The device consists of two pieces of scrap wood, a length of garden hose, plastic ties and a $12 sprinkler.

He plans to set up the contraption on his roof New Year's Eve and turn on the sprinkler about 4 p.m., when the rockets start to fly.

An incident last year made him decide to take action. The von Guenthner's banana patch caught fire and he is sure that fireworks were responsible.

"The fire brought a fear to my wife, so I try to respond to her needs," he said yesterday.

"When she started to worry about the aerials, I tried in my own inventive way to solve the problem."

A captain with the Honolulu Fire Department Fire Prevention Bureau liked the idea and said it could work, especially on wood shake roofs, which can be highly combustible.

"That's a great idea," said Capt. Art Brown. "It's a good idea because there are a lot of aerials and a lot of roof fires. In fact, a majority of our calls on New Year's Eve is roof fires."

People also can prevent major disaster by just being careful and watchful, Brown said. Last year, a major fire was caused by a rocket that went into a home through a window.
E-mail to City Desk
---
---
© 1999 Honolulu Star-Bulletin
https://archives.starbulletin.com