---
Monday, December 27, 1999



P R O F E S S I O N A L _ B A S K E T B A L L
---
Swiss team
a good fit for
Nani Cockett


The former UH Wahine guard
is lighting up the scoreboard and
gaining valuable experience

By Al Chase
Star-Bulletin

Finding a team that suited Nani Cockett's needs took longer this year than last, but the rewards could be greater in the future.

Last year the former Hawaii shooting guard left in August for a full season of professional basketball in Israel. Although asked to return to Israel, Cockett declined.

Her agent, Erica McKeon, started calling twice a week in October with offers from teams in France, but there was a hitch. If Cockett signed to play there, her contract would keep her in Europe until after the Women's National Basketball Association holds its tryout camp in April.

McKeon tried to arrange an earlier release date, but the French teams were not interested.

"Erica encouraged me not to take it. She assured me there would be something else coming up, so I trusted her," Cockett said.

"Her ultimate goal is to play in the WNBA and I think it showed a lot of courage and maturity on her part to wait," McKeon said.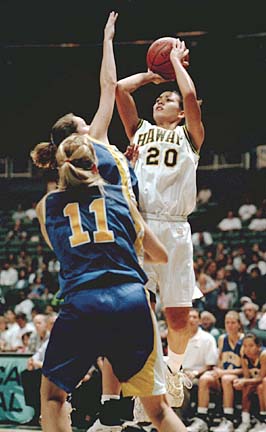 Star-Bulletin file photo
Nani Cockett had games of 17, 32 and 29 points
in her first three outings in Switzerland.
---
"I know it was frustrating for Erica because the comeback date was after the tryout, but that was a big part of my decision," Cockett said. "She told me France is the place where she would like me to play in the future. It's an excellent league, the money is good and a lot of WNBA players go there."

Before long Cockett received another call. Karen Peterson, the lone American player on the Pallacanestro Femminile Bellinzona (Basketball Women's Bellinzona, Switzerland) team had been injured and could Cockett leave next week.

She could and did and the experience has been interesting from the moment she landed and was met by all her new teammates.

"The level of competition isn't as good as Israel, but the top three teams could compete in Israel," Cockett said last week.

Her team is currently tied for second place. She scored 17, 32 and 29 points in her first three games while playing center, wing, off guard and point guard.

"I'll play whereever the coach wants me," Cockett said. "I know with the WNBA, it might be better to play just one position, but this way I can work on different facets of the game. When I'm a 3, I can work on posting up."

One of McKeon's goals is to make sure she places players where they will be comfortable. She also feels it is to Cockett's advantage to have been successful in one set of circumstances in Israel and to have success in a completely different setting in Switzerland.

"It will help her game and the experience is so valuable when she is trying to make it in the WNBA," McKeon said.

Cockett also said her contract is better in Switzerland.

Home for the holidays, she returns to Switzerland Jan. 2 and won't be back until after the April 26-30 WNBA tryouts.

With expansion teams in Indiana, Seattle, Portland and Miami starting play next summer, there is an obvious need for guards and some one who can play the 3 spot.
E-mail to Sports Editor
---
---
© 1999 Honolulu Star-Bulletin
https://archives.starbulletin.com