Advertisement - Click to support our sponsors.

---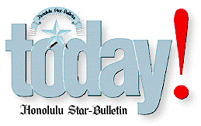 ---
Monday, December 27, 1999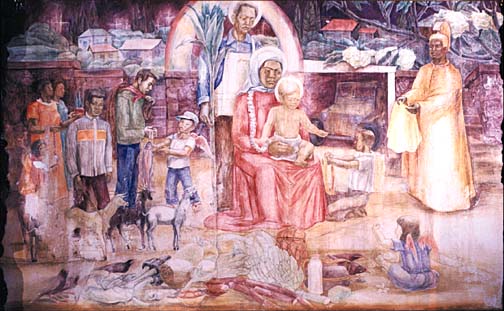 By Tim DeLa Vega, Special to the Star-Bulletin
Juliette Mae Fraser's "Hawaiian Madonna --
Hookupu" is in need of restoration.
---



Masterpieces housed in Kauai
churches are slowly deteriorating
but residents have begun to
rally for their repair

By Anthony Sommer
Star-Bulletin

KAPAA, Kauai -- Picture a jeep instead of a donkey. Filipino fishermen bearing fish rather than shepherds bringing gifts. Joseph carrying a sugar cane stalk instead of a staff. Mary wearing a muumuu and lei. Angels wearing blue jeans.

These localized Nativity figures populate a magnificent fresco on the makai wall of St. Catherine's Catholic Church in Kapaa, painted in 1958 by Juliette Mae Fraser, one of Hawaii's best-known artists. Entitled "Hawaiian Madonna -- Hookupu (Gift Giving)," the painting has became the top priority of the "Art Angel Project," a new Kauai group formed to raise money for refurbishing modern masterpieces by Fraser, Jean Charlot and Tseng YuHo at three churches on Kauai.




BE AN ANGEL

For more information about the frescoes, or to make a donation toward restoration, call St. Catherine Church at 1-(808)-822-7900, e-mail artangel@aloha.net. or write 5021A Kawaihau Road, Kapaa, Kauai 96746.




Sadly, after more than 40 years of tropical weather, Fraser's Nativity scene is fading away, according to Ann Loquercio, a retired art teacher and chairwoman of the Art Angels.

She notes a herd of goats at the lower left of the fresco -- painted on wet, or "fresh," plaster before the lime sets -- has almost disappeared.

Christmas cards showing "Hawaiian Madonna -- Hookupu" were sold in a first attempt to raise money for restoration of all the works. But with an estimated $75,000 worth of work to be done, Art Angels also is hoping to attract private donations and foundation grants.

All the works -- frescoes, ceramic tiles and a statue -- were created in the late 1950s in conjunction with the construction of St. Catherine's in Kapaa, St. Sylvester's in Kilauea and St. William's in Hanalei. If you look closely at the license plate on the Jeep in Fraser's painting you'll see the date 4-20-58, the day St. Catherine's was dedicated.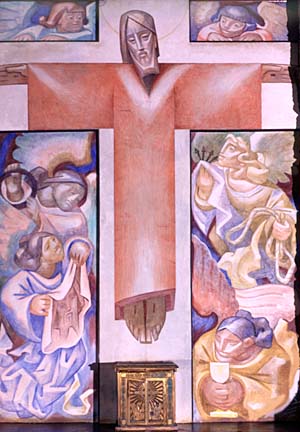 By Tim DeLa Vega, Special to the Star-Bulletin
A detail of Jean Charlot's "Compassionate Christ."
---
In 1993, the collection was appraised at more than $700,000. Fraser's "Hawaiian Madonna" alone was valued at $100,000 and appraisers said its price would double if it is restored.

All the works were donated to the churches by the artists. All were affiliated with the University of Hawaii, all had worldwide reputations and all were friends of the Rev. John McDonald, pastor at St. Catherine's from 1954 to 1961.

Loquercio said McDonald was one of Kauai's most charismatic figures and, quite possibly, its best salesman. Among other coups, he convinced the Trapp Family Singers -- as in "The Sound of Music" -- to perform a concert on Kauai and then talked two members into staying on and coaching the St. Catherine's choir. He then convinced the producers of both "South Pacific" and "Blue Hawaii" to cast the choir members in their movies.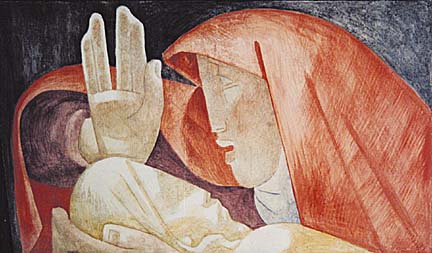 By Tim DeLa Vega, Special to the Star-Bulletin
Mary cradles the head of Jesus in one of Charlot's 14
"Way of the Cross" images at St. Sylvester's Church.
---
McDonald was, in turn, an attorney, a Catholic priest and, for many years after leaving the priesthood to marry, the tennis pro at the Coco Palms Resort.

Of all the works, Fraser's 4-1/2 by 8 foot "Hawaiian Madonna" is the painting most symbolic of the blend of Hawaii's multicultural society and Christianity. A Hawaiian ali'i bears a gift of a feathered robe, which were made only for royalty. The Holy Child is hapa with blond hair and strong Polynesian features.

But the most dominating and compelling work is "The Compassionate Christ," a fresco by Charlot that the Charlot Collection considers the French-born artist's finest work during the 10 years he lived in Hawaii.

"It is aglow with sunrise colors: palest blues, primrose, apricot and rose that move and swirl like clouds around a magnificently robed Christ. ... Even at the full distance his face is filled with unutterable compassion as he looks down on his brethren," Loquercio says in one of her written descriptions of the fresco.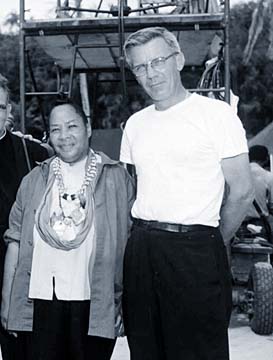 By W.J. Senda, Pa'a Studio
Actress Juanita "Bloody Mary" Hall, left, poses with
Father McDonald for this photo taken during filming
of South Pacific on Kauai in the summer of 1957.
---
On the mauka wall of the church opposite Fraser's "Hawaiian Madonna" and identical in size is YuHo's "Francis Xavier, Apostle of Asia." A fresco done in Chinese rubbing style, the painting is a blend of Western and Eastern art and depicts Xavier, the first to preach Christianity in Japan, looking longingly at the hills of China in the background.

Xavier died in 1552 before he could complete his mission of bringing Christianity to China.

Charlot created a separate series of 14 "Way of the Cross" paintings for each of the three churches. At St. Catherine's they comprise 3-by-2 foot ceramic tiles. At St. William's they are 12-inch square tiles on the church exterior and at St. Sylvester's the series consists of 2-by-3 foot fresco panels surrounding the alter.

In 1969, Charlot donated a 7-1/2 foot ceramic statue entitled "Sacred Heart" that stands above the entrance to St. William's.

Yuho, 75, is the only one of the three artists who is alive. Charlot died in 1979 at age 81 and Fraser in 1983 at age 96. Loquercio said Fraser had no close living relatives and the Charlot Collection at UH-Manoa maintains her work. She was a student of Charlot's.






Click for online
calendars and events.
E-mail to Features Editor
---
---
© 1999 Honolulu Star-Bulletin
https://archives.starbulletin.com